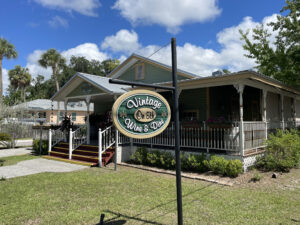 Crystal River Florida is such a cool destination to explore. With nicknames like , "Home of the Manatee", "Water Lover's Paradise", "Fisherman's Haven," and we might add "Boater's Dream" it's a super-fun destination. Crystal River and surrounding coastal towns are also home to some truly authentic old-Florida restaurants, cafes, crab shacks, and a few upscale inventive Chefs' eateries.
Here are few great places to dine in Crystal River, Homosassa, and Inverness
Vintage on 5th for dinner in downtown Crystal River is extraordinary and sophisticated in a art-deco 1940s church setting. Ask for Michael, the legendary server, and savor the She Crab Soup, creative fish and beef dishes, accompanied by an impressive wine selection – hence the restaurant name. We sat on the veranda and enjoyed local music wafting from the bar next door. Dessert was a to-die-for crème Brule. 114 NE 5th St, Crystal River, 352-794-0004 for reservations.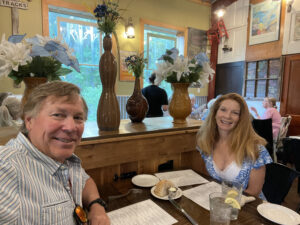 Wallace's at the Greenhouse in Homosassa is such a fun fabulous place for lunch or dinner. This scratch kitchen is chef-owned and the cuisine shows his love of fresh local ingredients. Try the smoky fish dip with house-made potato chips as a fun kick-off to your culinary fest. The menu is bountiful with fresh-cooked seafood, creative meats dishes, even yummy sandwiches, all served in this cheerful greenhouse. Don't miss Wallace's!
2420 S Suncoast Blvd, Homosassa, 352-503-7276 for reservations.
Peck's Old Port Cove is cool for a classic old-Florida seafood lunch or dinner, reached by a scenic swerving drive out to this dramatic spit of land past Ozello Keys. You will find this funky fun crab shack at land's end, with a great water view, a deck, outdoor bar and indoor dining too. The menu is loaded with fresh local seafood – served blackened, fried or grilled, delicious crab cakes, shrimp. Everything we savored from the kitchen was outstanding at this humble happy place including the side of hush puppies. The awesome team of gals serving us shared decades of experience here – that's always a good sign about the food and ownership, right?! Order the Blue Mermaid cocktail, and the decadent thinly sliced onion rings made daily. 139 N Ozello Trail, Crystal River, 352-795-2806.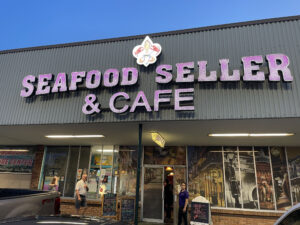 The Crab Plant at the head of Kings Bay is a former crab plant that serves up fresh local fish, shrimp, crab. The perfectly seasoned, plentiful Low-Country boil is really good. It's a very casual indoor atmosphere inside the old crab processing plant, with views of the bay, and occasional fish, even manatee swimming by. Crab Plant serves beer & wine. Beware, Crab Plant is cash only. 201 NW 5th St, Crystal River, 352-795-4700.
Seafood Seller and Café is in an unassuming strip mall, but the place jams with locals, people lining up for their delicious mom-and-pop affordable, fresh seafood. Piles of shrimp, crawfish, oysters, punched up with Creole seasoning, or just plain – their menu has it all. You can also BYOF, bring your own fish, and the Chef will prepare it to your liking, delicious, blackened, grilled, fried, served with their tasty generous homemade sides. They do not take reservations, so we recommend you go early or be prepared for a wait. You can also get a drink at the bar while you wait for that coveted table. It's a humble happy place, with a stellar local reputation. 300 SE US Highway 19, Crystal River, 352-228-4936.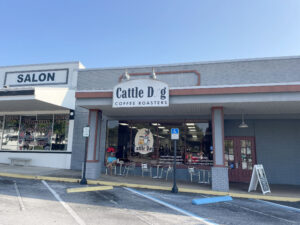 Best place for Coffee in the area is Cattle Dog Coffee Roasters. This awesome boutiquey coffee café now has establishments in historic downtown Crystal River, Homosassa, Inverness village, and Hernando. Not only do they brew their own amazing coffee in interesting flavors, or perfectly traditional, Cattle Dog also bakes wonderful pastries, and bread. Our breakfast sandwiches, open-faced, on a crisp delicious baguettes were outstanding, with choices of herbs, local cheese, jams and meats, topped with farm-fresh eggs. Their cafés are cheery, relaxed, and locals definitely congregate here.
The Grill at Pepper Creek in Homosassa is a good place for breakfast or lunch, overlooking Pepper Creek, before or after you explore Homosassa Springs Wildlife Preserve. Since this casual café restaurant is located in the Welcome Center for your boat or tram ride into the park, it's super convenient. The upstairs eatery has a water view so you can watch the tour boat depart on the half hour, while you enjoy comfort food – salads, sandwiches, fish fry, tacos, pizza, plus a kid's menu. Service is friendly and efficient, they know most come here on their way to see the hippo, panther and bear in the Park! 4150 S Suncoast Blvd, Homosassa, 844-907-2772
For nightlife, if you still have energy after boating, fishing, biking, exploring Crystal River.
Locals told us Crackers Bar & Grill is a cool, casual waterfront spot in downtown Crystal River, on 6th Street, for live music and a drink, not the place to eat.
Norton's Riverside – which is not actually on the water, is a more basic locals' joint for live bands in a not-so-fancy setting in downtown Crystal River, next door to much-classier Vintage on 5th, on 5th Ave.
See our Top Things to Do in Crystal River, Homosassa, Inverness
Where to stay while exploring Crystal River – The Plantation 
More Florida Luxury Vacation reviews:
Amelia Island- Fernandina Beach
Anna Maria Island
Boynton Beach
Crystal River, Homosassa & Inverness Things to Do
Delray Beach Things to Do
Fort Lauderdale's Top Things to Do
Fort Lauderdale Port Everglade
Key West's Best
Miami Luxury Hotels
Mount Dora
Marathon Top Things to Do
St Augustine Top Things to Do
Sarasota, Siesta Key and Venice
"We travel not to escape life, but for life not to escape us."