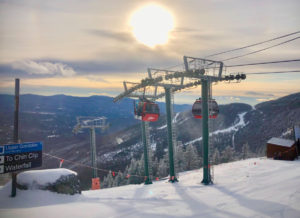 Stowe Skiing at a Glance:
Summit 4,395′
Vertical 2,360′
485 acres, 40 miles of skiing
116 Trails – the longest run 4.7 mile Toll Road
12 Lifts – the most mile-long lifts in The East
Birth 1934
Stowe is bold and beautiful, steep yet sophisticated. We love skiing Stowe – by far the best skiing in New England, for serious terrain, stylish lodging, slopeside après ski and shopping, with impressive ski lifts amid gorgeous Green Mountain scenery.   Mt. Mansfield offers challenging terrain, earning it the moniker "Ski Capital of the East." Meanwhile the swank Spruce Peak Village, the church-steepled Main Street of Stowe and the bustling Mountain Road of European-inspired establishments lend luxury and elegance to this Vermont ski destination.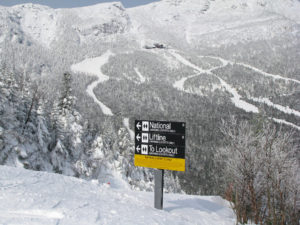 We love Stowe's Front Four trails on Mt Mansfield, served by the speedy FourRunner quad, and the gorgeous runs from Stowe's classic red Gondola from the summit Cliff House, a great spot for on mountain lunch and views. Back in the day, Stowe didn't have on mountain lodging, its one major flaw, now its a true mountain resort.
The Lodge at Spruce Peak, previously called Stowe Mountain Lodge, in the heart of Spruce Base Camp has brought Stowe a Deer Valley vibe with luxury lodging "slopeside,"  with a centerpiece ice rink, a Performing Arts Center, Vermont eateries like the Beanery, Skinny Pancake and Whistle Pig, cool shops – First Chair and True North, and The Spa. Its posh and Rocky Mountain regal, stately and stylish, with outdoor fireplaces, and a convenient Over Easy gondola that whisks you from Spruce to Mt Mansfield's skiing.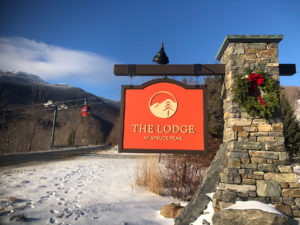 Stowe makes a ski trip effortless, when staying at The Lodge at Spruce Peak, the massive gorgeous 300-room hotel and spa,  from your arrival with car valet and bellhops to deal with all your gear, your skis and boots will be warm and waiting at ski valet the next day, to après ski in the grand tree-lined lobby – at Hourglass bar, to dining at Solstice, and shopping within the pedestrian village.
Stowe's legendary terrain remains unchanged despite all this gentrification and luxe lodging. Original trails, Nose Dive, and the famous Front Four – National, Lift Line, Starr and Goat, date back to the 1930's when Perry Merrill and Charlie Lord cut the first ski runs with the help of the CCC. While these legendary  black diamond runs have been altered and widened over the years to accommodate snowmaking and grooming, they still offer 2,055' of butt-kicking vertical, just as steep and stunningly scenic as almost a century ago. The rugged 1936 Stone Hut still stands at the summit as testament to early ski pioneers that shaped this mountain. Stowe is also home to the orginal National Ski Patrol, 1938.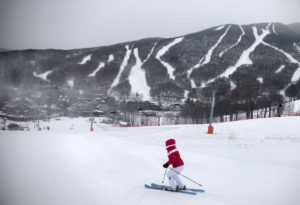 Stowe's local skiers, we call 'em Stowecals for their stoke, line up for first quad at 7:30am on weekends, 8am midweek, and charge laps til 10am then go home, with "10 by 10". Stowe's toughest trails, namely Starr and Goat, haven't gotten any tamer with age. But Stowe's more forgiving runs – Lord and Sunrise from the Octogan summit remain scenic and serene, some of the most beautiful morning runs in all of New England, sunlight and perfectly pitched. Once you tackled the Front Four, and carved the cord on North Slope, Centerline and Hayride, its time to head to Stowe's bright red Gondola for more. From 3,625′ – Stowe's highest peak, Perry Merrill and Gondolier, and Chin Clip are long beautiful trails with phenomenal valley views.
For lunch with a view – The Cliff House in the Tyrolean lodge atop the Gondi is the place to go, for Fondue, soups, hot toddy, and a warm friendly respite before more 2,000′ vert runs.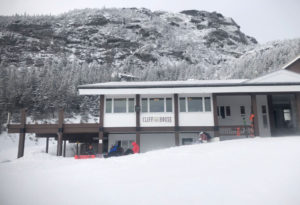 Spruce Peak at Stowe is an entirely other mountain of skiing, where the family learning center and ski clubs are located, and an Adventure Center with Rock Climbing Walls and more for kids. Spruce has four lifts and a dozen intermediate trails with an amazing panorama looking over at Mt Mansfield and the Village below. The on-mountain alpine mansions at Spruce Peak are jaw-dropping too. The private Club at Spruce Peak is certainly the most high-end ski memberships in New England, the Aspen of the East.
Stowe Mountain Resort is EPIC! now owned by Vail Resorts, so the slopes are busier, with the Epic Pass being so affordable for 37 ski resorts (half $ of a previous Stowe-only pass). We suggest you ski Stowe midweek, and stay at The Lodge at Spruce Peak, aka the Stowe Mountain Lodge for luxury, alpine concierge service, and a fantastic spa. Be sure to take a trip down the Mountain Road to the charming village of Stowe for some classic Vermont shopping, and dinner at Stowe's top restaurants.
"There's always snow in Stowe you know…" – classic local Stowe expression