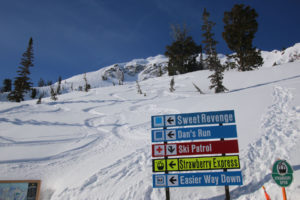 Snowbasin at a Glance:
Summit Elevation: 9,350', Vertical: 2,950'
Ski Acreage: 3,000-acres
Lifts: 11 Trails 104+, 17 Peaks, 2 Bowls
Annual Snowfall 250″
Since 1940
Snowbasin Resort is cool, it doesn't get the big following of Park City or Snowbird/Alta in Utah… but its got serious terrain, big open bowl skiing, luxury on-mountain lodges, and lots of sunshine!
Snowbasin is just 45 minutes from Salt Lake City, a few minutes further than Park City, Deer Valley, Snowbird and Alta, but that makes it far less busy, with beautiful views from its 3,000 acres of ski slopes, and the best snowmaking in Utah. Snowbasin is now on the Ikon Pass, as a partner resort, bringing a few more skiers and riders to this resort, but it remains a very special place.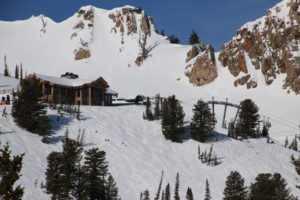 Snowbasin has six unique peaks of skiing. Strawberry Peak offers long undulating trails served by a swift 2,400' vert gondola – each gondi car named for an Olympic competing country. Strawberry has ideal low angle glades and open bowl skiing too, plus seteeper Sister's Bowl.
Allen Peak is home to steep groomers, home to the Olympic Downhill courses. Its 2,900′ vertical down on 78% grade steeps on the men's Grizzly and the women's Wildflower downhill, ski it from the top of the upper Allen Peak Tram that gains 510' extra vertical to experts-only terrain, stellar views, and the official race start chalets.
The Needles Gondola is a swift 2,300-foot vertical ride, each car is named for a former Olympian,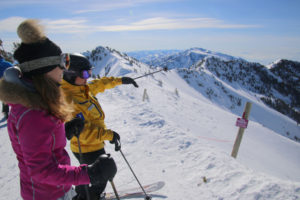 serving great blue groomed runs. In between Snowbasin's groomed trails are wide open bowls and well-spaced tree skiing. Snowbasin is amazing on powder day, with tons of terrain and few people to track it up.
No Name Peak to the west serves up steeps, glades and a few chutes from 9,070′. With three of Utah's five longest ski lifts – the Strawberry and Needles Gondola, and the John Paul high speed quad, you can average 2,400' vertical runs.
You can see four states from Snowbasin's summit, Demoisy Peak and Allen Peak, and the Great Salt Lake in the distance. 
Snowbasin has excellent kids ski and snowboard camps, and gently pitched lower mountain skiing served by Little Cat Express, Becker and Wildcat Express..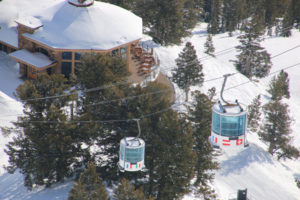 Snowbasin's on mountain lodges are opulent, with grand chandeliers and massive stone fireplaces. You will look forward to your scenic sumptuous ski-in lunch or hot cocoa break. Its elegance with excellent food at reasonable cafeteria prices, and extraordinary views.
Earl's Lodge at the base, Needles and John Paul Lodges on-mountain are all posh like Sun Valley Idaho by no coincidence. Snowbasin shares the same parent company – the Holding family of Sinclair Oil and Little America Hotels purchased Snowbasin in 1984, installed two gondolas and a tram, built lavish timber lodges and hosted the 2002 Winter Olympic Downhill, Super G, and Combined.
For lunch, go to Earl's Lodge Servery for grab and go, but delcious fare like Pho, homemade Turkey Pot Pie or the best Reuben in Utah. Its cafeteria style, and surprisingly affordable given the quality and quantity, but you sit in grand comfy chairs with a slope view. Or pop into the spectacular on mountain Needles or John Paul Lodges for more award-winning food and awesome scenery. Cinnabar in Earl's is the one sit-down table service, with gastro pub fare like big juicy bacon burgers.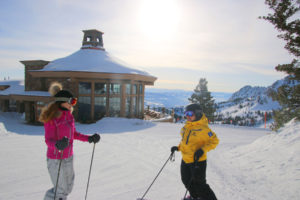 Snowbasin is EPIC, now part of Vail Resorts' Epic Pass along with sister Sun Valley.
Après ski, go to Cinnabar in Earl's Lodge for live entertainment and a gorgeous living room lodge setting, tell the hostess you "intend to eat" in addition to having a cocktail or beer to overcome quirky Utah liquor laws, or enjoy the outdoor patio and fire pits while the kids play in the snow.
Snowbasin is vast , blessed with classic Utah snow and terrain (tons of stashes on a powder day) with upscale Sun Valley-like lodges plus the most sophisticated snowmaking in Utah.
Snowbasin's on mountain lodging is in planning phase, no ski in ski out hotels or condos yet. For lodging, go to Huntsville, just 8 miles away down a modern wide access road.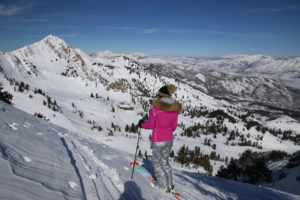 Stay at the boutique Compass Rose Lodge for beautiful decor, warm hospititalty, inviting living spaces, yummy breakfast – home of First Lift Cofffee, and maybe a lesson in astronomy in their HALO stargzing silo.
For condo-style lodging, Lakeside Resort Properties offers townhouses "lakeside" on the shores of Pineview Reservoir. Units feature a car port, fireplace, outdoor hot tub on the deck, bedrooms beautifully decorated in rocky mountain regal leather and antlers, with a spectacular view of Snowbasin's slopes or the Lake. In Eden, there's a market and liquor store, and a few fun Mexican joints and restaurants.
Ogden is 17 miles from Snowbasin, renowned as home of the East-West Railroad's Golden Spike, and historic 25th Street with eateries, shops and an old train station, if you prefer to stay downtown at a Marriott, Hilton, Best Western, Hampton, and more. A new private golf and ski community – Wasatch Peaks Ranch – is being developed on the way to Snowbasin.
A ski trip to Snowbasin should include skiing nearby Powder Mountain, and also a day at Deer Valley or Park City.
See More Utah Ski Reviews:
Alta
Deer Valley
Park City
Powder Mountain 
Snowbasin
Snowbird
Wasatch Peaks Ranch
Mayflower Mountain Resort
Top Family Ski Resorts in Utah
"Earl Holding was one of America's most successful entrepreneurs. A Wyoming billionaire and Mormon, he grew up dirt-poor, made his money the old-fashioned way, hard work and entrepreneurism, from gas stations, to a major oil company, to owning chains of hotels and eventually ski resorts – Sun Valley and Snowbasin. He was a maverick." – Forbes