True boaters know the best of Maine coast boating starts when you reach Penobscot Bay. This is "Down East" from Portland. The dramatic stretch of coastline from Camden to Mount Desert Island (Acadia National Park) sparkles with granite shores, dotted with archipelagos of pine-tree covered islands and mountains cascading into the sea. This region offers some of the best cruising ground for boaters in the world.
Camden is a magical little seaside town in the heart of Maine's mid-coast. It's historic but hip. "Where the Mountains Meet the Sea" is their moniker, as Camden Hills and 780' Mount Battie stretch down toward the bustling waterfront where this 1769 New England village sits, creating a postcard scene.
Camden is foot-traffic friendly, starting at Harbor Park and the beautiful brick Public Library which grace the top of the bay by the Town Docks. Enjoy a picnic on the sprawling park lawn; there's often a craft festival or free concert at the outdoor amphitheater. From the waterfront, you can stroll Camden's quaint sidewalks leading to cafés, local boutiques, Maine craft stores and art galleries, plus pubs and surprisingly trendy restaurants.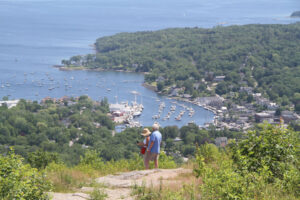 You can hike, bike or drive the toll road up Mount Battie in Camden Hill State Park, which encompasses 5,500 acres, and 30 miles of trails. Your reward is spectacular panoramic views of the harbor and Penobscot Bay below.
Eaton Point, at the eastern entrance to the harbor, is home to a new Lyman Morse yacht facility. Camden remains a working harbor, with lobster fishermen, boat builders, ferries, and of course tall-masted schooners taking folks out for scenic sails.
Camden hosts festivals throughout the summer season of Jazz, Film and their trademark Windjammers. In winter, the U.S. National Tobogganing Championships are held at Camden's namesake Snow Bowl – our country's only ski area with views of the Atlantic.
Camden is an ideal boater's gateway to venture to and from, you have all the services and shops you need in walking distance from the waterfront. Excursions from this protected harbor are countless and legendary. A quick cruise brings you to quiet Lasall Island for a sunset anchorage. Farther you reach Maine's Maritime Academy home in beautiful Castine, and the rustic islands of North Haven, Vinalhaven and Deer Isle. Ultimately you can cruise north and east (Down East), through beautiful Merchants Row, or the more protected Eggemoggin Reach, to Mount Desert Island – home to famed Acadia National Park, Northeast, Southwest and Bar Harbors.
Camden is a gem for travelers by car too, the self referred "Jewel of the Maine coast" in a state with the longest coastline in our nation.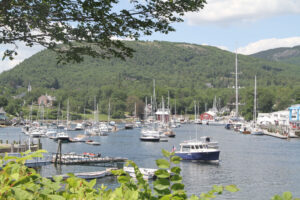 Where to Dock
Camden Public Landing Town Docks, 207-691-4314
Contact the Harbormaster for overnight dock slips, limited but right in town, and moorings throughout the harbor.
Lyman Morse at Wayfarer Marine, 207-236-7108
Across the Harbor on Camden's east shores, this revamped marina is a half-mile walk to town, with new docks and a marina facility, home of Lyman Morse Boatyard. 30 slips plus moorings. Reserve on Dockwa
Where to Dine
Marriner's Restaurant
Right on Main Street this classic old cafe serves delicious diner-style food in a humble buy happy setting. The buttered grilled blueberry muffin is out-of-this-world! Open and popular for breakfast and lunch – including lobster rolls, don't miss this Maine stay. Sit in the old-fashioned restaurant, or score a waterfront table on the deck out back. 207-236-4949

Franny's BistroA neighborhood feel, Franny's serves up lobster fritters, crab cakes, shrimp dumplings, and land-lubber faves too. A fun menu in a cozy Maine setting. 207-230-8199
Bagel Café
For fresh brewed morning coffee and daily "boiled then baked" bagels or breakfast sammies served all day. 207-236–2661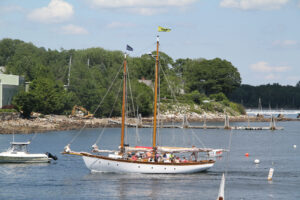 40 Paper
Artful cuisine, locally sourced from farms, fishermen, and "foragers". In an historic wool mill in downtown Camden, 40P is comfy but chic. Savor octopus to lamb, mussels, salmon, with the freshest produce and creative sides. Save room for dessert made from scratch by their own pastry chef. Frequent happy hours and special date night deals.207-230-0111
Peter Otts on the Water
Get your Chowder and Maine lobster fix from Chef Peter. This classic setting overlooking the harbor is a Camden staple you "ott" not miss. Ott's is open for lunch or dinner. 207-236-4032
From Camden you can day trip to Maine seaside towns of Rockland for the Harbor Walk and a fun downtown, plus a walk out the Breakwater to the Rockland Harbor Lighthouse at Samoset Resort.
Lincolnville is fun for a wine-tasting at Cellardoor Winery, and stop by the quaint harbor town of nearby Rockport to see Andre the Seal. Port Clyde offers a peaceful peninsula, and a visit to Marshall Point Lighthouse and lunch at McLoons' of a great lobster roll on Spruce Head. See our review of a day trip to Port Clyde, and also nearby Belfast Searsport.
Camden and Rockland Maine are ideal stop-overs for a few nights as you travel down east, up Maine's beautiful coastline towards Bar Harbor, or wherever your Maine travels tempt you.
More Luxury Vacation Travel to:
Kennebunkport Maine
Boothbay Harbor
Belfast Searsport
Port Clyde
Rockland
Best of Boston
Newburyport Things to Do 
Provincetown Things to Sea and Do
Rhode Island's Newport and Block Island
New York to Maine boat voyage
New York City's best things to see and do
Sailing the Chesapeake Bay