The Danube is a beautiful place to bike, the 2nd largest river in Europe. Cycling along the Danube from Germany to Austria and beyond is a fantastic way to truly explore from the "Black Forest to the Black Sea."
Medieval tow paths where horses once pulled barges of supplies and boats are now paved designated bike paths along much of the "Donau" (German for Danube) on both the North (left bank) and South (right) riverbank.
Many travelers chose to bike along the Danube as part of a river cruise using tour companies like Viking, Tauck, Avalone Waterways, Emerald Cruises, Ama Waterways or Uniworld, to name a few of the many river cruise companies plying the Danube.
Others opt for guided or self-guided assisted bike tours using companies like Backroads, VBT, Trek Travel, EuroBike, Austria Radreisen GmbH, or biketours.com, to cycle the Danube.
We wanted to break away from the River Cruises, tour groups and crowds, and not spend the big dollars tour companies charge. So we did our homework and created our own independent tour. A tour at our own pace, carrying your own gear in panniers – two side bags and a backpack that strap together on the back bike rack. Yes, we packed light, 23 lbs –see our bike tour packing tips, plus the bike.  We had no outside assistance or backup, we booked lovely hotel rooms for far less than an organized tour with far more freedom.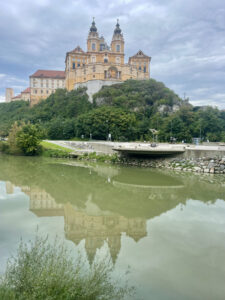 We also rented "me-bikes" (pun) – not e-bikes, also known as me-pedal (pun 2), so no power assist. And we trained vigorously in preparation to be fit for the ride. See our tips on how to pack for a few weeks biking.
Truth is the big river tour boats and bus tours have become a detriment to this glorious region (as they have many destinations), bringing overcrowding and unappreciative uninformed tourists. Flowing with the river on your own bike is the adventurous way to go…
For our 9-day bike trip, we planned our days, met locals, visited beautiful villages, found delightful lodging and intimate dining, and really experienced this spectacular countryside from Passau Germany to Vienna Austria, through the wonderful Wachau wine region.  Here is a synopsis of our bike tour along Danube:
We began our 400-kilometers, 250-miles, cycle tour in Passau Germany, having taken a 3-hour train from Vienna. Our first two days in Passau Germany, we explored charming cobblestone streets, the colorful Artist Stroll, St Stephens Church (with the largest organ in Europe), the pedestrian squares of this 1225 Bavarian village, and the stunning Fortress Veste Oberhaus – built in 1219 above the city below. Passau was once part of the Roman empire, then the Habsberg family's Austria, now Germany. Passau is nicknamed the Bavarian Riviera and the City of Three Rivers – where the Danube, Inns, and Ilz rivers meet. See more on things to do, where to dine in Passau, and where we stayed at the beautiful Passau Suites.
We rented bicycles in Passau from Fahrradladen-Passau, but Fahrradklinik in Passau also rents bikes. We paid an extra $50 for one way rental to Vienna.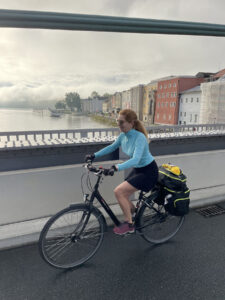 Day 1 cycling from Passau was invigorating, we departed the old town at 8am ahead of predicted rain and thunderstorms. Our initial few miles, the bike lane was right along the busy roads but soon we were on a peaceful designated path overlooking the beautiful green Danube under tree canopy. With not a single café open so early in Obernzell, we biked straight thru to Schlögen, 45 km (28 miles) of nature, passing few bikes on our early morning venture, just pleasant pedaling along the north (left) Danube bank. We found Schlögen's small ferry to transport us across the river to our Donauschlinge River Resort, an institutional but well-located hotel and spa. We dropped off our bikes and luggage and set off on a 2 mile hike up to the dramatic Schlögen "blick" overlook where the Danube takes a 180° turn! Spectacular!
Returning to "our resort," the only place in Schlogen's small tourist town, it was time for a satisfying Wiener schnitzel lunch. Then we relaxed at the Resort's spa – a steamy shower on our tired muscles, a sauna and swim in the pool, since rooms are strictly not available till 3pm. Our room was humble, 70's décor, but with a river view balcony.  On a sunny day, the Resort terrace offers commanding views for drinks, but ours was overcast – grateful we biked early and dry. There's not much to do in Schlögen, its just a "one-night stand" bike and river cruise stop.
Day 2 we cycled around the Danube's famed river bend then east through curves of pretty tree-lined sometimes hilly but mostly smooth paths on the south (right) bank. For the final stretch of our 54-km (34 mile) day, we crossed the river on a ferry into Ottensheim which looked like a delightful little village we'd have loved to explore, but storm clouds were brewing so we cycled on toward Linz into the urban sprawl. But after crossing a high-traffic bridge into Linz, we were rewarded with Linz's bright beautiful Hauptplatz pedestrian square, a perfect city for the night. Our Linz lodging at Hotel Wolfinger was ideal overlooking the lively square from our spacious suite.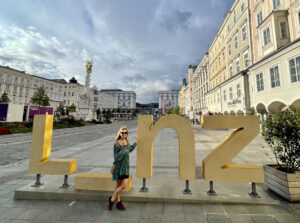 Linz is an interesting mix of old-world Austrian with contemporary technology. Pastel baroque houses surround the square with a towering gold Trinity Column centerpiece (honoring the plague). Church steeples are offset by glass and steel buildings along the Danube. Linz reminds me of Toulouse France with its college population and modern influence, amid centuries' old landmarks. See our review of the best sights and delicious bites in Linz. Just sitting at Maria's wine bar café in the Plaza into the evening, we felt replete, contentedly watching the people parade as folks have done here for centuries.
Day 3 departing Linz after a bountiful Austrian breakfast at our hotel, we cycled bike lanes thru the urban jungle for several miles before crossing the Danube onto a dedicated bike path on the north side for 30-km (19 miles). Under oak tree canopies, the powerful Danube on our side, passing the pretty town of Steyregg with its Palace, we arrived at Mauthausen, a small Austrian village once a mere port for merchants, but in the 1940s it became home to Austria's largest concentration camp. We dropped off our luggage at our hotel, the Donauhof, for a lovely riverside lunch in town. Then we felt we must visit Mauthausen Memorial to witness the atrocities of World War II. We rode up a large hill, glad we'd shed our panniers at the hotel, to this somber memorial where 190,000 people were detained and tortured, and 90,000 died before the Americans arrived and freed the prisoners. It was a grim reminder of the importance of preserving freedom. The camp is on an otherwise beautiful hillside. On our cycle back down we passed happier goats and rabbits – life-affirming.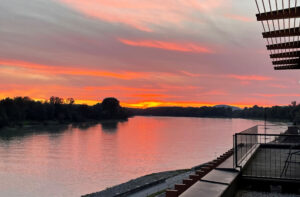 Staying at Mauthausen's modern Donauhof we had a view of the Danube, though over the road, from our small but very modern room. We strolled to the authentic town where there's a pharmaceutical museum in a castle and a few street-side riverside cafés. A lovely dinner back at The Donauhof and a great sleep, followed by the morning's breakfast buffet, we were back on our bikes.
Day 4 we biked 61-km (38 mile) to Ybbs. Our first stop at Wallsee at 12 miles, up a steep hill from the Danube, we rode into beautiful Wallsee Schloss (castle) which was unfortunately closed on Tuesday, so we rewarded ourselves with a cappuccino and apple strudel. Another 12 miles we arrived at Grein, home to 1488 Greinberg Castle, Austria's largest residential palace which was thankfully open for our self-guided tour. Here aristocrat families made their wealth along the Danube by collecting tolls from merchants transporting goods on the river.
Grein is a popular break for bikers, with its cluster of shops and restaurants, which were busy so we took the ferry across the to the Danube's southside and rode an easy mile to Manuela's for a quiet riverside lunch of Goulashsoup and fresh micro-green salad.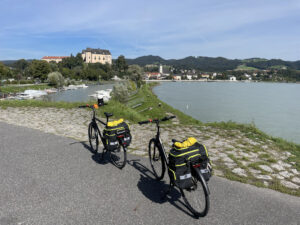 Arriving at our destination of Ybbs, a charming town whose claim to fame, besides being a weird name, is its bike museum. The place to stay is the Donau Lodge – a chic hotel on Ybbs' river banks, with bike storage – as all these hotels have. Our upper floor Suite #200 had a spacious suite and huge balcony where we could watch the riverboat cruises pass. Dinner at Babenberger – their historic sister restaurant across the street – was splendid, memorable mushroom risotto! Breakfast at Donau Lodge was a splendid buffet before we departed recharged for our ride.
Day 5 was an easy 25-km (16 mile) ride to Melk on designated paths on the south bank of the Danube, where we were greeted by the magnificent sight of the Melk Abbey. This towering bright yellow palace is a must see, as is Melk's picturesque piazzas and cafes! As you stroll the cobbled streets and poke in shops, pass the most beautiful post office in Austria and learn about how the 1800 century postmaster here controlled all the mail (and therefore the money). Melk's only drawback is the river boat tours that overrun the town mid-day. Be sure to do a local wine tasting at Vinotek Wine and Wachau with Joergen and ask to see the wine skeller. We stayed in the Madar Café Restaurant in Melk in the village center – a choice locale. Their rooms are dated but their café downstairs is delicious.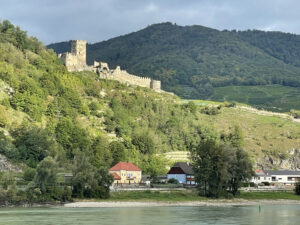 Day 6 we cycled 20-km (12 miles) on splendid paths to Spitz, finally reaching the famed Wachau Wine region! Grape-loaded vineyards cling to the hills in tidy rows, ripe to be harvested in late September. We cycled through Spitz's quiet streets and up a hill to our Wein Spitz Donabaum Boutique Hotel. A lobby wine bar opens to a beautiful terrace and vines, with an infinity pool and private spa building. Our gorgeous room had a splendid balcony. I'd have been content to sit and rest my bike legs, but there were Ruins to hike and local wineries to visit. See our review of The Wachau. Dinner was Austrian-style tapas just a short walk up the hill to Gruber Heuriger with music from a travelling Oompa band to cap off our "wunderbar" day.
Day 7 a hint of sun led us out of Spitz, for our short 16-km (10 mile) cycle through the heart of Wachau wine region, cruising up and down lush hillsides on the north side of the river with breathtaking views of farms, chalets, castle ruins and rock formations, surrounded by perfectly plotted grapevines. Riding into Weissenkurcher, we passed the oldest Austrian church (987), cozy cafés and wine-tasting rooms (too early to start drinking).  Soon we spied the towering blue steeple of Dȕrnstein and its hilltop castle ruins – today's destination.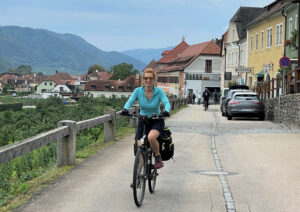 Dȕrnstein is the most popular village in the Wachau Danube Region for its architecture, and the history of Richard the Lionheart among other nobles. As a UNESCO world heritage site, Viking cruise boats, buses and cycling trips all descend on Dȕrnstein daily. After leaving our bikes and bags at our Hotel Richard Lowenherz, we climbed 30 minutes, up to 1083' elevation, on a rugged steep rocky path to the Ruins where Richard the Lionheart was held captive in the 1100s. This promontory offers most dramatic panorama of the Danube we've been cycling. Then it was back to town for well-deserved wine tastings, lunch, local apricot schnapps tasting at the neighborhood shops, and sightseeing of the medieval abbey and Dȕrnstein's blue baroque tower – a signature to the city. Evenings in Dȕrnstein after the tour groups have departed on their buses and boats are the best, we loved our Lionheart dinner complete with music from an outdoor concert across the river.
Day 8 was our last biking within the Wachau, to Krems – a more contemporary university town on the Danube, the eastern-most of this wine region. A short 10-km ride, we off-loaded our bags at our modern lodging, Steigenberger Hotel, for our biking across the bridge to the south side of the river toward Gottweig Abbey, which we'd seen for miles perched on the mountain in Mauturn.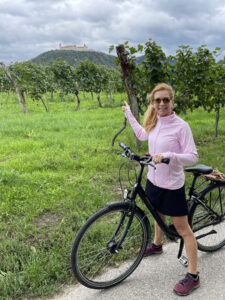 Our longest, steepest biking yet was 11 km to the Abby, the last 3 straight up. This brought us to Gottweig's magnificent church and monastery with an outstanding view of the Wachau valley! The bike ride down was thrilling too! Lunch at Nicholaihof, a 2000-year-old winery and family haus was amazing. Hostess Christine insisted we visit her family's ancient wine cellar with oak barrels from 469AD and the oldest wooden wine press (in the world)!
A truly special dinner back in Krems, at Kaiser Von Ostreich, on our 34th anniversary was extraordinary, celebrating all our cycling about 34 miles a day for each year married. Our nighttime return on bikes up to our beautiful room at Steigenberger was "exciting."
Day 9 we'd planned to bike the remainder to Vienna, but with weather and more urban cycling ahead, we pivoted to a train into Vienna. Austrian trains are swift, clean, timely and have special storage for bikes, which you pay a few extra Euros for… worth it!
Our nine days of cycling The Danube gave us both a sense of adventure, and a much better appreciation of the scenery. There's something empowering about pedaling to your next destination, kind of old fashioned as you consider the centuries of explorers and inhabitants of this Danube.
While 90% of the cyclists we encountered were on e-bikes, we felt very comfortable cycling 50 kms (35 miles) a day on relatively flat bike paths along the gently rolling river. In fact, traveling west to east, flowing with the river, there is the gentlest of slope working for you, with the exception of hills into towns, especially up to castles and wineries which are "worth it."
We're hooked on bike touring now! Loving the sense of accomplishment, and the guilty-free appetite for local food and wine at day's end. An independent bike trip rivals any high adventure ski trip we've encountered in the Alps or The Canadian Rockies. We have more of Europe to explore on bikes. Preferring dedicated bike paths to road cycling, we are researching cycling in Holland and the Netherlands.
"Once a year, go someplace you've never been before." -Dalaii Lama
How to Pack for an Unassisted Bike Tour
Reviews on Bike Tours in Europe and the US
Vienna Top Things to Do
Wachau Wine Region of Spitz, Dȕrnstein and Krems
Passau Germany to Vienna Austria bike tour
Prague Czechia