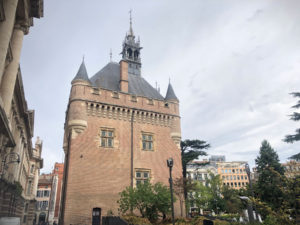 Toulouse is cool, it's that simple. History meets innovation, tradition mixes with young talent in a grand city along the Garonne waterway. Toulouse is France's 4th largest city, renowned as a Cité De l'Espace – the center of French spaceflight and aviation (home of the Airbus), its the epicenter of the Nation's Rugby and a popular University town. Yet  La Ville Rose  'Pink City', so named because of the dusky-pink bricks used in many of its buildings, remains welcoming with a laid-back vibe.
Arriving at the magnificent Capitole Plaza in the heart of Toulouse, we parked our car under the grand pedestrian zone. From here we could walk this enchanting city, after we checked in to the ideal Toulouse Capitole Hotel overlooking the Place du Capitole. The energy in the square midday was fantastic as students and locals chatted and picniced, or dined at sidewalk cafés.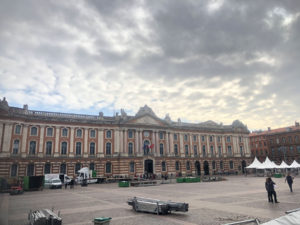 Boutiques, wine and chocolate shops and trendy stores line Toulouse's cobblestone streets like my favorite – Rue St Rome. We found a cozy bistro Café Du Carmes, by the market, for lunch and to people-watch. All the local French ordered the $9 Euro menu du jour – so did we. A bountiful salad followed by a rich pork dish was perfect with our shared  $8 Euro pitcher of local Languedoc Rosé… bon apétit – great food and fortification for our Toulouse adventure.
The café culture of Toulouse is top-notch, so many quaint bakeries, bistros and restaurants spill out into the plazas and classic streets. You could simply sit at a café table, sip wine or a cappuccino and watch the legion of humanity pass. You can choose any cuisine from traditional French to "gastronomy" to Indian, Spanish, Italian, Asian, Arab, or the well-represented American burger or tacos in this college-student-infused population of a total of 480,000 people.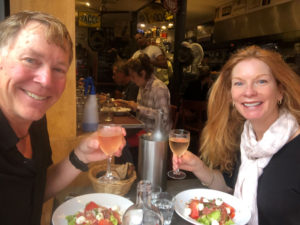 Exploring Toulouse we walked the lively alleyways and pedestrian zones, admiring the centuries of architecture, walking and gawking in Cathedral St Etienne with its 13th century Rose Window. We strolled down to the waterfront, along the Garonne River and the Pont Neuf. On warm days, I can picture students relaxing here in the sun, its the beach boulevard of Toulouse.
Convent Jacobins was closed on Monday – so we merely gawked at this massive stone edifice built in 1230. Then we stumbled into a spirited game of football (American soccer) in the alleyway – a happy clan of kids playing after school.
The Basilica St Sermin is another impressive church in Toulouse, dating back to 1180!
Our favorite Toulouse landmark discovery was touring the majestic Capitolium, right by our hotel – the embellished interior rivals Versailles in Paris for its grandeur, gold and sculpture.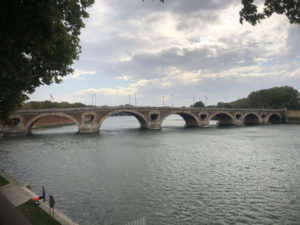 Outside Capitole Place, street performer had come out to entertain passersby, in hopes of making an impression (and receiving donations) for their talent, while not perturbing the Gens D'Armes (police).
In our modern Ibis suite overlooking the Square – we refreshed then we strolled to the rooftop bar "Ma Biche sur Le Toit." Oddly you find this lofty cocktail bar (translation: "doe on the roof") atop the Galleries Lafayette – a chic shopping plaza, walk through the department store and take the escalator to the 6th floor for a sensational view of Toulouse, the cathedrals, castles, it's breathtaking. Enjoy a cocktail overlooking the trademark pink tile rooftops, and with any French luck – watch a magical sunset. This bar turns to a nightclub later if you're up for it.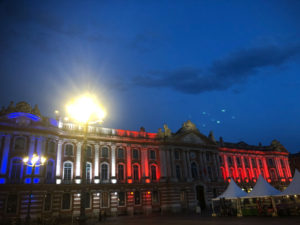 Evenings in Toulouse, you have your pick of so many marvelous restaurants. Do make dinner reservations in advance, dinner typically starts at 7, or 19-heures. The French are fastidious about "les reservations" and will then treat you with more humility and hospitality when you reservé.
Admire Toulouse's monuments at night, marble and stone, all light up in beautiful theatrical lights. Toulouse is a place of frequent festivals in the many squares, of music, art and innovation. Our visit, we heard local musicians in the street, and a protest demanding "La Liberté"– passionate but harmless.
Toulouse is a great South West France visit, with its own major airport, on your way boating in the Canal Du Midi which connects the Atlantic to the Mediterranean, or heading toward Spain, the Val D'Aran in the Pyrenees for skiing  hiking, or biking. Just two hours from Toulouse, you can be skiing Baqueira Beret – Spain's largest ski resort or the French Alps
"We travel not to escape life, but for life not to escape us."