We love the Midcoast of Maine, especially the smaller seaside towns. These special coastal communities have so much to explore, less crowds and better availability and pricing compared to Kennebunkport, Ogunquit or Bar Harbor.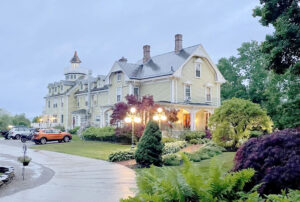 Arriving at the grand Captain Nickels Inn in Searsport, just beyond the pretty Maine town of Belfast, you're transported to another era. This Brick Italianate Captain's mansion is surrounded by gorgeous gardens, and a brick path brings you to the massive wooden front doors, with stained glass and hefty lion's head knockers. As you enter the Inn, vintage chandeliers lead you into a lovely parlor of this beautifully preserved 1874 home, now on the National Registry of historic places. It's like stepping into a bygone era.
Innkeeper Dawn greeted us warmly, and sat us fireside for a relaxed check-in. She shared her local suggestions, then showed to us our romantic room, The Katherine. This richly decorated second-floor guestroom was beautiful in burgundy, with a canopied queen bed, fireplace, and water views across the sweeping green lawn to the sea. Our bathroom was perfectly appointed with ample amenities and bath products, sumptuous robes and fluffy fresh towels.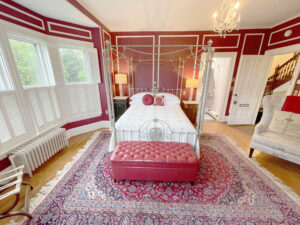 Each of Captain Nickels' unique 10 rooms are named for their eight children, plus The Captain and his wife Katherine for whom Captain Nichols built the grand home. Interesting fact, this is the second Searsport mansion he built. Legend goes that he was out to see on one voyage so long locals decided he had deceased, held his funeral, and sold his previous house. Can you imagine!? After that, Katherine accompanied him on many of his sailing expeditions and gave birth to three of her eight children on the ship.
Captain Nickels is part of Searsport's East Main Street Historic District, a collection of five properties with Italianate architectural influences, all built by ship captains in the 1860s. New sidewalks being added in summer 2023/24 will bring much improved walking access to this pretty Maine avenue.
After settling into our suite, we explored the beautiful ballroom that leads to a cozy bar – the Inn's 1874 tavern – overlooking the lawn, all the way to the ocean. Dawn suggested we come for a glass of wine at cocktail hour in this convivial pub before we headed out to dinner, which we did and met a few fun inn guests who were eager to share about their trips from Bar Harbor and Acadia.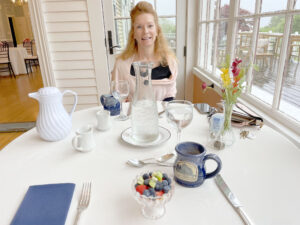 We had a great day exploring Belfast, with a wonderful wine tasting visit to Cellardoor Winery in Lincolnville. Back at the Inn, we had a chance to play lawn games, corn hole, and walk the expansive 3-acre lawn down to the shoreline where a deck with Adirondack chairs provided a perfect respite and commanding view of Penobscot Bay.
Bed and Breakfast are all about the breakfast, and Dawn's morning meal did not disappoint. A 3-course lovely repast, with fresh brewed coffee and fresh-squeezed juice, was served in the pretty water view dining room. Delicious yogurt fruit parfaits, blueberry scones, a fluffy egg quiche and blueberry pancakes with Maine maple syrup, and local sausage, are a few of the delicious bites I remember from our two mornings at Captain Nickels.
For dinners, we walked to the charming Homeport Tavern right next door our first night, for the most delicious mussels I have had in Maine! The following evening, we drove a few minutes to Rio's Spiked Café which had been highly recommended and met all expectations. Both restaurants were excellent!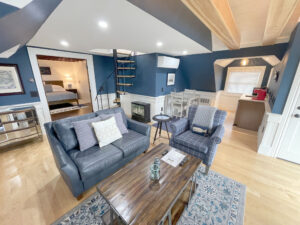 We loved staying at Captain Nickels Inn. Its a Top Waterfront Bnb in Maine. Dawn is a fantastic innkeeper, helpful, attentive, informative, but not intrusive. Her daughter Cassidy has helped with decorating the beautifully resorted Inn, which Dawn took ownership of in 2019. Cassidy now owns her own bookstore in Belfast called Grump & Sunshine. Interesting that Dawn has primarily a female staff, including her assistant innkeeper, breakfast host, housekeepers and servers.
Next visit, we'll request the Captain's Suite, a spacious new apartment, with an incredible top-floor view (3rd floor via stairs). This more contemporary suite still features old fashioned light switches and antique furnishings plus all the modern amenities you would hope for …click on fireplace, flat screen TV with ROKU, mini-kitchen, and a palatial bath. Highlights to this grand suite are the widow's walk turret (4th floor) and large oceanview balcony. Captain Nickels Captain's Suite is romantic, modern, but still very Maine in its nautical appointments.
Staying in Searsport is the perfect location between Camden and Bar Harbor, also near Castine, Stonington, Rockland, Rockport and Port Clyde for day trips. See our recommendation on things to do in Belfast Searsport, Rockland, Boothbay Harbor, on your tour of the Maine coast.
We say go to Belfast and Searsport before everyone else discovers how entertaining and welcoming this pretty section of the Maine coast is. It's a perfect stop over as you travel down east, up Maine's beautiful coastline towards Bar Harbor, or wherever your Maine travels tempt you.
More Luxury Vacation Travel to:
Kennebunkport Maine
Boothbay Harbor
Belfast Searsport
Port Clyde
Rockland
Best of Boston
Newburyport Things to Do 
Provincetown Things to Sea and Do
Rhode Island's Newport and Block Island
New York to Maine boat voyage
New York City's best things to see and do
Sailing the Chesapeake Bay