Paris… the amazing city of lights, of love, the fashion capital of the world, a showcase of some of the finest architecture – Notre Dame, Eiffel Tower, Arc de Triomphe, Montmartre, Sacré Coeur, Invalides, the Opera…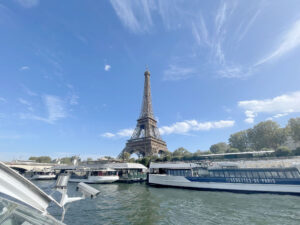 Things we love about Paris: the people watching, the café culture, the bike paths, the beautiful bridges, the Seine River that runs through, the plethora of art museums…
Things we don't love about Paris:  CROWDS! It is crazy busy – with throngs of tourists. It appears to be on Asians "must visit" and "must take a thousand photos" list and is only going to become busier as Paris hosts the 2024 Summer Olympics!
Paris is not as clean and crisp as it once was… it's a bit trashy, with construction around every corner (understandable for a city that was completely redesigned in 1848, overdue for a re-do). Of course Notre Dame is still in repair from the devastating 2019 fire.
Curious which church will be done first? Paris' Notre Dame or Sagrada Familia of Barcelona?
Here is our guide to the best of Paris, on a budget!

1. Get out to explore Paris early! If you are arriving on an overnight flight (red eye) have a strong coffee at a café and resist the urge to nap. Visit Paris's attractions, before the city wakes up and gets bustling.  Walk up to the magnificent Montmartre and Sacre Coeur, and explore this quirky artist neighborhood before it is invaded by tourists. Go to the Eiffel Tower to get that selfie by yourself with Paris' 1889 Iron Lady. We loved our early mornings when Paris was quiet, un-crowded, romantic, especially Sunday morning (Greg loved the shopping – window shopping only – stores are closed Sunday)!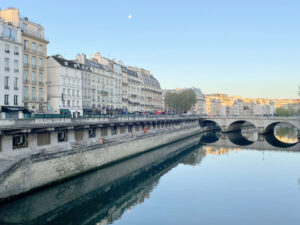 2. Book your Paris hotel a few days in advance, not months prior, ideally the later the better. We found hotels that were asking $800 – 1200 a night, drop to $300 – 450 a few days prior to arrival. There are many hotels and beds in Paris, and competition is real, so are last-minute deals! We stayed at Hôtel Les Rives de Notre-Dame, great location on the Seine, in the lively Latin Quarter.
3. Reserve your museums in advance. The Louvre, Musee D'orsay, now require you to reserve a time slot online to visit. And even this doesn't mean you don't still wait in line as ticket holders. We learned the hard way that even on the 1st Sunday of the month, when Musee D'Orsay is free, you still need to reserve your time. Bummer we missed this Impressionist museum in the elegant old Paris train station. Fortunately, the Rodin Museum is steps away where we enjoyed an amazing tour of this sculptor's prolific works. Eiffel Tower should also be reserved in advance. Lines looked ridiculously long!
 4. Reserve your lunch and dinner. The French love their "reservations" and le Maitre' D will treat you far more civilly if you have called or booked online, even if you call the same day just a few hours before your arrival. Conversely, walk-ins aren't always welcome, or greeted as kindly.
5. Spend time just sitting at a café sipping coffee or a wine, and just people watch and savor the bon vivant – luxury lifestyle of Paris. Café culture is life in Paris – C'est la vie… We enjoyed Petit Cler, near Les Invalides – this 1676 landmark is inspirational and not to be missed. We also enjoyed Let Petit Chatelet in the Latin Quarter, next to Shakespeare & Co., for class French cuisine in a fun setting.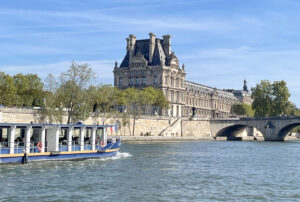 6. Take a boat ride – Hop on a boat ride around Paris, to enjoy the Seine scenery, rest your feet from so much walking, and reach various landmarks around the city, as you cruise between Paris' Rive Gauche and Rive Droit passing under spectacular bridges. Batobus offers a hop on and off all day, unlike the Bateau Mouche. The Batobus two-day unlimited ticket is less expense too.
7. Visit Galeries Lafayette by the Paris Opera, whether you love to shop or not. This 1893 flagship department store is magnificent inside – especially the art nouveau glass dome. Go to the rooftop deck for fabulous views of all of Paris.
8. Stroll the Jardin des Tuileries by the Louvre, to the grand Place de La Concorde, continue up the Champs Elysees, the most famous fashion street, to the iconic Arc de Triomphe (just to witness the crazy 12 intersecting roads converge).

9. Enjoy Hotel Dames les Artist rooftop bar – its chic (dress code enforced – no shorts), and pricey ($16+ Eu cocktails), but the panorama of Paris in practically priceless.

10. Discover France outside of Paris. Visit the Loire Valley's incredible chateaux. Explore the Burgundy Valley's beautiful cities of Auxerre, Beaune, Dijon, or charter a boat to explore the Canal du Midi.
French Tips:
Mind your manners. S'il vous plâit, bonjour , merci. The French are sticklers about manners, proper greetings are très important, lack of these formalities can result in rude-tude French-ism.
Wine and cheese regulations are incredibly strict in France. Ironically however, in restaurants, cats wander freely and people smoke excessively, especially the chef and waiters.
Reservations – mais oui! The French make reservations for lunch and dinner, same day is okay, but waiters and hosts prefer you have a "reservation". They treat you better, and without – you may be poorly treated, or worse – streeted.
Restaurants typically serve déjeuner (lunch) 12-3, then dinner 7-9pm. Cafes with Servis continue are open all day.

Order the Café Gourmande which includes a French coffee, plus a sample of each of the desserts being served on the menu.
Shopping hours: Shops open around 10 or 11, then close 1-3. Sunday and Monday many shops, businesses and restaurants are closed. Gotta love the French work ethic.

More France Travel Reviews:
Best Chateaux of France's Loire Valley
Guide to cycling the Loire Valley
Burgundy Valley
Beaune
Dijon
Auxerre
Toulouse
Boating the Burgundy canals
Boating France's Canal Du Midi
Cote d'Azur – The French Riviera
Skiing The French Alps
Courchevel, Meribel, Vale Thorens of Les Trois Vallees
Avoriaz, Les Gets, Morzine of Portes Du Soleil