VIK Chile is the most luxurious hotel in Chile for wine lovers and modern design fans. Just over 2 hours from Santiago, you are on the southern end of Chile's Maipo wine country and just a couple miles as the crow flies (over an hour drive), from the world-famous Colchagua Valley Wine Region. At VIK Chile, you will discover an otherworldly resort in a remote but beautiful setting.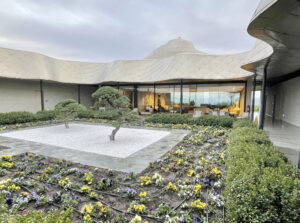 Arriving at VIK, after driving through farmland and humble Chilean neighborhoods, then up a long rutted turny dirt road, you see a glimmer of a metallic wavey rooftop in the distance on the crest of the hill. Resembling a spaceship, we prepared to be transported.
The VIK staff, all uniformed, greeted us and brought our luggage up the stone stairs to the open-concept hotel. In a mid-century mod living room, we were welcomed with fruit drinks, and checked-in. Here we confirmed our food preferences for our stay (already provided online), arranged our afternoon Vik wine tour, hot tub reservations, and set our dinner time in the Milla Milla restaurant (which translates to Place of Gold). Everything felt very chic and boutiquey.
A guided tour of VIK Hotel spaces, all glass, we were shown the awesome infinity edge pool, fitness room also with a tremendous view, downstairs game room den, and the open-air minimalist Zen courtyard in the Hotel's center. We were finally brought to our room – named Marcela.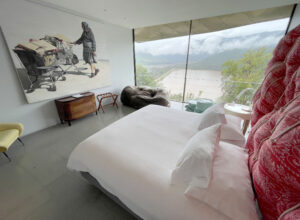 Each Vik suite has floor-to-ceiling glass, and magnificent vistas of the mountains, many can see Lake Tranque below. All are uniquely decorated by artists and designers, ranging from Japanese to retro, water-themed, to just weird art motifs. Our artist suite achieved a bizarre vibe – with a homeless lady pushing her overloaded hobo shopping cart. Sweet dreams, or is the artist trying to tell us we should feel guilt for the less-fortunate as we sleep in luxury?
The highlight of our VIK suite, besides the view, was the chic oversized stone bathroom and massive rock tub.  VIK Hotel has just 22 luxury rooms in this ultra-modern building, with its bronze titanium rooftop designed to replicate a windswept, mountainous setting. Also on the hilltop property are seven unique glass bungalows floating above ground. We toured Sense of a Woman and wished we'd stayed there, although being within the Hotel proved convenient.
VIK is the 2010 vision of Norwegian billionaire, Alexander VIK, a Harvard grad finance guy with a vision of a titanium roof hotel, and a dream of creating his own Chilean winery, with his name VIK emblazoned everywhere. No expense was spared, the fact that the roof design and wine endeavor were considered impractical by some experts did not deter.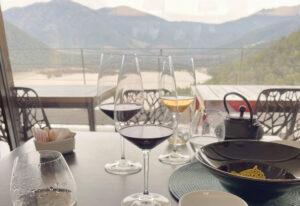 Our first dining at VIK was an elegant three-course lunch in the lake view dining room. Courses of soup and beautifully colorful salad with VIK's garden greens were followed by delicious Chilean filet of beef for me, plus a wonderful carrot mousse dessert, all paired with Vik's exclusive Rose and Carménère wines. Greg ordered the seafood paella, which when presented at the table he was told, "… all served on a bed of chicken". That would not be a problem for most, but twice Greg had listed chicken as a food aversion on the required preference sheets. Apologies were made. I noted that service in the scenic, mod restaurant is almost excessive with as many servers as guests.
Our scheduled Vik Wine Tour, included in our Vik Full Experience package, brought us back down the long dirt road to another stunning edifice – Vik's wine facility – built in 2012. More wild architecture here on display – starting with the peaceful water-garden rooftop, where granite boulders are strewn across a reflective corrugated surface. The effect is sublime, yet functional as our guide explained – the rooftop irrigation keeps the wine barrels stored below cool during Chile's hot summers.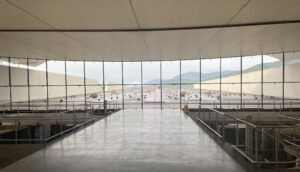 Our VIK tour of the Scandinavian owner's massive wine facility was impressive, informative. I loved the cooperage where VIK handcrafts their own wine barrels from French Oak, charred inside with Chilean oak from the 4,400-hectare property. The smoky wood aroma was delightfully intoxicating. So were the 5 wines we savored in Vik's stylish "bodega" to conclude our tour and including to icon vintages.
Time to plunge, as we'd reserved our scenic outdoor hot tub back at the Hotel. We alternated between the jacuzzi and brisk unheated pool on a September afternoon, enjoying the 360 panorama from our infinity edge perch.
Vik's fitness room beckoned for a Peloton ride, then ping pong in VIK's "playroom" with every board game imaginable.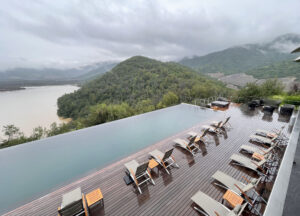 We dressed for dinner, it seemed the thing to do in this bougie hotel. We sipped a glass of wine, in lieu of high tea also served, in the fireplace living room with a round of billiards. Soon it was 7:30 – time for more VIK cuisine. That's the early dinner seating. Latin Americans eat late, in fact, they do everything late and "lento" meaning slow.
Dinner was recommended as a "blind tasting" of Chef's inspiration – a delicate beet puree salad, handmade rabbit stuffed tortellini, and sturgeon drizzled with garden herb emulsion ensued. Dessert was a traditional vanilla rice cake con leche that sounds basic but was sweet, crunchy, exquisite. Courses were served with VIK's signature Carménère.
After dinner at VIK, there is no live entertainment or post-dinner amusement, the cuisine is truly the star of night at VIK, plus the stars overhead viewed from our suite.
Next morning after a lovely buffet breakfast, complete with fresh-prepared eggs of your choosing, we were excited for our garden tour. After a shuttle back down the hillside, we were educated as we strolled the rustic organic rows of herbs, vegetables, fruits and edible flowers, all appearing daily in VIK's kitchen.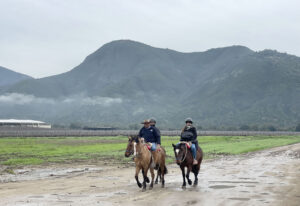 Guests can ride horseback as an activity around Vik's vineyards. Bike tours and walking paths are also available – however with excess "winter" rain – it was far too muddy and wet during our visit. We returned to the hotel in time for a little fitness, and lunch – another decadent gastronomical display. Our hot tub reservation was canceled as they'd drained the tub.  An example I suppose of how Vik's high prices create high expectations that weren't always met.
Unfortunately, wet September weather also compromised the open-concept hotel seating areas. Seems the architecturally bold titanium roof with its curves and seams proves a faulty design in inclement weather. Vik's staff mitigates the drips and slippery concrete best they can, placing plastic curtains along balconies and railings. So much for the cool design optics.
VIK is one of the most expensive wine hotels in Chile, and the service and cuisine is posh. Foodies, oenophiles (wine-lovers), artists and architecturally curious minds will love a few nights' stay here.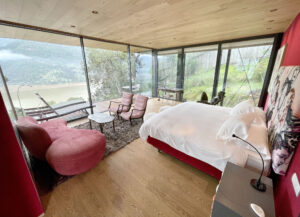 VIK is well-situated in the southernmost section of Chile's Maipo wine valley, where you will also find bigger wine productions at Maipo's Concha Y Toro and Santa Rita. Vik is just over an hour, but a mile over mountains as the crow flies, from the splendid Colchagua Valley Wine region and Santa Cruz to its south, just over the mountain range – but you must drive around through bucolic land to a more major highway.
Things to know before you go to VIK:
VIK Hotel and Winery is 2.5 hours from Santiago.
Download What's App – This is how staff communicates with guests about bookings, activities, etc.
Dress code in Vik's dining room is casual chic, but bring athletic clothing and hiking boots for trails, biking, riding, walking on dirt roads.
VIK 's Full Experience Package includes three meals a day, plus the wine tour, or you can opt for a la carte. Its spendy, in the $1,000+ per night range.
You come to VIK to vacation and sip vino, not for connectivity, no TVS, no music. Most guests keep to themselves. There are no planned social activities, which was a transition for us coming from the ski lodge atmosphere at Portillo where a schedule and social director kept things lively from morning till the wee hours.
Groups are welcome at VIK, so if you overlap you may find the common areas and game rooms are usurped by their functions, and the Wi-Fi strength plummets with meeting usage.
Combine your VIK visit with more of Chile's best wineries nearby – among the top 10% of wines in the world!
See more Luxury Wine Travel around the World
Austria's Wachau Wine Region
Chile's Maipo Wine Region
Portugal's Douro River
France Burgundy Valley
Italy's Wine Region
Spain's Wine Country
California's Napa Valley
Vail's Taste of Vail Wine Event
Washington's Woodinville Tasting Rooms near Seattle