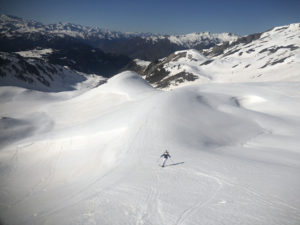 Baqueira Beret ski resort in Spain's Pyrenees, the beautiful Val D'Aran, is a special place to ski – with a rich culture – historically and linguistically, gorgeous scenery, delicious gastronomy and delightfully friendly people. If this is your first endeavor to the Alps from the UK or North America, an ideal place to stay is Eira Ski Lodge in Tanau, the highest village in Baqueira Beret resort at 1700m.
Eira means snow in Welch, pronounced Eda in Spanish. This convivial cozy ski Inn is British-owned and managed, and its just steps to the ski slopes at 1700 meters elevation, with its own chairlift to Baqueira Beret's vast ski resort.  Nestled in the small quiet ski village of Tanau, where the Spanish Royal family has a ski house, its convenient, as you don't need your car to drive to the slopes, and the team at the Lodge is at your beckon call. Eira Ski Lodge has indoor parking spaces for guests, and you can drive to several nearby Val D'Aran medieval villages for aprés ski, cultural tours or a cheese factory visit.
Eira feels like your own ski chalet, only with a Chef serving you breakfast and dinner (included in the package price) and a friendly team of mates that'll make you a cocktail, bring you wine in the living room for aprés ski, even provide a massage during your stay.
Eira is perfect for a takeover – rent the entire lodge's eight rooms with your ski party. Four upstairs rooms have lofts and can sleep up to four, traditional rooms are on the main living level. Each guest suite is neat, cozy, with en-suite baths. Gather eight couples, a guys or girls ski trip of 10-16, or several families and you have an exclusive catered ski chalet for the week with a Chef and staff.
Eira's casual common area is inviting, a great room flows from the alpine wood lobby and bar, to a living and dining room opening to a mountain view, very convivial to gather.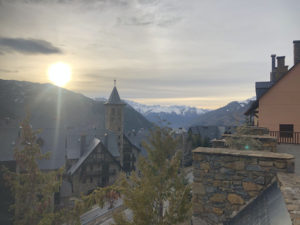 The pace at Eira is so relaxing, at your private ski retreat. Mornings, an English breakfast buffet is displayed. Eggs, bacon, or pancakes can be cooked to order by the kitchen, as you enjoy a ski slope view from the grand communal dining table with your ski house friends. Everyone can come and go as they please, from early risers first chair skiers to slower paced sleep heads.
You walk to the Calafate Ski Center, 50 meters from the Lodge, where they'll have your ski boots dry, warm and ready, a convenient amenity for Eira guests – whether you rent or bring your own gear. The team at Calafate Ski Shop will swiftly outfit you with the latest ski or snowboard equipment, from their modern fleet of Atomics, Head, Stöckli, Blizzard. They'll even buckle your ski boots – very Four Seasons Jackson Hole or Deer Valley. You can set up ski lessons or a mountain guide with Calafate's elite team of instructors too. The fun, friendly crew at Calafate, led by Julio, is the most professional, energetic and efficient ski shop crew we've met!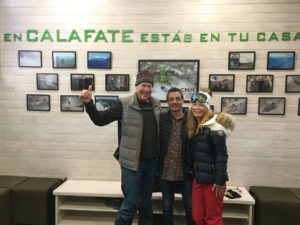 After your amazing day skiing Baqueira Beret's 5,600 acres, yes that is larger than Vail, you easily ski right back to Tanau 1700.  Leave your ski gear at Calafate, and return to your comfy ski lodge for tea and cakes, or a drink from the bar, you can sit by the fireplace or on the sunny stone patio enjoying the valley sunset.
Evenings at Eira are relaxed, no need to find dinner reservations, appetizers are served around 7:30 in the living room, then guests gather around the big dining table for a three-course meal the Chef has posted on the menu board earlier. We dined on such savory delights as duck, hake, lamb, homemade soups to start, and delightful desserts.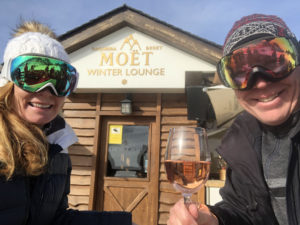 One night a week, typically Wednesday, there is no dinner serve at Eira, to give the staff a night off. This is an opportunity to dine at Sabor right in Tanua village – a cozy gastro pub specializing in beef. Or go into Veilha for pinxto – a fun friendly tapas style pub crawl of small plates and wines. For the real adventurer, you can dog-sled or snowmobile to dinner, to a monastery 8-kilometers into a remote valley.
It's the most relaxing ski holiday in Spain staying at Eira Ski Lodge, steps to the ski slopes, with a friendly team to cater to you before and after your big ski day at Baqueira Beret. Our week, every day was like Groundhog Day, a repeat of sun, blue sky, wonderful skiing amid the Pyrenees, a grand on-mountain lunch, $4 Euro wine at aprés ski, chatting with our lodge friends over Chef's dinner and sleeping under our fluffy duvet, dreaming of doing it all again.
More reviews of Spain
Spain's Val D'Aran
Skiing in Spain
Spain's largest ski resort – Baqueira Beret
Entry Cities:  Toulouse and Barcelona