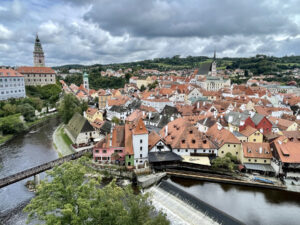 When people think of visiting The Czech Republic, they think primarily of Prague. Sure, Prague is the capital of Czechia, and a most fascinating, historic, and architecturally beautiful city. Prague (Praha in Czech) is only three hours from Vienna by car, four by train, so it's part of a wonderful European tour. We visited Czechia, and Prague, after our cycling trip along the Danube River. Czech Republic is bordered by Germany, Austria, Slovakia, and Poland.
Czech Republic was originally considered Bohemia – the kingdom of the Holy Roman Empire. Then it was part of Austria's Habsburg Empire from 1520 to 1918. This Austrian heritage accounts for the amazing architecture in Czechia. The vast majority of stunning Czech palaces, churches and castles were built during Austria's rule with Renaissance influence. In fact, Czechia has the most castles of any European country, over 2000!
Following World War II "Czechoslovakia" was a communist nation in the eastern block until 1989 when Czechia gained its independence. Their culture and language is a mix of Austrian, German and Russian. With their own currency of koruna, there is good value in the Czech Republic, although Prague is a big city so it can be pricey. Better value can be found in smaller Czech villages. The Czech people are not overly friendly, though many speak English. They seem to still be shaking off their decades of Soviet oppression. Others have "czech'd" tourists off their list, and are just not very engaging to folks from away. If you meet a welcoming warm receptive Czech, well… good, Czech that box!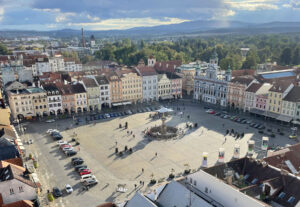 Aside from Prague, certain Czech towns are special with their own history and beauty… Karlovy Vary, Cesky Krumlov, České Budejovice, and Telc are four interesting villages we visited, far less busy too. You may want to "check" these out, on your way to and from Vienna Austria and Prague, especially České Budejovice (say that 3x's) and Telc, both charming cities.
České Budějovice is a cool historic town between Prague and Vienna in the heart of south Bohemia. It's perfectly situated between two UNESCO World Heritage sites – both featuring fantastic castles to visit –  České Krumlov and Hluboka castles (see descriptions below).
The highlight of České Budějovice is the village square surrounded by 48 beautiful baroque and renaissance buildings and the Samson fountain. Climb the 225 step up the 16th century Black Tower to see the bells and admire a view of the landscape, then go to the plaza for a coffee or wine in this magical 1265 platz. Ask about the legend of the erratic boulder in this square.
We dined at Budějovice's popular Masné Kramy, its where the locals go. The food is plentiful and hearty featuring local grilled meats served with cabbage and apple sauce. The interior resembles a beer hall more than a fine restaurant, its boisterous and busy. Czechs do love their beer by the way – Pilsner Urquell in particular, a pale cream lager that pairs well with hearty Czech cuisine, also pairs with hockey – a popular Czech pastime. Did hockey's full contact "checking" originate in Czech? Just checking.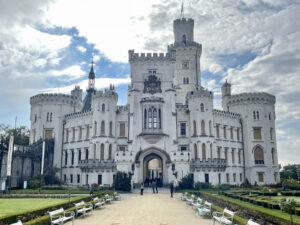 České Krumlov Castle, 30 minutes south of Budějovice, is a stunning castle in Krumlov's charming cobblestone village surrounded by beautiful waterways. A tour of this castle shows the Rosenberg and Schwarzenberg's lavish lifestyle, especially the grand ballroom's hand painted scenes of regal Renaissance parties. The hilltop castle is surrounded by cascading riverways and a moat – which is home to live bears! The village of České Krumlov is a delight to stroll following your castle visit, stop at a humble café, and shop the local boutiques for handmade crafts and tasty liquors. You'll feel as though you stepped back in time.
Hluboká Castle, just 15 minutes north of České Budějovice, is a must if you can schedule an indoor tour! This perfectly preserved castle is considered the most beautiful chateau interior in all of Czech. On a guided tour of Hluboká, you walk from one gorgeous room to the next. The palatial palaces 110 rooms of private chambers, libraries, opulent receiving rooms, dressing chambers and game rooms, even a war rooms of armament, are all adorned with splendid mahogany carved woodwork and marble, massive Murano crystal chandeliers from Venice . As the imperial home to the wealthy Schwarzenberg family, the castle required 40-50 servants. Hluboká was originally built in the 13th century in Gothic, then completely renovated about once every century – Baroque to Renaissance in the 16th and 17th centuries. The final renovation in the early 20th century brought modern power, water and heat to the castle. Interesting that the Gestapo seized the castle during World War II but did not damage the elegant property, as they enjoyed throwing extravagant parties in the sophisticated halls too.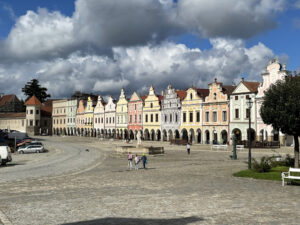 Telc is another romantic Czech town, between Prague and Vienna. Telc has a palace, churches, tunnels and the prettiest plaza as its centerpiece. This small charming Czech village of 6,000 is most famed for their "painted ladies" that line the pedestrian zone – referring to the colorfully decorative facade houses facing the Renaissance square. It's like a pastel postcard.
Explore the Telc Chateau and the intriguing underground tunnels (as long as you're not visiting on a Monday when they're closed). Stay at the friendly Café Telc, above their chic pastry shop just steps to the square, for a clean lovely room and the most wonderful European breakfast buffet.
Telc's Amigos is fun for Mexican burritos, pizza or burgers, if you've tired of sausage and schnitzel. Or Bistro Café Friends serves coffee and sweets, or later – raclette, daily soups and sandwiches (also closed Mondays – Wednesday).
Another day trip from Prague is Karlovy Vary (1.5 hours to the west) which reveals a beautiful spa town, with surprisingly fine boutique, hotels and restaurants. The city of Karlovy Vary is famous for its natural thermal springs. For ages the wealthy have flocked here from Prague and Vienna for their healing mineral baths.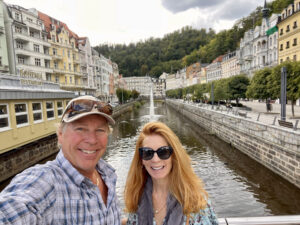 Karlovey Vary is still a chic Czech town with beautiful architecture at the Colonnade, the Theatre, and the Orthodox church. Upscale hotels, cafés and shops line the pedestrian zone along the mineral-infused Teplá River.
Of note: you cannot actually swim in Karlovy's thermal springs which flow through town. You can go in the glass exhibition in city center to see where they've enshrined one of the geysers in a weird modern way. And you can buy a funny little cup for a few bucks to sip from mineral springs around town. If you wish to bathe or spa, you need to pay admission to the Medical Spa or a Thermal Resort for their indoor thermal swimming pools of varying temps.
Karlovy's funicular whisks you up to Diana's Tower for a splendid view, and from here you can walk out to Deer Jump Lookout for some exercise.
We stayed at the Hotel Romance in the heart of Karlovy Vary and loved our balcony (only a few rooms have them so be sure to ask) overlooking town. Don't miss the plentiful breakfast buffet.
For Karlovy's most extraordinary dining experience, Le Marché features a Chef's Table in the kitchen with a lavish 10-course meal with wine pairings. Our night was so special, the was food sublime, and our bill was 5000Kč – that's 250€ for a culinary feast and seemingly endless wine pourings.
Czechia has a fascinating history. Lovely villages like these, and of course Prague, are testament to its trials, occupations, and resilience. Prague and the Czech Republic makes a great destination to add to a Vienna visit, or a Danube bike tour or river boat cruise.
See more on Prague's Top Things to See and Do, and where to stay and dine
And nearby
Vienna Austria Top Things to See and Do
Biking the Danube River
Austria's Wachau Wine Region
Passau Germany