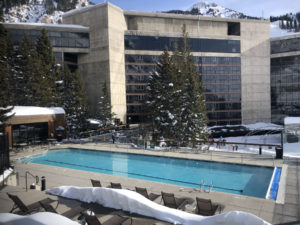 Staying at Snowbird is the way to go. You get to enjoy slopeside accommodations after a big day skiing Snowbird's 11,000′ mountain, with no worries about driving up and down Little Cottonwood Canyon in snow. The Cliff Lodge at Snowbird's base is the most posh four-diamond hotel lodging, a dramatic 10 story concrete hotel, avalanche-proof, and state of the art in its 1971 day, its still the place to stay. The Chickadee beginner ski lift brings you up to the hotel, so you don't have to hike to its high perch above Snowbird's Skiers Plaza.
Of Cliff Lodge's 350 rooms, most have mountain and canyon scenes or slopes views from the grand floor to ceiling windows. You can store everyone's skis in the mezzanine level ski lockers, complete with glove and boot dryers, or rent gear from the in-hotel ski shop. This reduces lugging copious amounts of equipment on ski mornings – and reduces clutter in your hotel suite.
It's a huge hotel, often frequented by conference guests, who won't be in your way for first tracks. There are lots of lounges and lobbies in the glass Atrium, and the entire 70's circa Lodge has been updated and renovated to the tune of $35 mill recently. The concrete design was to be avalanche and weather proof, modern, and not mish-mash like many chalet and condo clustered village according to Snowbird founder Dick Bass.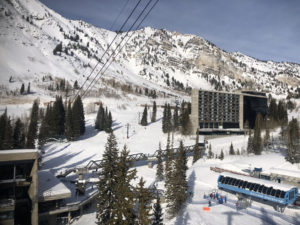 It's a short walk, or a few ski turns from the ski locker room, to Snowbird's Skiers Plaza, a fancy name for Snowbird's outdoor concrete courtyard, which encompasses three stories of skier services, shops and restaurants. Here is where you catch the first Tram to the summit Hidden Peak at 11,000' in the morning. Yes, you may encounter a line of locals on a powder morning for the 125-person tram.
Après ski at Cliff Lodge, there's an outdoor pool and three hot tubs overlooking the beginner slopes at mezzanine level, often in the afternoon sun too. Or go up to the Cliff Spa on the 9th and 10th, the Lodge's rooftop Spa offers massages, treatments, and an adults-only outdoor pool and hot tub up on top of the world (or the Hotel at least), magnificent.
Evenings, The Aerie on the top floor has a beautiful bar and lounge, often serving happy hour snacks and cocktails with an amazing Snowbird view. Later live entertainment is featured in the bar most nights. Aerie also has a forma dining room with more wonderful windows. Downstairs in the Cliff Lodge is SeventyOne, a more retro eatery with American comfort food and a kitschy 1971 décor in homage to the year Snowbird debuted. '71 is open for breakfast, lunch and dinner, and family-friendly.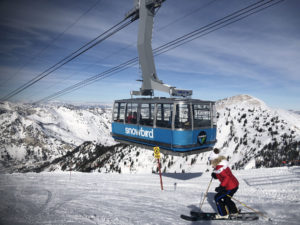 You can  walk the pedestrian bridge to the Plaza for more casual dining options, ski shops and General Gritts grocery market, plus The Tram Bar where locals go for sports on the big screen and ocassional live bands. Sprigntime the Plaza is filled with sunworshipping skiers chillin' over beers after their last lap, very social. Your Cliff Lodge guest charge card is good all over Snowbird, even for lunch at the scenic Sumit Lodge – its all owned by Snowbird.
Traveling with kids, Camp Snowbird is conveniently located in the Cliff Lodge hotel – so you can drop off your little skiers for their lessons and day camp, if you are eager to ski without encumbrance. There's also dacyare in Cliff Lodge. If you prefer to make tracks with your tike, the beginner Chickadee lift is located conveniently right next to the Hotel.
Other lodging at Snowbird includes the Iron Blossom, The Inn at Snowbird, and Cliff Condos. Further up Little Cottonwood Canyon is Alta – the legendary skiers' only mountain, and two more top notch lodging properties – Snowpine Lodge and Rustler Lodge. You can ski from Snowbird to Alta and vice versa at the top, with the upgraded shared interconnect lift ticket (no snowboarders allowed at Alta however).
See More Utah Ski Reviews:
Alta
Deer Valley
Park City
Powder Mountain 
Snowbasin
Snowbird