St Augustine is a magical place, on Florida's northeastern coast – historical and happening by day – from Spanish landmarks and parks, trolley tours to fantastic Flagler hotels, museums and a college, to beautiful beaches and boating. The Mediterranean-style town's cuisine scene is diverse and delicious too, from fresh seafood at local waterfront spots to clever tapas gastropubs in authentic buildings and cafes along the charming streets of St George, Castillo, Menendez and Aviles. Here are a few of our top picks on  places to eat and drink in the flavors of St Augustine!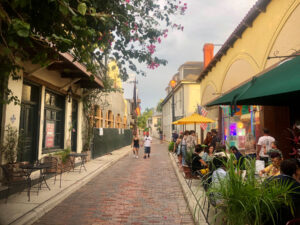 Start your day the St Augie Way:
St Augustine Coffee House for a perfect cup of Jo and breakfast pastry or quiche, enjoyed on their patio off historic St George.
Schmagel's Bagels on 69 Hypolita offers perfect New York style bagels with a smear to enjoy in  their shady courtyard.
Blue Hen Café in historic Lincolnville neighborhood is a classic serving southern style home fries, grits, burritos, flapjacks, you name it – plus pint size mimosa.
Crave makes wonderful organic and vegan wraps to go or to eat in their hip setting, or outdoor patio on historic King Street. Healthy ingredients comprise clever combos, salads, smoothies, bowls and wraps – the Sante Fe Shrimp wrap is my fave!
Lunch and later, dining in town: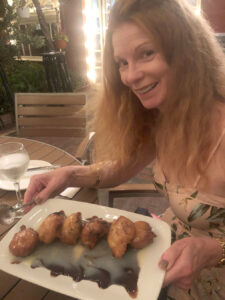 Harry's Seafood  serves spicy Cajun and Creole cuisine in the most romantic outdoor courtyard on Ave Menendez. Yes, it's a Florida chain but they do southern seafood right. The She Crab Soup is the best we've had, crazy good and creamy competitors to Charleston SC.  Often there's a musician playing in the evening, have Harry's signature Crab Crusted Redfish Royale or Andouille Crusted Grouper. The Oreo Beignets for dessert are ridiculous. You too will be "Hooked on Harry's".
OC White's is a tradition with views of the Matanzas from Avenida Menendez, since 1790, serving seafood and local faves, oh and it's haunted so enjoy some spirits with your meal!
Forgotten Tonic has a cool vibe, creative tapas cuisine and fantastic bartenders crafting clever cocktails, a hideaway in the heart of St Augustine's downtown, Aviles Street.
The Floridian has a cool courtyard plus interior setting, and wonderful local southern fare, in fact this is where the locals go for delicious creative fresh cuisine, healthy and vegetarian offerings too.  72 Spanish Street downtown.
Alta Marea on King Street has a chic interior, and inspired Italian menu. The Octopus wall art hints at the menu offerings of seafood plus delicious fresh handmade pasta. Alta Marea means high tide in Italian, 21 King Street. Sister restaurant on Anastasia Island is Terra & Acqua.
Catch 27 on Charlotte Street in the historic district serves the freshest, most delicious fish, oysters, crab, shrimp. Sit in the pretty courtyard patio, sip artfully concocted drinks and prepare to love the sea specialties!

Casa Maya Mexican is a fiesta on 22 Hypolita, with casual south of the border dishes, good margaritas & sangria, and salsa bands certain nights!
Casa Reina is avant garde upscale Mexican and southwest cuisine, on San Marco with a great view from the outdoor patio tables and upper decks. Reina is open for dinner, sister restaurant of next door Harry's.
Café Alcazar – Dine in the deep end of Flagler's 1889 indoor pool! Great ambiance and yummy food, often piano music, ideal after a tour of sister hotel Ponce De Leon – now Flagler College. Make reservations for the Café and the Flagler tour, also the Lightner Museum in the Alcazar.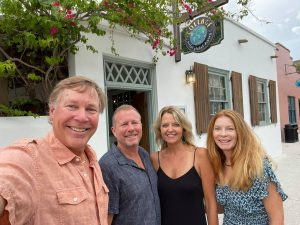 Collage Artful Global Dining on Hypolita is a must, extraordinary food beautifully prepared and presented, romantic interior dining space, excellent service. Reserve far in advance, no kids, this is special occasion dining.
Drunken Horse on Charlotte is tres bien for classic French bistro fare… excellent wines,top  service, and French Onion Soup, Beef Bourgignon, Croque Monsieur, and many other delightful Continental bits in this cozy spot, emerged from her sister restaurant in NYC.
Preserved is fine dining in a classic Southern Home in historic Lincolnville, owned by Chop House- purveyors of top beef. Reserve weeks in advance.
Raintree has a fun diverse menu and full bar, fresh seafood and plentiful portions, ask for outside gazebo seating away from San Marco Ave.
Just beyond town: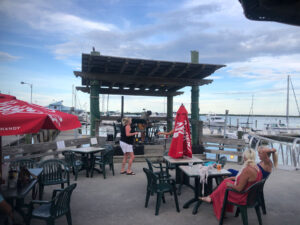 Cap's on the Water on Vilano Beach, overlooking the ICW, is a splendid casual spot for lunch or dinner deck dining, arrive by boat, or just watch the boats come & go. The smoked fish dip is YUM! If Cap's is super busy go south to
Aunt Kate's, same setting, good food here too!

Kingfish Grille in Comachee Cove is loved by locals for fresh seafood, sushi and a marina view next to the Vilano Bridge. Great setting and Happy Hour.
The Reef on Vilano Beach offers a dramatic setting, perched over the Atlantic and beach. Great menu for lunch and dinner, and a fantastic happy hour, as you watch the waves crash below in the sand.
St Augustine Fish Camp is a cool culinary hot spot at St. Augustine Shipyard, with outdoor waterfront dining and a diverse menu from burgers to fish sandwiches to wonderful fresh seafood entrees.
St Augustine Island and Beach Dining:
Conch House is a casual marina bar – kinda Key West style, this restaurant and resort has a fun Tiki Bar, indoor and outdoor dining, and happy hours. Frequented by locals, Conch has live music – especially Reggae Sunday. On Anastasia Island – Comares Ave.
Black Fly just over the Bridge of Lions on Anastasia has wonderful fish dishes, same owner chef as Collage in town. Fun modern vibe, or be a bar fly at the Black Fly – the bar area is inviting too with the same menu and happy hour with brick oven pizza & drinks deals.
Llama Restaurant is Peruvian, very unique, small seating and limited menu, for the daring palate. Beer and Wine only, no liquor. If you want something truly special, reserve weeks in advance.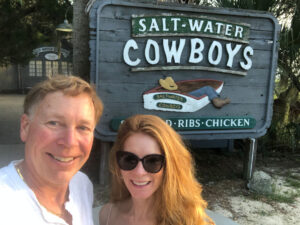 Salt Water Cowboys on the western side of Anastasia, Crescent Beach area, has a great relaxed "salty" vibe and a simple but superb seafood menu. Get a bucket of Oysters, crab cakes, alligator or a combo fish and shrimp platter, and watch the magnificent sunset over the lush marsh.
Salt Life Seafood Shack offers outdoor dining on A1A Beach Blvd, St. Augustine Beach, with happy hours and oysters, great Sushi deal certain nights, all with a salty sea view by St John's Ocean Pier!
Gas is a classic old gas station near the Bridge of Lions, serving up diner style fare like meatloaf, burgers, made and served by a dynamic mother son duo.
Odd Birds offers good food, a nice bar, outdoor seating, and often live entertainment. No reservations.
O'Steen's is a St Aug staple for good old fashion diner fare, the fried shrimp is their specialty –  a heaping happy (not so healthy) serving. Its not fancy, no liquor license, no fabulous interior décor, just decadent diner food – cheap and cheerful!
Commander Shellfish Camp is worth the trip to the southern end of Anastasia Island for the freshest seafood. This family operation on the Intracoastal actually harvests their own oysters and clams, and their food is plentiful, fresh, and delicious. The Low Country Boil is super and worth splitting. Daily catch fish sandwiches are great too. A fun scenic drive from here is to continue south over the jetty to Marineland and tour Washington Oaks State Park when the flowers are blossoming.
More on St Augustine Top Things to Do
St Augustine Lodging: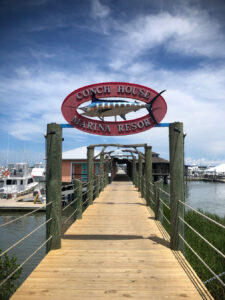 The Collector offers boutiquey luxury lodging in a hidden courtyard, with private cottages and a courtyard pool oasis. Walk to historic downtown and dining, then return to your 5-star sanctuary.
Casa Monica Resort & Spa is a 4-star Marriott Autograph Collection property, an historic landmark in the heart of St. Augustine, steps to Flagler College, St. George Street sights, dining and shopping.
Conch House Marina Resort is a fun funky, casual waterfront resort with poolside suites, on site dining and a popular Tiki  Bar, relaxed laid back island vibe – on Anastasia Island across the Bridge of Lions from downtown St Augustine.
Luxury Private Home Rental on Anastasia Island, just a mile walk to downtown St Augustine, on the water, Salt Run Inlet. Beautiful 3 bedroom 3 bath waterfront home, with magnificent sunrises and sunsets, dolphins and manate just off the private dock.
How to get to St Augustine, Florida:
1 hour drive from Jacksonville (JAX) International Airport
1 hour drive from Daytona Beach (DAB) International Airport
1 1/2 Hours to Sanford Orlando Airport (SFB)
2 Hours to Orlando International Airport (MCO)
By Train – Amtrak services to St Augustine, Palatka Station, 40 minutes drive north east to St A.
By Boat – GPS 29.896004° N, -81.31671° E
"The world is a book, and those who do not travel read only one page"
— Saint Augustine