Anyone who's deeply passionate about alpine skiing has passed through the 1949 Hotel Portillo wooden doors, or should! Ski Portillo is one of the most amazing, unique ski resorts we've visited – and we have skied over 277. It's remote, in the Chilean Andes bordering Argentina, it's winter here in the Southern Hemisphere during our Northern Hemispheres summer, and it's incredibly scenic with its centerpiece Lake Inca and towering rock peaks all around.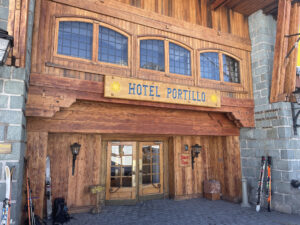 You come to Portillo to ski, for a week, or at least several days – since it's hard to get to, and the vibe here is contagious, making it equally hard to leave. The ski terrain is unique, quite steep, and almost entirely exclusive to those 400 or so guests staying at the resort.
Hotel Portillo is an all-inclusive ski and stay experience. The iconic bright yellow Chilean mountain hotel at 9,300' overlooking beautiful Lake Inca has 123 rooms, a gracious old-world dining room, living room, library, bar, cinema, and game rooms. We splurged for a top floor (6th) lake view room with a balcony! Our room was neat, cozy, with daily maid-service, plus turn-down service at night. Who offers that anymore? Other lodging options at Portillo are the Octagon, The Inca Lodge Ski Hostel and Ski Chalets for families or groups.
Hotel Portillo is like an all-inclusive cruise ship, only with vibrant athletic skiers, from all over the world – gathered for big mountain skiing, après ski, elegant multi-course dining with Chilean wines, fascinating conversations about the evolution of the alpine sport, and shared passion for powder, snow and skiing.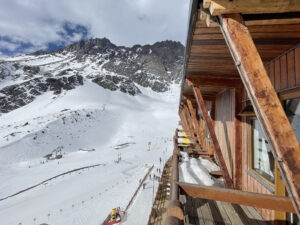 Hotel Portillo is the who's who of skiing, with so many experienced skiers, racers, professionals, who have carved the inimitable alpine character of this magical resort. I have never seen so many phenomenal experienced enthusiastic skiers all gleefully gathered. We heli-skied with Franz Weber – world champion speed skier, we hot tubbed and dined with the US Ski Team including the beautiful gracious Mikaela Shiffrin. Seriously!
The 1949 Hotel Portillo walls are a legacy of ski memorabilia, autographed photos of famous faces who've stayed and skied here, wined, dined, laughed and lived at this alpine haven. The Purcell family owners are onsite and happy to share stories, heritage and their pride in their place, these are Rockefeller descendants – but mostly just passionate approachable skiers. Henry Purcell has a Hilton background – and it shows in the hospitality.
A big St Bernard, Petra, wanders Portillo's lobby looking for belly rubs, it's that kind of comfy happy place.  If you are looking for modern, chic and trendy, this is not your resort. Portillo is old-world, reminiscent of the glamorous ski days of the 60's – 80's.
During our ski week, with about 400 resort guests, and a similar number of attentive friendly staff that live here all winter, we enjoyed lavish multi-course meals to cap off our amazing ski adventures. Beautiful two-course breakfasts are served in the elegant lake and slope-facing dining room with chandeliers, white linen and formally dressed waiters. Then it's down to the ski and boot check room to gear up and step out on the slopes.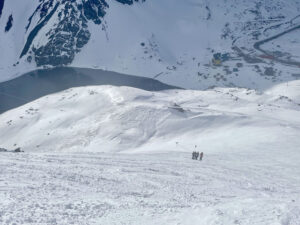 Start your day skiing Portillo's west side – Roca – in the morning in the sun. Then head over to The Plateau's east aspect around 11:30 as those slopes emerge in to the sunshine. Runs are technically short, but ski very long, and many are steep, ungroomed and challenging. Portillo's slingshot lifts are yet another unusual feature – not for the timid. See our Ski Portillo review.
Lunch is back in the grand hotel, another wonderful three-course extravaganza, leave your ski boots down with ski check. Or you can ski into Tio Bob's on the mountain for a cheeseburger in paradise, garlic shrimp, or Lomo a lo Pobre – Chilean grilled meat and potatoes, on a sunny day overlooking Lake Inca.
Heli Skiing – After you check into the hotel go to the helicopter office and sign up for a day of Portillo Heli Skiing. You will only fly if the weather is good and there is something very magical about 2 to 3,000 foot vertical drops from 14,000 feet!
Après ski at Hotel Portillo, everyone heads to the huge outdoor heated pool and two oversized hot tubs, waiters bring drinks – the Chilean specialty Pisco Sour is THE classic drink choice!  Massage and spa appointments are available, or you can enjoy a ski movie in the cinema, play pickleball or basketball, yoga, or Zumba, in the full-size gym complete with climbing wall, or just relax over high tea in the dining room or living room. Kids activities are offered all day, freeing up parents while entertaining kiddos with crafts, sports, cooking class, cocoa and movies.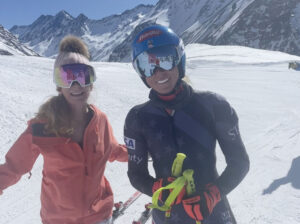 The Piano Bar music cranks up around 7, same guy most every night – same playlist too, before first dinner seating at 8 – which seems late to us skiers – Latin American culture. The cuisine at Portillo is surprisingly sophisticated, delicious and fresh at this 9,300′ alpine haven – we savored swordfish, octopus, tuna carpaccio, lamb, gorgeous desserts and fruits. After a lovely dinner each night, a band is set up in the Bar where everyone heads, or occasionally the downstairs discothèque pumps up. If you are a late-night lover, you can even wander down to La Posada – the employee housing bar – and enjoy more drinks with the crew – just put it on your tab like everything else at Ski Portillo. Private lessons, massage, a bottle of Chilean wine, gift shop swag, heli-skiing, ski tuning, even a trip to the onsite clinic for any medical needs – all available here at Hotel Portillo.
Our ski week at Portillo was magical, the longer we stayed the more we adopted the alpine vibe and luxurious ski pace. Social director Felipe had us entering the weekly ski race, meeting people, even invited us to a moonlight dinner up at Tio Bob's.
Ski Portillo is a Club Med-style ski vacation – with all your meals, lift tickets and amenities included. Heli-skiing is extra, so are your drinks, any ski lessons and tuning – which are all top caliber and worth it.
Portillo means gateway – and this unique exclusive Chile ski resort is your gateway to sun, snow, amazing Andes terrain and bonding with like-minded skiers who also choose to "winter in summer."
Portillo Precaution: getting in and out of Ski Portillo is tricky, the road closes with too much snow, this twisty-turning road has 39 switchbacks, its slide prone and narrow, this also is the main route for trucks from Chile to Argentina. The road is often lined with 18-wheelers awaiting border clearance. The ride from Santiago to Portillo is 2.5 hours under optimum conditions but we heard one shuttle took 8+! We paid and extra $300 per person to get a helicopter flight into Portillo, as the road was buried in snow and avi-debris. This made for both a grand entry and a very quiet ski week with no cars, trucks or arrivals. Silver linings.
See more tips on Ski Portillo – and go skiing in Chile at Ski Portillo!