Seattle often needles its way into the Top US Cities. The so-called Emerald City (for its surrounding evergreen trees) is famous for its waterfront, the iconic Space Needle, exotic food, Ferris wheel and ferries, sushi, and sports. Seattle is synonymous with "startups" – Amazon, Eddie Bauer, Boeing, Expedia, Starbucks, and the Seahawks,  to name just a few. So what are the best things to do in Seattle…our top 10 things to see and do, when you're Sleepless in Seattle: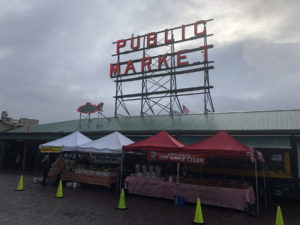 Pike Place is the heart and soul of Seattle. This walkable waterfront Public Market, originally a 1907 farmers' coop, is loaded with unique shops, cafés, and local stands selling cheese, Washington wines and beer, Dungeness Crab plucked from Puget Sound or King Salmon caught wild in the Pacific. Musicians (aka: buskers) perform for tips, it's like Boston's Faneuil Hall.  Take selfies and samplings of Seattle's best. Pet Rachel the 550-pound Piggy Bank. When you need a break, find a bar or café with a view of Seattle's Great Wheel – the waterfront gondola-style Ferris wheel.
Space Needle. Yes, so touristy, but its also super scenic on a clear day to climb the 520 feet (via the swift 57 story elevator) in this 1962 World Fair marvel. The panorama from this not-so-tall but dramatic Seattle sky tower is extraordinary, with 360 views of the Cascade and Olympic mountain ranges, 14,410' Mt Rainier, the sprawling waterfront and outlying islands of Seattle, and the city below. Be sure to bungee jump (virtually) from the top, its safe and silly, I dare you not to giggle. Note: Seattle's Space Needle is receiving a much-needed "space-lift" (clever name) to the tune of $100 mill including new walls of windows, and the world's first 360 revolving glass floor restaurant to debut June 2018.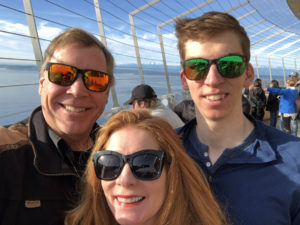 Chihuly Garden and Glass  is at the base of the Space Needle – this colorful collection of huge glass blown flowers and plant sculptures blossoms year round. The Armory here is an expansive food court with Seattle Children's Museum inside as well.
Have a ferry nice day. Hop a Washington State Ferry, the 2nd largest ferry system in the world, for a boat ride to the outlying islands, Blake, Vashon and Bainbridge. It's a reasonably-priced scenic boat trip, geared toward local commuters, and a great way to see Puget Sound, Elliott Bay and the Seattle skyline from the water.
Shop 1st and 2nd Ave Downtown where you will find Seattle's outdoor clothier classics, Mountain Hardware, North Face, and Patagonia (Pacific Northwest weather inspires primo technical gear). Pop into a few of the cool studios showcasing Inuit art and sculpture.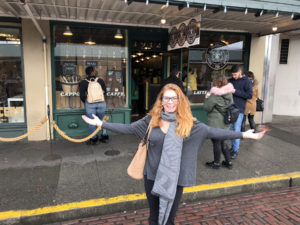 Starbucks
It's so Seattle-cliché but you must stop at Starbucks, the original café where this coffee dynasty debuted in 1972, in its humble beginnings on Alaskan Way near Pikes Place.
Park Seattle
Despite its city sprawl, Seattle has 6,400-acres of parks, so there's lots of waterfront and green space for the outdoorsy residents and visitors alike. Discovery Park has a classic West Point Light House overlooking The Sound, with over 500 acres of walking paths. Medina Beach Park on Lake Washington's west shore in Bellevue has beautiful views – per its namesake – of Seattle, Mercer Island and the mountains including regal Rainier.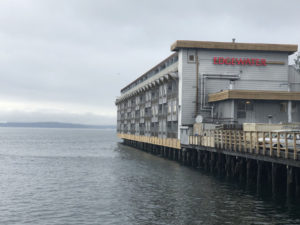 Stay at the Edgewater Hotel This cool-kids' hotel hangs on the waterfront of Alaskan Way, Pier 67. Its Seattle's only waterfront place to stay. Host to rock stars and celebs since 1962 (same era as the Space Needle – also built for the World's Fair), the Edgewater has an ideal location with a reputation for legendary guests and good times. The Beatles, The Doors, & more…
Wine your way out of town
When Washington pours (Pac North West weather pun) go 30-minutes north east of Seattle to savor Washington wine pours at Woodinville. The actual vineyards are east of the Cascades in a desert. So the vintners brought the wine rooms closer to the people, and Woodinville is a wonderfully convenient community of over 100 unique tasting rooms, many within walking distance, no reservations required, just pop in pop tops and taste, buy if you like. We tackled Woodinville's Hollywood district wine tasting rooms, like Delille, Alexandria Nicole, and Brian Carter where six pours included a commemorative glass for $15, credited towards a wine purchase if you wish.
Ski Seattle
Seattle is surprisingly close to several Washington mountain resorts, Summit at Snoqualmie, Stevens Pass and Crystal are all within two hours' drive. Whistler Blackcomb is under four, over the Canadian border. The Pac North West is known for big snow, big mountain skiing and beautiful scenery when the sun shines on these legendary peaks. Summer hiking and biking are big at these resorts too.
More  Travel Adventures:
Top Things to Do in San Francisco
Napa Valley Wine Tour Tips
Luxury Vacation Guide to the Best Wine Country in the World
Portugal's Douro River
France Burgundy Valley
Italy's Wine Region
"Seattle is for people who love culture, but refuse to sacrifice their wild nature for it."
– from "Seduced by Innocence"