Telluride At a Glance:
Summit Elevation 13,320'
Vertical 4,425′
18 lifts including 2 Gondolas
 125 trails, 2,000+ acres plus backcountry
Birthday 1970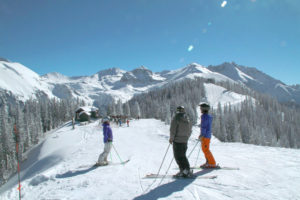 Why do we love skiing Telluride, let us count the ways, 10 reasons you must ski this Colorado gem!
Telluride has extraordinary views of the San Juan mountains, one of the most beautiful ski resorts. Located in a boxwood canyon in south west Colorado, Telluride has the highest concentration of 14,000' peaks surrounding its scenic ski slopes.
Telluride is sophisticated like Deer Valley or Beaver Creek but with even more serious terrain. We would sooner compare Telluride to a resort in the Alps for its European style and big mountain skiing reaching 12,000' in elevation, on 2,000 acres.
Telluride's terrain is some of the best in the country – scenic, spread out over numerous peaks but easy to get around. The local nick name is "To Hell You Ride". Telluride's vertical is a huge 4,425′ if you hike for it, 3,845' is lift serviced. But what is truly terrific about Telluride is that even intermediates can ride to the summit on the Gold Lift (chair 14) and peek over the edge into the extreme terrain dropping down the backside into Revelation Bowl, then saunter down See Forever a fantastic long trail – with a perfect name (though we nicknamed it Ski Forever).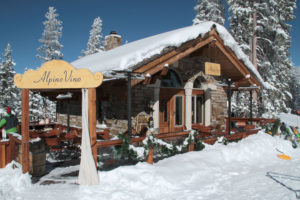 Highest lunch anywhere in North America, Alpino Vino is at 11,960'! This historic mining camp just off the summit trail, is a cozy chalet with waiters are dressed in traditional European costumes- as if you were airlifted to The Alps, and classic chacuteries and delicious soups and stews. Dine in this delightful chalet in the evening by taking a snowcat up to Alpino Vino for a five-course evening of wonderful cuisine, camaraderie with your cabin mates, a priceless evening – well actually the price is $125 for the dinner plus wine.
Telluride is EPIC, now part of Vail's Epic Pass.
Lift 9, The Plunge offers 2,000′ of pure vertical on very unique trails like Spiral Stairs, Bushwacker, East and West Drain, you will feel like you are plunging towards downtown Telluride with every turn.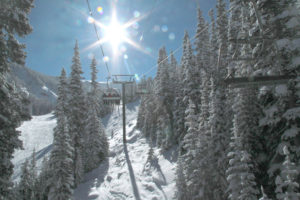 Prospect Bowl and Polar Queen offer acres of mellow wide open groomed runs, natural trails and a few gladed woods.
Palmyra Peak and Telluride's Gold Chutes are reached by hiking from the top of the Gold Hill Express and hiking out to climb Telluride's Gold Hill staircase at 12,500′ for some breathtaking scenery and awesome au-naturel skiing.
Ski to the Umbrella Bar Bon Vivant for a drink in the southwest Colorado sun, or ski to après ski at Allred's – a private lodge in the gondi building that opens to everyone for après ski 3:30-5:30, you can download the gondi after. Allred's also serves special gondola dinners each night. Allred's views into town and the grand mountain architecture are worth it!
Telluride has top ski hotels in the Mountain Village, steps to the lifts, at The Fairmont Franz Klammer Heritage Place which offers luxurious residence condo style lodging with full hotel and concierge service plus a rooftop spa. Its a Top Ski Hotel in the Rockies! The Mountain Lodge at Telluride has suites and condos plus a main lodge with an après ski lounge for drinks and dining overlooking the beautiful outdoor jacuzzi.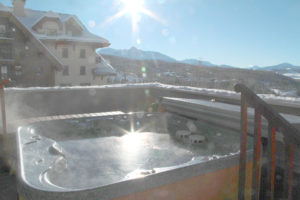 Stay on mountain, with 10 of your best buds by renting the Tempter House, Telluride's high end high elevation private ski house that comes with its own personal chef and obvious first tracks powder privilege since you are on top of Telluride slopes, living large at 11,000', above and ahead of the rest of the world for your milk run.
Downtown Telluride, an old miner's town transformed into a chic ski village, is authentic and fun. Ride the free Gondola down to town for Telluride après ski, shopping and dinner (open till midnight) – it's a fantastic ride as you descend into town covered in blankets, with Telluride's street lights sparkling like a box of jewels. Check out the Sheriden Hotel and the old Opera house.
Telluride dates to 1970-71, and has is an authentic local vibe, but its becoming popular with  skiing movie stars who own huge mountainside mansions for their one ski holiday annually. Go now before the rest… and ski the best – Telluride!
Telluride Tip: Telluride is now part of Vail Resorts' Epic Pass, providing skiers 7-days of skiing at Telluride with a 2018-19 Epic Pass purchase, along with 14 other ski resorts!
See More Colorado Skiing Reviews  l  Top Ski Hotels in West
 "If you don't ski this year, you will be one year older when you do." – Warren Miller