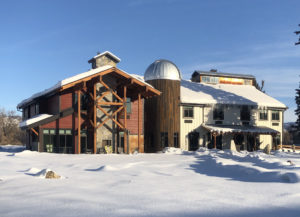 Compass Rose Lodge in the humble historic mountain town of Huntsville Utah is one of the coolest ski places we've ever stayed. Nestled in the pastoral Ogden Valley floor surrounded by hills, near Snowbasin and Powder Mountain  ski resorts, it's the perfect winter retreat. As we arrived, horseback riders trotted down the snowy streets. The farmhouse lodge opened in 2018, bringing some need vibrancy and sophistication to this sleepy Utah town.
A boutique skiers' hotel with just 15 spacious artfully decorated guest rooms, Compass Rose is intimate and cozy while also being modern and elegant. You could spend hours just browsing the ski memorabilia in the living room, coffee café, and cozy nooks. Off the inviting lobby, First Lift Coffee serves delicious brews to the public.
Après ski, light snacks, wine and beer are put out for the fortunate few in-house to enjoy by the fireplace. Breakfast is included and served each morning to guests. The proprietor ski family – Bonnie & Jeff Hyde, and their sons Dakota and River, are passionate about what they do – skiing, decorating, coffee and cuisine, and stargazing! Yes…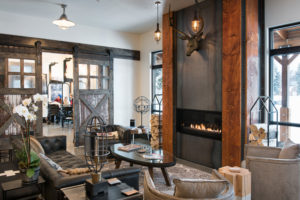 A silo attached to the mod farm-inspired hotel is called HALO: Huntsville Astronomic and Lunar Observatory. This amazing structure towers by the lodge, lending a colloquial feel to the clever architecture. Up inside the HALO, star gazers pro and amateur alike observe stars in the dark Utah sky through a massive scope. Our guided narrated tour on a calm clear January night, we telescoped in on nebula, galaxies and planets through the retractable rotating roof.
For après ski and dinner, just walk across the street to Shooting Start Bar – circa 1879. This oldest continually operating bar in Utah serves up casual burgers and beer – that's it – your basic skier's dinner for under $10 . Shooting Star is a rogue gallery of ski swag, with moose mounts and a 300 lb St Bernard. Enjoy billiards, beer (sorry, no wine or booze) and ski conversations at this legendary watering hole. Fact, Shooting Star stayed open even during Prohibition, and not much has changed at this iconic bar.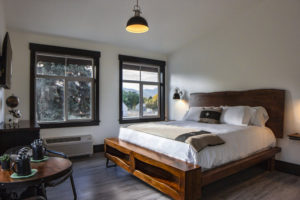 Back at Compass Rose, an outdoor firepit circle is ablaze, its very Stonehenge-esque, as well as the indoor fire, both inviting restful spaces before your sleep under the stars in your sumptuous guestroom.
A delightful breakfast is served with their fantastic in-house First Lift coffee, before your head out for your adventure – skiing 20-minutes away at Powder, Snowbasin, cat or heli skiing with Whisper Ridge Backcountry or snowmobiling.
Compass Rose Lodge is just an hour from Salt Lake City, and under a half hour to skiing, yet its worlds away from the bustling Park City area.
See More Utah Ski Reviews:
Alta
Deer Valley
Powder Mountain 
Park City
Snowbasin
Snowbird
"Wherever you go, go with all your heart" – Confucius