Beaufort South Carolina, pronounced "Bey-U-fort" , is everything you hope for in a southern seaside town – well preserved antebellum mansions, a picturesque waterfront park, splendid moss draped tree-line streets, charm and class…and a healthy dose of sun and fun! This authentic 1711 town in the Carolina's so called "low country" has plenty of waterfront, it's on the ICWW (inter coastal waterway). Beaufort boasts a proud heritage, from cotton barons to Revolutionary and Civil War encampments and now festivals and fine southern hospitality. Beaufort is now home to 13,000, on the island of Port Royal.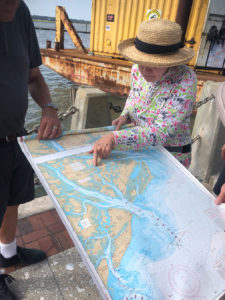 Beaufort is situated between Charleston and Savannah, near Hilton Head, and Bluffton, the Sea Islands of Dataw, Callawassie, Lady's Island and Hunting Island. Also nearby is Parris Island – the US Marine training facility.
Don't confuse this Beaufort with its northern sister Beaufort North Carolina, pronounced "Boo-fort"…equally beautiful but also unique. See our Tale of Two Beauforts.
Your first Beaufort visit, you should delve into the history of this friendly walkable village, meet the locals and savor the delicious low country cuisine!
Take Janet's Walking Tour of Beaufort – this delightful gal will stroll you through 500 years of history from Spanish occupation to the Revolutionary and Civil Wars, with tales of slaves freed, of Gullah, of the superior cotton industry here to more recent films staged here like "The Big Chill", "Prince of Tides", and "Forrest Gump." As a former school teacher turned Beaufort historian, Janet shares Beaufort's amazing history, how the grand mansions were spared since they were used as hospitals to treat Union soldiers. Janet is ebullient with enthusiasm for this rich town, as she tells how freed-slaves carry on the Gullah traditions, among other legend and lore. Janet even advises where to get the best shrimp, tomato pie and oysters. It's a fantastic informative fun tour walking live oak-lined streets to some of Beaufort's most prestigious mansions – and along Beaufort's waterfront park. A horse drawn carriage ride is another great way to explore Beaufort's heritage.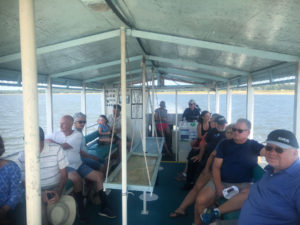 Captain Dick's Boat Tour aboard Prince of Tides is the best way to see Beaufort from the water, along the ICW and Beaufort River. You'll see dolphin, pelicans, egret, live fertile oyster beds, and the lush spartina grass – this sweet coastal grass, sister to sugar cane, gives the regional shrimp its remarkable sweetness. Captain Dick's original narration is understatedly local but humorous and anecdotal as well.
Stay at City Loft Hotel – a sophisticated luxury hotel steps to Bay Street and all Beaufort's local restaurants, shops and the expansive waterfront park. City Loft Hotel guests enjoy the Fitness Room with views of the town, modern boutique rooms, and a terrific coffee shop downstairs- City Java. You can utilize City Loft's complimentary bikes to ride around town, or walk to everything.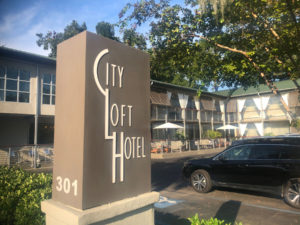 Among Beaufort's best dining, Saltus is upscale serving artful cuisine on the waterfront, while Old Bull Tavern is two blocks back with a fun vibe, big bar and extensive menu. Wren Bistro has delicious crab fritters and fried green tomatoes. Beaufort has plentiful restaurants and cafes, like Breakwater, ask a local and you'll make a new friend.
Browse Beaufort's boutiques and art galleries on Bay Street and beyond. There's a sophistication to Beaufort South Carolina, as evidenced by its upscale shops, grand antebellum homes on The Point, frequent festivals, fundraisers and celebration, and the charming southern manners of its inhabitants. Beaufort folk are genuine, kind and hospitable, like a tall glass of sweet tea, with a side of alluring southern accent…
If time allows in Beaufort SC, visit the outlying Sea Islands to see why this is called the "low country" for its sea-level marshy intertidal wetlands. The wildlife, waterways and bird sanctuaries are seemingly endless.

See more reviews:
Beaufort North Carolina
Charleston South Carolina
Hilton Head Island
Savannah Georgia
"Never go too long without watching a sunset" – Atticus