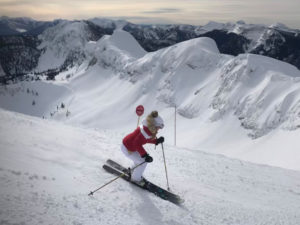 Fernie Alpine Resort in beautiful British Columbia, near the Montana border, is a fun ski resort to visit on a ski safari of the Powder Highway, including sister resort Kimberley and Kicking Horse, then Revelstoke, or visiting Banff Alberta to ski Sunshine and Lake Louise.
Fernie has big mountain skiing – 2,500 acres and over 3,000' vertical, with five unique bowls of skiing – it would be epic on a powder day. Fernie's scenery is epic too, with a dramatic semi-circle of towering peaks surrounding you as you ski. See our review of skiing Fernie.
The place to stay at Fernie, on mountain, ski in ski out, is Lizard Creek Lodge, it's a beautiful lodge with amazing mountain views. It's a 4 star property, with 99 condo-suites, ranging from studios to three-bedrooms, in three buildings including the main central Lodge – which is the hub, where we checked in, and stored our skis in lockers.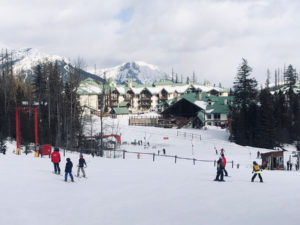 Our Lizard Creek suite was well-appointed with Rocky Mountain decor, a full kitchen, laundry, gas fireplace and private balcony, plus a common living room in the Lobby and an outdoor hot tub in addition to the central Lodge's Spa facilities.
We loved being able to walk to the main Lodge for dining at Cirque – an elegant mountain view bar and grand dining room with cozy fireside couches where we could sit for après ski happy hour.  A Névé Spa offers massages and treatments featuring a local Rocky Mountain Soap products, plus outdoor heated pool and three hot tubs are wonderful Lodge amenities, plus on site ski rentals and lockers. We even had our skis expertly sharpened and waxed overnight, ready for First Tracks the following morning.  You're a short walk to the ski village or two ski turns down to the Elk Quad.
Après ski, the outdoor hot tub was calling, we had our choice of one by our building or the central Lodge with a big outdoor pool and Jacuzzi as well. Lizard Creek's inviting bar offers happy hour specials on their craft cocktails. The bartender's painstaking ingredients make for some fantastic concoctions, even tastier at half price.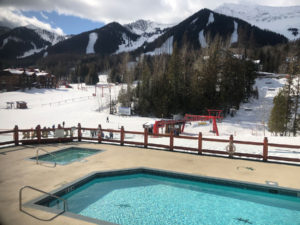 "Chilling" in The Stoli Ice Bar was an après ski highlight for us. Lizard Creek's lobby happens to be home to vodka tasting in an igloo room. We donned thick furry Helly Hanson jackets provided, then entered a frozen cave, -10C, lit with irridescent blues and reds. The veritable ice locker is very "cool" with a centerpiece snow bar displaying a fleet of Stoli vodkas frosty and ready to be tasted.  Stolichnaya vodkas were poured into iced shot glasses for our sipping. Our Ice Bar tour guide snapped pics of us, including us smashing our icy shot glasses on the frozen floor as our finale. Note: Wear gloves and warm treaded footwear (ski boots & shots on a slick surface = wipe out). Wednesday the $30 Ice Bar experience is half price.
Where do Fernie locals go? Après ski at The Griz Bar is most popular, it's a walk across the snowy slopes up to Fernie's Village. Griz is casual, rustic, with retro ski memorabilia and pool tables, upstairs in the Village with live bands on weekend. Rusty Edge is another relaxed slope side bar and eatery for ski to lunch or dinner. You can also walk to a small general store from Lizard Creek Lodge.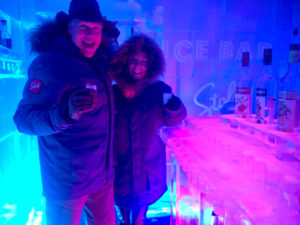 The best dining at Fernie is right at Lizard Creek Lodge, in Cirque for lunch or dinner. The setting is sophisticated and Chef's menu is varied, featuring Canadian elk, lamb, trout, and bison, plus frequent fresh specials.
Nightly events offered during our stay included a snowshoe pasta dinner, and fat biking on snow. Other family friendly activities are sleigh rides, talent shows, winter survival skills camps, and kid's pool party and pizza nights –to give parents a night out too.
Fernie is not a fancy ski resort, its hearty, wholesome and humble – big mountain skiing with a small ski village feel. Staying at Lizard Creek Lodge is the lap of ski luxury here. Fernie' s historic mining town just ten minutes down the road in Elk Valley is inviting in a fun frontier town way – for more casual dining offerings, and local shopping.
Fernie is on Canada's legendary Powder Highway, linking ski resorts Kimberley, Fernie, Panorama, Kicking Horse, Revelstoke, Red and Whitewater in a big loop. Fernie is also home to Island Lake Lodge, a luxury mountain retreat with 7,000 acres of cat skiing, its on our future trip list.
"A pair of skis is the ultimate form of transportation to FREEDOM"