Everyone who's ever visited Tilghman has a tale to tell. This humble happy village is a haven for boaters. Located on the Eastern Shores of Chesapeake Bay, just south of Kent Island and St Michael's, it's a great stop along your voyage sailing the Chesapeake, and a real gem. You will find some of the friendliest folk in Tilghman, watermen who work these waters year round – oystering, crabbing, fishing, repairing boats, you name it. And those not on the water, well they shuck oysters, crab, and provide support to the rest.
Tilghman is a restful, peaceful stop on your Chesapeake boating, on your way across the bay to Annapolis, Deale or Herrington Harbor, or the Solomons Island, or on your way to the eastern shore towns of Kent Island, Cambridge, Oxford, St Michael's or notrth to Rock Hall.
Pronounced Tillman, Tilghman runs along Kents Narrows, with the draw bridge connecting the west to the east harbor. Locals claim it's the busiest drawbridge, for boaters, in the US. Not sure about that claim to fame, but we sure did find Tilghman to be a relaxed, fun, casual "land where time has truly stood still."
Once called Great Choptank Island – a funny reference to the Chesapeake's bumpy waters, it's been Tilghman since 1707 when Matthew Tilghman inherited the whole land.
Tilghman's peaceful Chesapeake village has just two marinas, three inns, a classic old village market, and a few restaurants open. In fact, on Monday or Tuesday, you might not find any place to dine out, but you can grab take out from Tilghman Island Country Store.
Boaters can dock at Knapps Narrow Marina on the north side, or Tilghman Island Inn to the south of the entrance from the Bay. Knapps Narrow Marina offers boaters a continental breakfast, along with their Inn guests, a swimming pool, complimentary bikes, a courtesy car, showers and laundry on site. Marker 5 is a top restaurant on site as well, only opens weekends, closed when we visited.
Tilghman Island Inn has dock slips closer to the Bay, a bit more exposed. The Inn is incongruous with the rest of the bucolic village, with its chic restaurant and cuisine, prepared by the Chef Owner. The dining at the Inn is excellent, crab, shrimp, rockfish, and the ambiance is updated. The Inn has a pool, outdoor bar and patio. The sunset and rainbow from here are a highlight.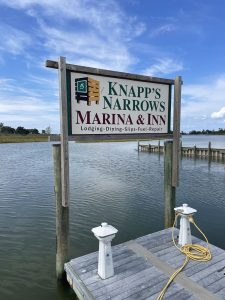 The Knapps Narrow Bridge draws up on command and connects to the other side of the island and Oxford. Its fun to watch the coming and goings under the bridge from commercial fishing vessels to pleasure craft.
The Tilghman Island Country Store just a mile from the marinas is a flashback in time but it's adorable and well supplied, and if they don't have it you probably don't need it, wine, beer, liquor, crab cakes, freshly made sandwiches with home fries, local cheese and snacks.
Biking around Tilghman is a pleasure, on quiet roads, few cars, and miles of fertile pastures, primarily corn and soybean fields, out to Black Walnut Point and Bar Neck Road. You can actually bike all the way to St Michael's or Oxford and Cambridge.
Tilghman has one vintage shop and an old-fashioned diner, Two if by Sea is just a mile from the marina and bridge. Two if By Sea makes legendary breakfast, and we happened upon their monthly open mic night where all the locals came out to perform, very entertaining!
Wylder Hotel and Marina is on the eastern shore, a newly renovated resort with transient dockage at the 50-room hotel,. Wylder guests enjoy a pool, bikes, corn hole, a waterfront bar and deck, firepits and a cool local seafood restaurant. Wylder is dog friendly and fun.
Island Girl Salon was a pleasant discovery for us salty sailors, Joy had openings at her salon,  so we crew could get a haircut and a pedicure too. What a treat in her cute salon just steps from the marina.
Characters just below the bridge is just like it sounds, where the Tilghman local characters go. It's a fun spot to sit on the deck and watch boats wait for the opening of the bridge. The food is mostly fried, pub fare. Characters also offers Keno select nights and crab cake deals.
Tilghman is a real Chesapeake treasure, historic, happy, humble. Arrive by boat or stay in one of two inns and get to know the locals. You will soon learn to love this town, and you'll have a Tilghman tale to tell too.
Boaters will find Tilghman a great refuge off the vast Chesapeake Bay, across from Annapolis and a short sail up to St Michael's, or Oxford or Kent's Narrows.
More on Cruising Chesapeake Bay
Annapolis
St Michael's
Solomons Island 
More Charter and Cruising Reviews
"Life's greatest luxury is to travel…"