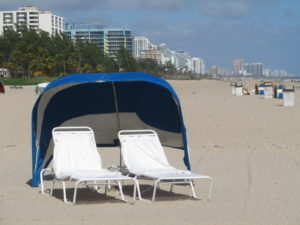 For decades, Fort Lauderdale was "the place" in the sun for the rich and famous and for yachtsmen in the know. Fort Lauderdale is still considered the yachting capital of the world, and a big cruse ship departure port to the Bahamas and Caribbean!  South Beach Miami may have become a more trendy and "hot" destination for celebs, while Key West is flamboyant and fun for fishermen, Delray is artsy, and Daytona is big for college breakers. But Fort Lauderdale remains a special beach town even though it has grown dramatically, Port Everglade is among the biggest cruise ship ports in the world (with Miami).
Explore the best beach-  Fort Lauderdale, a 23 mile stretch of soft sand with views out to sea and cruise ships lumbering along the horizon. Ft Lauderdale Beach can be calm, or breaking with big waves depending upon the season. Walking the long beach stretch takes you along the luxury beachfront hotels, many of which have bars, and beach chairs and toys for rent. The Beachfront Promendae is perfect you prefer not to get sandy as its follows the beach with a broad sidewalk.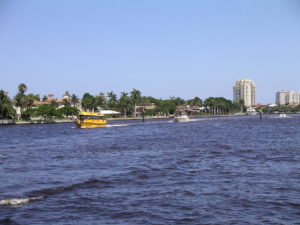 Ride the water taxi around the beautiful waterways, under $30 for all day – off and on as many times as you like. Fort Lauderdale is nicknamed the Venice of Florida for its miles of magnificent waterways. The water taxi will take you to Riverwalk, Ft Lauderdale's waterfront entertainment venue with shops, dining and evening jazz, and to famous Las Olas Boulevard, for more in town shopping, bars and dinner. The water taxi is a great way to see the beautiful intracoastal estates, Millionaire Row, shaded in big palm trees with their accompanying yachts tied to their docks.
Bonnet House Museums & Gardens is a magnificent estate on 35-acres, a 1920's artist home full of fantastic art, carvings, amazing décor and beautiful gardens, with a tremendous love story too. Watch for monkeys and huge iguanas, and take the narrated house tour. Bonnet House entry is $20 tickets, on 900 North Birch Road.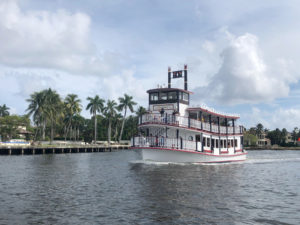 Jungle Queen is a great replica Riverboat with 90-minute and 3-hour sightseeing cruises plus a dinner cruise. junglequeen.com departs from Bahia Mar Yachting Center on A1A.
Fort Lauderdale's International Boat Show in November is HUGE – the largest in the world with over 15,000 boats on display! But any time of year, with over 100 marinas in Ft Lauderdale, gawking at grand yachts, over 42,000 boats, is a past time in and of itself.
Ft Lauderdale has 4,000 fun bars and restaurants, many on the water.
A Few of our favorite places:
Shooters is a casual waterfront Florida restaurant with a chic outdoor vibe, watch the comings and goings of yachts while you enjoy happy hour or their extensive lunch and dinner menu.
15th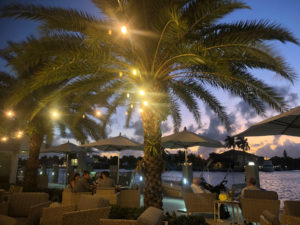 St Fishery is another great bar and lunch or dinner spot. Since it's a fish spot, have the crab, conch, mahi mahi or alligator  on the deck overlooking the intercoastal and the mega yachts. At night the tarpon show up under the glass bottom floor.

A great place to stay in Fort Lauderdale is Lago Mar – an elegant beachfront Florida resort with its own private beach access and a commanding view of the ocean and the comings and goings of cruise ships and yachts.
Another hip spot to stay is Plunge Beach Resort, at the northern end of Fort Lauderdale Beach, with its own oceanfront pool and cabana bar, and beautiful balcony rooms with ocean views. Plunge has a playful retro vibe, and idyllic beach location.
Fort Lauderdale is no longer the quiet beach community it once was. For a more local relaxed vibe, head north to Delray Beach. 17th Street Causeway is now three lanes each way, and the airport is undergoing a $50 billion expansion to accommodate big international flights carrying cruise ship passengers. Still, it is the yachting and cruise ship capital of the US, and its beautiful.

See More Florida Luxury Vacation reviews:
Amelia Island- Fernandina Beach
Anna Maria Island
Boynton Beach
Crystal River, Homosassa & Inverness Things to Do
Delray Beach Things to Do
Fort Lauderdale's Top Things to Do
Fort Lauderdale Port Everglade
Key West's Best
Miami Luxury Hotels
Mount Dora
Marathon Top Things to Do
St Augustine Top Things to Do
Sarasota, Siesta Key and Venice
"Never go on trips with someone you do not love."
– Ernest Hemingway