Spain is not revered for its ski resorts, more legendary for its coastline, beaches, wine and tapas, islands like Ibiza and wonderful cities like Barcelona. But we found skiing Spain to be a treasure, at Baqueira Beret – in the Pyrenees.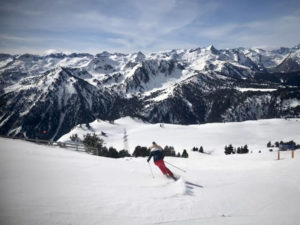 Why you should ski Spain:
The Pyrenees are a stunning mountain range bordering France and Spain. Baqueira Beret is the largest ski resort in the spectacular Val D'Aran of the Pyrenees. Baqueira is as big as Vail with so much untouched terrain.
Scenery – Spain is not The Alps, but the views are on par in these Pyrenees. From atop Baqueira's 2,610m the panorama is extraordinary, into France, and the highest of the Pyrenees. The view of Aneto – Spain's third-highest mountain at 3,404 meters, 11,168', is particularly stunning, Maladeta -the largest glacier in The Pyrenees – is brilliantly visible (go see it before it melts).
Terrain – Baqueira has four unique mountain zones – tons of skiing  variety and exposures to visit throughout the day.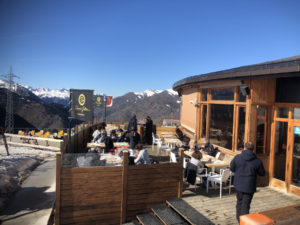 Start with the sunny slopes of eastern Beret, then head to the highest at Baciver, then west to Bonaigua for even more variety and big open snowfields, and back to the central skiing at Baqueira. 
Spanish gastronomy – the food and wine in Catalonia is legendary – delicious cheese and local Iberico ham, bread with juicy red tomato and olive, and of course tapas – the perfect small tasty plates for sharing. The Spanish wine is exemplary too (think Rioja, drink Rioja)  and typically cheaper than water or soda, served in chic umbrella bars around the ski mountain. Cinco Jotas  is famous for their grilled Jabugo meats and 100% acorn fed ham sliced with perfection in a gorgeous mountain lodge. Bar El Refugi San Miguel at Bonaigua serves delicious pizzas, plates of rabbit and escargot (yes, bunny and snails!), and fantastic tapas – with a view!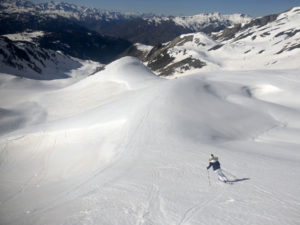 Off Piste that's off the hook! A powder day at Baqueira is unbelievable with so many gently pitched wide open snow bowls and big chutes dropping from mountain spines, all within easy reach from the prepared pistes, and easy to return to the ski lifts (with some wild out of bounds exceptions). Hire a guide and go loco!
Après Ski, the Audi Quatro 360 bar or  Bar 22000 serve $3 Euro vino on the slopes, while the swankier  Moet Chandon Winter Lounge  serves bubbly for $10. There's also sushi and a DJ in a glitzy gondola car, it's a must see! Its not crazy drinking and dancing on tables in ski boots like France's La Folie Douce or Kanguruh or Moosewirt in St Anton, the Spaniards are more into relaxing in sunshine with local wine. In fact, the Spanish often siesta after skiing, so they can wine and dine, tapas and vino, late into the night – fiesta!
Hola!  Spaniards are fun and very gracious about their language – they're multilingual – speaking three of their own languages – Aranese, Catalan and Spanish! The Spanish are happy to help you or speak English  – far less uptight than the French, and less rigid about a ski schedule than the Swiss or German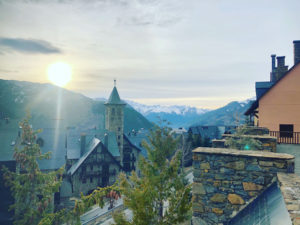 The Culture – Spain is centuries' old and Val D'Aran's 33 mountain villages are lovely landmarks with gothic churches and cobblestone alleys, where local families have been producing cheese, lamb and ham for generations – now they've opened charming restaurants serving skiers traditional Catalan family recipes. Bagergue is the highest village that's been awarded top flower city and THE most beautiful places in Spain. Here you will find two brothers making traditional cheese at Hormatgeria Tarrau.
Alpine Adventure – go dog sledding to dinner at a 12th century sanctuary and chapel in Montgarri.  After snowmobiling or mushing your dog sleigh along 7 kilometers in a snowy forest, you arrive at this serene stone Refugi Montgarri for an authentic local 4- course meal cooked on an open fire with wine, and a delicious homemade liquor with dessert. Remember you must drive your sled back through the forest late at night.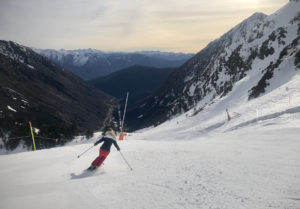 Affordability – Spain is less expensive to ski than the Alps of Austria, Switzerland or France. Baqueira Beret lift tickets are currently, as of 2020, at $50 Euro a day! Wine by the glass is $3 Euro! Lodging deals can be found here too with 14,000 beds from 5-star hotels to hostels (just avoid busy Christmas holiday).
Sleep by the slopes – stay on mountain just steps to the lift and ski slopes at the cozy English-style Eira Ski Lodge in Tanau or at the larger luxe Montarto Hotel Spa at Baqueira 1500.
Accessibility – Baqueira Beret is just two hours easy drive from Toulouse France, just over 3 from Barcelona. You can combine your ski trip with a cultural visit to either of these fascinating cities as a start or finish to your skiing holiday in The Pyrenees.
More on Skiing in Spain…
Skiing in Spain
Spain's largest ski resort – Baqueira Beret
"Of all of the books in the world, the best stories are in the pages of a passport"