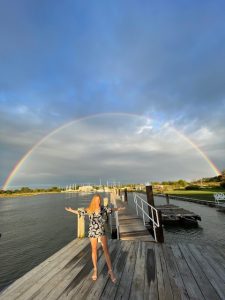 Things I love, and hate, about sailing:
Sailing, boating, yachting, what a glamorous glorious adventurous privilege… but …its not for the timid… it requires strength, stamina, and some serious cash, unless you're paid crew…lol.
Here's what I love, and don't love, about sailing, boating, yachting, chartering…
The Power of the Sea I love being powered by wind, surrounded by the deep blue, amidst the solitude and serenity of a big body of water, whether on a power boat, or sailboat. Water is calming but powerful, abundant but precious.
The Setting I love arriving by boat in a magical harbor you could never reach otherwise. Spending the day out on the water, the wind in my hair, its invigorating. The glistening sea stretching out over the horizon, spectacular shore views, so dramatic. Then picking up a mooring, dropping a hook (anchor) or docking at some special harbor, its a spectacular experience.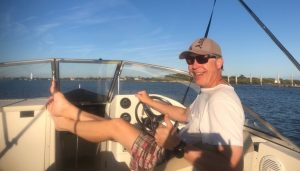 Friends at Sea I love the friendliness of fellow boaters. We meet such fun people and we love sharing our favorite moorings, discoveries and destination, hearing from others about their faves, and their best and worst moments on board, favorite hide aways, best "dock and dine" gems. We've heard tales of being de-masted, struck by lightning, or better – seeing a whale breech before one's bow or docking next to Tom Brady's yacht … all legendary story material. More cruising stories
Boaters Bond! We've met some truly helpful people on the water. Fellow boaters are an immense resource in moments of issue with our boat, or theirs. "Pan Pan", "Security", Radio Check,  whatever… boaters tend to work together with the thought  "that could be me someday". We've towed other boaters in to bay when their engine failed. And I will never forget the time we hooked a lobster pot in Maine's Penobscot, and a nice gentleman in a dinghy offered to dive our hull to free the entanglement. Turned out he was a Navy Seal from Annapolis.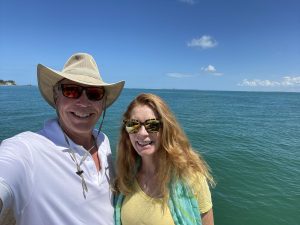 Provisioning & Plotting – I love the planning, provisioning and packing perfectly … I know that's weird that this gives me joy. I am "organization-obsessed" (ok, my kids say anal) so a well-planned voyage with the proper supplies in a small floating space is rewarding to me. I am joyful when making delicious meals on board for my crew. Meanwhile my Captain Greg spends hours on our Float Plan in advance, plotting the navigational course, researching ideal destination harbors, making dock resies, or finding reciprocal yacht clubs as part of our itinerary, while remaining open to weather changes on the fly.  A sailor and his agenda are a dangerous combo.
Success – I love the sense of accomplishment after a day's voyage, whether it is navigating fog, or trimming sails in howling winds, or discovering a new quiet anchorage. There's victory once on a mooring or a dock and celebrating a successful sail. And typically drinks on deck…
The Code – I love the code amongst yachters… a sophisticated society with its own foreign language to those "not in the boat know". Its interesting, nautically specific and brain expanding that every part on a yacht has a unique name… bow, stern, port, starboard, ensign,  lazarette, companionway…
What I don't love about yachting !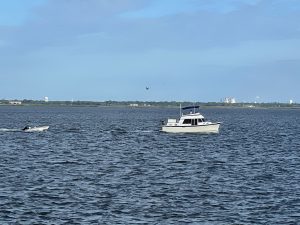 The Code amongst yachters… seriously?! LOL! Do sailors and boaters think they're a secret society, …with their fancy floating lingo…please… its pompous and exclusive! Line not rope, fenders not bumpers, galley versus kitchen, head over toilet, when a sheet is a line and not linens for your bed. Winch, Stay, Leach, Clew… just trying to impress? Or to exclude those who don't have a clue …ha!
I don't love the Glamping which is code for: expensive camping. You're camping though, on water … which limits your options even more than tenting. Read: shared public restrooms ashore, or limited facilities and water conservation on board, tight spaces, no max headroom, small closets (called lockers), no laundry on board.
Don't love the bumps, bruises, blusters & broken fingernails from hauling lines, fetching moorings & dock lines. I look like I've been battered, wind-beaten, bruised and put away wet following a week at sea. Did I mention "boat hair"!?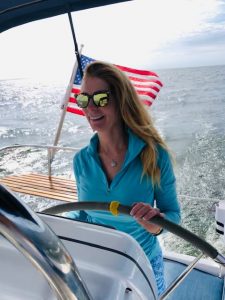 Docking – I don't enjoy the anxiety of coming into a new (tight) dock slip, with varying current, tide, wind, weather.  Confession: I love watching others dock though. I know that's twisted & pathetic entertainment (bet you love watching a good boat mash up too). But as I mentioned about the stress, I hate others watching us dock!
Don't love the Expense! Yachting is prohibitively pricey. Boat, fuel, dock, storage, repair… Dock slips in Kennebunkport, Provincetown, and Newport Rhode Island can run over $1,000 a night… thankfully moorings are still $50 a night, for the same setting! You can bet what we select! BOAT: the acronym is "Break Out Another Thousand" for any repair or issue.
Don't love the ignorance of amateur boaters who put everyone in peril, or at least sully competent sailors' reputations. Just because you can afford a boat, or rent a boat, doesn't mean you know how to drive a boat, never mind the intricacy, safety protocols and navigational rules. Please people – take a boating safety course, hire a captain for some hands-on training, don't make assumptions, and don't drink excessively and operate a power boat, jet ski or other vessel.
Don't love the pollution some boaters cause, dumping, waste, lack of respect for the environment.
Don't love how quickly the weather can change on the water, fog, rain, squalls… you are incredibly vulnerable to the elements on a boat, and storms can whip up quickly.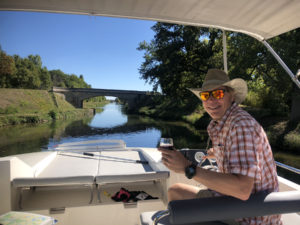 Don't always love that "The Captain is always right" Ha! As crew, you need to obey the captain, there can only be one captain, and that's the chain of command! Besides… mutiny rarely works out well. You as valuable crew can point out possible alternatives to your "first in command" but ultimately you need to follow Captain's orders as first mate, deck hand, galley wench, Chef, whatever your title aboard, or in my case – all of the above.
But back to all the things I love about being at sea, on the big blue ocean! "Sea" above!
See our Guide to Boating, Cruising and Charters:
How to Pack for a Boat Charter Trip
How to be Good Crew on a Yacht
Rhode Island's Narragansett Bay and Block Island
Sailing Chesapeake Bay
How to Charter a Yacht in the British Virgin Islands
Cruising the Adriatic – Venice to Croatia
Touring Norway's fjords by boat
Boating the Burgundy Valley in France
Cruising the Canal Du Midi of France