F
or the best BVI Best Cruising and Top Anchorages, here is our review of how to spend a perfect week sailing the British Virgin Islands on a charter boat.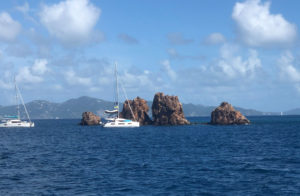 NOTE: Some of the BVI were severely impacted in September 2017 Hurricane season. Much reparation has been made, but know before you go.
Sailing from Tortola, and BVI's capital of Road Town, head south east across Sir Francis Drake Channel to the so-called "Out Islands" of Norman, Peter, Salt, Cooper and Ginger.
Salt Island, as you sail from Road Harbor, provides protected moorings in Lee or Salt Pond Bay, for lunch, snorkeling and the Caribbean's top diving at the Wreck of the Rhone – the 310' Royal Mail steamer ship that sank here in 1867.
Cooper Island is an ideal evening mooring. The Cooper Island Beach Club has a cheerful beach bar, dining at the Club, and a beautiful stretch of sand under lush palm trees in Machioneel Bay. Cooper offers moorings only to protect the delicate turtle grass. The next morning you'll sail straight to The Baths from here.
The Baths, on the southwest tip of Virgin Gorda are a must- but you must go early, to get a prime mooring ahead of the fleet of cats. Swim into shore, its a distance, to explore 7 acres of amazing boulders and a maze of caves (before the bulky bunch of cruise shippers arrive, clogging the tight passages and spoiling the serenity). It's no wonder many say the Baths National Marine Park is the 8th wonder of the world, it's a million-year-old geological phenomenon, and a photographer's fantasy.
LOVE CHARTER SAILING IN THE BVI'S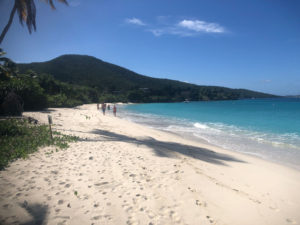 Bitter Ends in North Sound, on the northern end of Virgin Gorda, is perhaps the prettiest harbor in the BVIs and most happening place (currently being rebuilt post hurricane). Passing by Richard Branson's private islands Necker and Mosquito (one for him, one for his guests), and Eustatia Island owned by Google's Larry Page, you enter this magical mooring field and marina.
Go ashore to Bitter Ends Yacht Club, a 65-acre resort where you can rent Hobie cats, windsurfers, kayaks, SUP, shop, dine on yummy conch fritters on the waterfront, or just lounge on the lovely sand beach under a thatch umbrella, or by the resort pool (for a fee). For an ambitious adventure, walk the paths to Deep Bay and see the now abandoned Biras Creek Resort – once four star and not yet re-opened. The new neighboring Oil Nut Bay Resort just beyond is a haven to millionaires and billionaires, with a Beach Club and stunning residences.
Evenings at Bitter End, dinghy to Saba Rock Restaurant for a delicious dinner, on its own island. Bitter Ends  Reef Sampler – a salvaged sailboat from Hurricane Irma – is now a popular bar in the sand, the yacht crews end up here and drink rum punch.
Go to The Dogs for snorkeling, a swim and superb lunch scenery before heading across to the posh Scrub Island Resort and Spa, or the more casual Trellis Bay off Beef Island. Here you must have a mamawana (a sweet local brandied liquor) at the Loose Mongoose. The Last Resort is a classic Caribbean dive bar with live music if you hit the right night.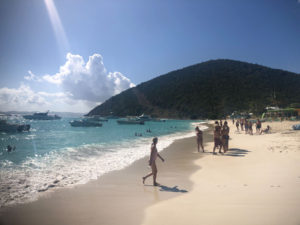 Jost Van Dyke is the longest sail, westward and typically downwind. Great Harbour has moorings, and you can dinghy in to Foxy's for a rustic fun BBQ on the shaded beach. Foxy's has live music on weekends. You must do the touristy thing and visit White Bay, swim in to the infamous Soggy Dollar Bar for a Painkiller -their trademark delicious rum and ginger drink – its potent. Jost hosts a rockin' New Year's when hundreds of yachts and regattas raft up the harbor – music, mayhem, and rum rule.
A "quieter" side of Jost is Diamond Cay, where you can anchor and dingy in to shore. For dinner, enjoy fresh fish at Foxy's Taboo – sister restaurant to Foxy's in Diamond Cay. Order the Wreck on the Rocks– which we deemed the best rum drink in the BVI. Walk the path to the Bubbly Pools and enjoy a natural whirlpool of crashing waves, but beware the poisonous Machineel trees well marked along the path, and don't pick the Machineel poisonous "apples of death."
Sailing South and rounding your island tour, cut through Soper's Hole between Great Thatch and Tortola on your way to two of the best BVI snorkel spots – The Indians and The Caves off Pelican Island. Be sure to swim all the way around the Indians to see beautiful coral in all brilliant colors – fire, black and brain plus a kaleidoscope of colorful fish. Then move on to The Caves, swim in to all three, yes all the way to end to the beach of Cave #1, for a dark and dramatic adventure.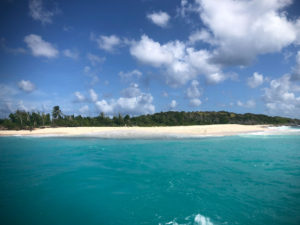 Norman Island is an ideal last night mooring for its easy 6 mile reach back to Road Harbor, its pretty and its party central on weekends. The Bight is well protected, littered with moorings, and hosts three restaurants and a soft sandy beach. Rumor has it the uninhabited Norman Island is Robert Louis Stevenson's "Treasure Island." On shore, Pirates is a lovely open air bar and restaurant, half price happy hour is 3-5, reserve for dinner at sunset, as the waterfront tables fill for the good cuisine, slow service but spectacular setting. Pirates Bight often has live island music after dinner, the yachters and crew start to sway on the dance floor before moving on to Willy's T. The barge-like schooner in the bay, William Thornton is a floating party on weekends, ok most every day in season, where the booze and music flow well into the night. Crazy sailors flip and cannonball off the bow, and marooned mermaids lose their tops in direct correlation to their rum consumption.
Peter Island is another well-poised BVI port, with several harbors and bays, and the famous rather fancy Peter Island Resort (being reconstructed post-hurricane) with a great gourmet restaurant. Our itinerary didn't fit in Peter, a pretty fine reason for a return BVI charter adventure, where we may haul all the way to northern most British Virgin Isle Anegada, known for its delicious lobster – almost as good as Maine lobster we're told, something we will have to personally confirm or contest.
See our Tips on Chartering and Provisioning for a week's luxury sail in the BVI
and How to Pack for a Boat Charter Vacation