Now is the time to visit the beautiful wine regions of Chile, tour and taste some of the top wines in the world. Here the wines are both affordable, and extremely interesting. We visited some of the finest wineries and most often our wine app would proclaim, this is one of the top 1 – 3% of the wines in the world! Chile currently produces 10% of the world's wines, and that number is growing.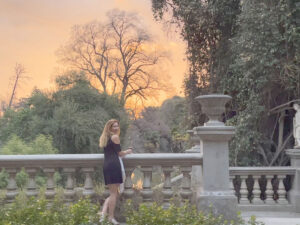 An easy day trip from Santiago, Chile's capital city, you can be in the heart of the Maipo Valley. This central wine region 45 minutes south of Santiago is referred to by oenophiles as the 'Bordeaux of South America'. Here you'll find and taste deliciously rich fruit-forward Cabernet Sauvignons and unique rediscovered Carmenère.
Chile's Maipo wine region has an ideal wine-growing setting – like Napa in its climate, between the Pacific Ocean to the west and the Andes mountains to the East bordering Argentina.
Chile's wine-making dates to the 1500's, but the 1800's were a time when French wine influence arrived in this Maipo valley, and launched more sophisticated wine production.
Vińa Santa Rita was our first wine tour and tasting in Maipo Valley, among the oldest wineries in Chile. Our name was cleared with the security guard (thankfully as they didn't speak much English, ditto our Spanish), and we drove into the pretty pastoral vineyard. Santa Rita is a major exporter of Chilean wines, evidenced as we passed a huge modern wine production building amid the well-manicured grounds.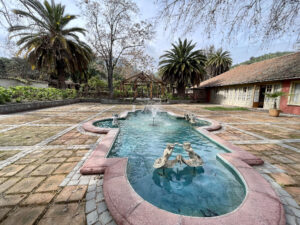 Meeting at Santa Rita's historic farmhouse, we chose the Premium versus Classic wine experience – including the park and castle tour, a full wine tasting with charcuterie pairing and a keepsake glass and cutting board (which Heather now treasures).
Our guided, narrated tour walked us to Santa Rita's lovely park-like gardens to the impressive 1880 Chateau, now Casa Real where we would spend that night in elegance. We strolled by ponds with fountains and gorgeous water lilies, passing flowering ornamental gardens. Our walk was shaded by grand palm, oak, cypress, cedar and eucalyptus trees. Highlights were the 1885 Chapel and the Turkish bath both designed by the original, eccentric, 1880 castle owners and winery founder, Don Domingo Fernández Concha, who also brought the first French grapes here.
Our Santa Rita tasting featured everything from Chardonnay to Cabernet to Carmenère* (see our note on Carmenère below).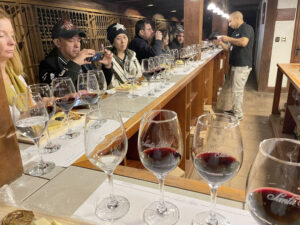 We soon realized that these vintages are far superior to the heralded Santa Rita 120 Patriot we see in our U.S. wine stores. Same is true for nearby Concha Y Toro – the largest Chilean wine producer just 10 minutes away. Santa Rita was a wonderful tasting, with perfectly paired cheeses, in the beautiful old wine cellar "bodega."
While most of the visitors departed the winery, we had the luxury of staying overnight in the winemaker's original "summer castle". Hotel Casa Real is a French-style chateau, with elegant dining and sitting rooms, a billiard parlor, veranda and courtyards, plus just 16 guest rooms.  Our full board provided a sunset tasting overlooking the grounds, then a lovely 3 course-dinner with wine, and a sumptuous buffet breakfast in the morning.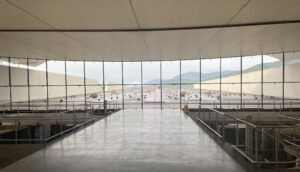 VIK Winery was our next wine tour, 2 hours south of Santa Rita. VIK is a "new" winery in Chile, established in 2011. Vik is a must-see just for the avant-garde architecture and design. Alexander VIK is a Harvard grad Norwegian billionaire finance guy who dreamed up this uber-mod winery and his nearby hilltop VIK Chile Hotel with its titanium and copper roof. No expense was spared in Vik's brand-new wine facility design and wine-growing endeavor, same goes for the space-ship-looking art-deco hotel where we booked for two luxurious nights.
Our Vik wine tasting tour started on the peaceful water-plaza rooftop, native granite boulders set around a mirror-like surface gave a cool effect, literally we learned. This rooftop irrigation reflects the suns heat to help keep the wine barrels stored below cool during Chile's hot summers. Our tour of the Scandinavian owner's massive wine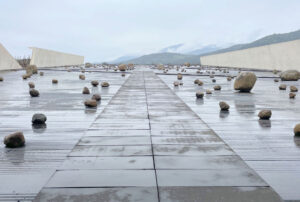 facility was impressive and informative. The cooperage was particularly unique, VIK handcrafts their own wine barrels from French Oak, charred inside with Chilean oak from the 4,400-hectare property. The smoky wood aroma was delightfully intoxicating. So were the 5 wines we savored in our Vik Experience tasting in the stylish "bodega" tasting room to conclude our tour. Our final two wines featured were Vik's special icon varieties of Cab Sauv and Carmenère. No wonder Vik was voted #3 world's best vineyard in 2023 with all the innovation, from scratch.
Our two-night stay at Vik Hotel was extraordinary, see our review. The otherworldly hotel seems to float above the vineyards with its bronzed titanium wavey wild roof. Vik Hotel's cuisine, the infinity edge pool overlooking Lake Tranque, and the floor-to-ceiling windows in our suite remain unforgettable.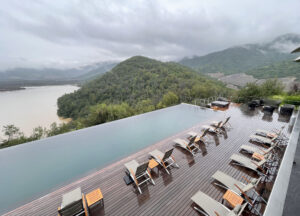 Departing Maipo Valley's vineyards and fruit fields, we had the promise of our next Chilean wine region – Colchagua Valley – just over the mountains as the crow flies. Our 90-minute drive around the mountains brought us to Santa Cruz – the heart of Colchagua Valley's many wineries.
*Note on Carmenère – this trendy "new" grape among oenophiles is actually centuries' old, rediscovered here in Chilean wine country in 2002! This delicious wine-making grape, Carmenère was considered extinct for over 200 years, plagued by phylloxera, or so vintners thought. Fascinating that here in Chile, centuries ago, a mislabeled shipment of "Malbec" vines continued to thrive in Chile's ideal conditions, unbeknownst as its namesake. Carmenère has been reintroduced to great grape reviews and popularity, including becoming Greg's new personal favorite of Chilean wines, eclipsing Cab Sauv, Syrah, and red blends.
Many Chile vintages are among the Top 1 – 3%, award-winners, scored with 95+ by wine critics Robert Parker, James Suckling, Wine Spectator, Decanter, IWSC. So go to Chile to enjoy emerging, amazing, affordable wines! Visit nearby Colchagua wine region as well.
See More Wine Tour Adventures:
Austria's Wachau Wine Region
Portugal's Douro River
France Burgundy Valley
Italy's Wine Region
Spain's Wine Country
California's Napa Valley
Vail's Taste of Vail Wine Event
Washington's Woodinville Tasting Rooms near Seattle