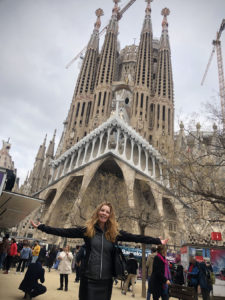 Barcelona, on the coast of northeastern Spain, is the capital and largest city of the Catalonia region.  Barcelona has a population of 1.6 million, the second most populous of Spain, behind the Spanish capital of Madrid. Barcelona is a feast for the eyes and senses – featuring mind-blowing, otherworldly architecture, gorgeous parks and tree-lined streets, a waterfront, even beaches and beautiful yachts in its harbors, plus so many fabulous tapas bars, cafes, and boutiques.
Even Barcelona's street corners are interesting, not square – instead they're cleverly rounded off to invite in light creating a more park-like atmosphere with palms and fruit trees. The Spaniards, and Catalonians, are happy festive people, AMID the wealthiest county in Spain. Here they fiesta until they siesta, then they continue in the evening celebrating over fabulous food and wine, well into the night when Barcelona is beautifully light up with its centuries' old monuments shining bright.
Top Things to Do in Barcelona
Go Gaudi! Explore Gaudi's amazing architecture – the Spanish modernist architect was a designer so advanced of his time. Gaudi's creativity, vision and talents have decorated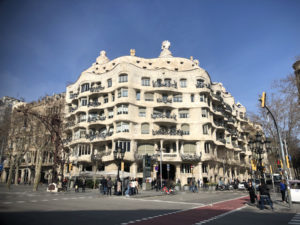 Barcelona's best monuments – which are now open to the public.  Sagrada Familia is the jewel of Catalan Modernism, one of the largest and most complex churches in the world, possibly the 8th wonder of the world. Gaudi's divine dream is still under construction, since 1882. Sagrada's completion is optimistically pegged at 2026, the centennial of Gaudi's death (1852–1926) when the Sagrada was only 20% built. Description doesn't do it justice, just reserve your ticket (and audio tour) online and go. Visitors fund the annual construction budget of $25 million.
More Gaudi, go inside the Casa Batlló and Casa Milà (also called La Pedrera) along the Passeig de Gràcia. My wavy fave of Gaudi's work is Casa Battló with its wrought iron carnival masks adoring each balcony, bubbles of blue and green windows, and sea-life inspired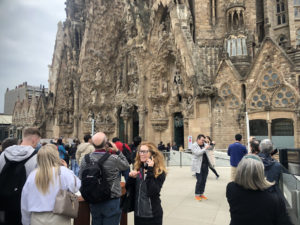 interior. The 3D interactive audio visual tour is fantastic, transporting you up to the wild tiled rooftop and throughout the enormous, advanced 1904 structure of whimsy and brilliance. La Pedrera is another Gaudi masterpiece, the exclusive elitist Casa Milà apartment home is monument of sand and wonder that neighbors labeled "Pedrera" mockingly as a dusty stone quarry during its 1906 construction.
Step back in time, to Barcelona 2000 years ago in the Gothic Quarter. Take the English Narrated Walking Tour from the Barcelona Tourism headquarters in the Ciutat Vella Plaza between the Catalonian Government Palace and Barcelona's Capital.  This informative two-hour tour is time well-spent, highlighting Barcino's original past from Roman times, along Gothic and Medieval cobble streets, to Barcelona's grand 13th century Cathedral which took 600 years to construct, long before Gaudi's mere century of architectural input. You'll even see Christopher Columbus' contract with King Ferdinand and Queen Isabelle to discover new land.
Stroll La Rambla, which starts at Barcelona's waterfront by the impressive Christopher Columbus statue and passes through the Gothic Quarter all the way to Plaça de Catalunya. La Rambla is primarily a pedestrian zone – one of the greatest European streets with its historic plazas, lined with amazing architecture spanning 2000 years, leading to beautiful shops, sidewalk cafes, and popular tapas bars. La Rambla is brilliant and bustling from morning till late night, for entertaining people watching on what was once a river running through this Roman city.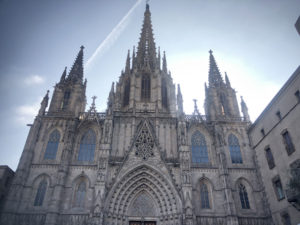 Eat Tapas – it's the best way to dine, tasteful artistic small plates of Spanish deliciousness, intended to be savored and shared, with Spain's wine. Do you know the etymology of "tapas" is the small plate used to cover your wine glass to keep out bar flies? Spaniards have elevated these cover-plates to a height of culinary greatness. Try patatas bravas (fried potato wedges with a spicy tomato sauce), pinchito moruno (spicy pork kebabs), and chipirones (fried squid). Pintxo is a similar snack-size treat – referencing any toothpick bite on bread.
Drink Sangria, or local Vino tinto (red) or blanco (white) or Cava (sparkling wine). The Spanish love their coffees in the morning and after each meal, but the wine is their most proud beverage served at lunch and dinner, local Catalonian wines, Rioja  and Vertejo are plentiful and often just $3 Euro a glass, $11 a bottle.
Go to the Beach – Barceloneta is the 2 kilometers of urban beach along the Mediterranean waterfront, with a grand pedestrian boardwalk above spanning south towards the W Vela Hotel that resembles a giant blue sail. Here locals and tourists flock on sunny days to stroll and hang out and visit the "xiringuitos" or "chiringuitos" beach bars in Catalan or Spanish. Fisherman's Quarter and Port Vell is Barcelona's harbor – where you will see magnificent yachts from around the world in the marinas and Barcelona Yacht Club.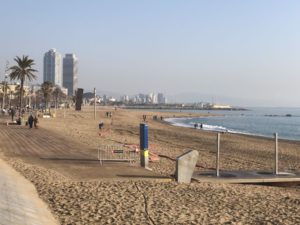 Take a siesta – Barcelonans rest up in the late afternoon after an impressive midday meal of paella, Aranese stew, jamon (local ham) or lamb. Afternoons, many shops close for a few hours, for lunch and nap time, since dinner isn't typically till 9 or 10pm. Flamenco shows, fiestas and nightlife start even later and flow well into the wee hours of the morning.
Stay at a hotel with a rooftop bar. The best place to rest in this vibrant city is a hotel with rooftop terrace, and a city view. From H10 Hotels Cubik or THE ONE Barcelona, you can have a drink or a swim on their top floor with a bird's eye view of Barcelona's highlight – the Mediterranean, Gaudi's monuments like Sagrada Familia, the mountains in the distance and gondolas. Look for the blue and brilliant Agbar tower – inspired by the nearby Monserrat mountains, some say its a geyser since it's constructed by the water company. The W Hotel Vela (Spanish for sail) by the waterfront looks like a giant sail in the sea and it truly sparkles at night.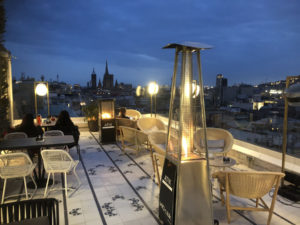 Enjoy the latest fiesta – the Spanish celebrate everything! The Catalonians too – their calendar is full of saints and historical dates, and foodie fest that inspire a party, a parade, a street fair, or the occasional protest. Spaniards are outgoing people, and you'll see them "going out" a lot.
So much more to explore! Two days is not enough to see all Barcelona's stuff. We will come back to see The Picasso Museum, Gaudi's Parc Guell,  The Boqueria Market, to stroll the Passeig de Gràcia around Ville da Gracias, and of course to savor more tapas, paella and vino!
Barcelona hosted the Olympics summer of 1992, and now they have a bid for the Winter Games 2030 with skiing in Andorra, or the nearby Pyrenees mountains of La Molina or Baquiera Beret. Barcelona is competing with Utah & Sapporo for this honor of hosting, so stay tuned.
"Barcelona és bona si la bossa sona (Barcelona is only good if you've got money)" – Catalan proverb
See more on Spain
Where to Stay in Barcelona
Spain's Val D'Aran
Skiing in Spain
Spain's largest ski resort – Baquiera Beret