How to pack a pannier for a bike tour?
If you are embarking on a cycling trip, and you are carrying a pannier on your bike (pronounce: "pan ear") with all your stuff… well – that's incentive enough to travel light, pack carefully, be sure you have everything you need, but carry nothing you don't!
When my husband 1st proposed (not like marriage proposal – that was 1988!) an unassisted bike trip along the Danube River from Germany to Austria in Europe…
my 3rd thought was "how to pack?!"
after my 1st thought – "I need to get in cycling shape."
and my 2nd – "how cool to be cycling past ancient castles, European wineries, and beautiful Austrian villages along the Danube."
Our "pannier" arrived; it seemed very small at first glance. But then I reminded myself that whatever I pack I carry. These two small bike saddlebags with an accompanying backpack that attaches on the bike rack, actually can fit what you need for a week or a month cycling. Besides, you are lugging it around, up hills, into hotels, everywhere you go!
So on to what to pack for a bicycle trip and fitting it into your bike bags:
1st travel essentials: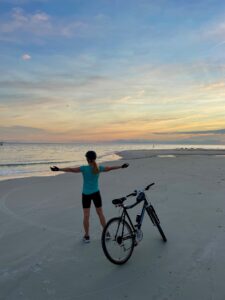 Valid Passport – check the expiry date as some countries (ex: Switzerland) will not allow entry if your passport expires within 6 months.
Credit Cards bring two different charge cars, ex: Visa & MC, and notify your provider of the countries you will be visiting, and be sure they waive int'l transaction fees. Note: many merchants do not accept AMEX.
ATM card – check daily withdrawal allowances, and set travel notifications if your bank requires this.
Phone and phone charging cord – seek an int'l call/text plan before you go to avoid a surprise bill upon your return.
Adapter/converter – Ireland & UK are different than Italy for example – make sure you have the proper plug & voltage.
iPad/Kindle, laptop – your preference but smaller is better!
Travel docs– also loaded on your phone.
2nd shoes: Wear your cycling shoes on the flight, also wear a lightweight technical fabric jacket.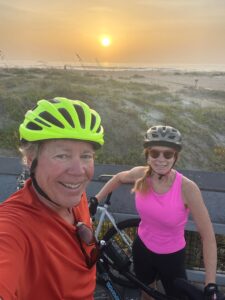 3rd clothing: Every cycle tourist has his or her own clothing preferences. However, cyclists agree that lightweight, moisture-wicking clothing is best. These hi-tech fabrics also wash and dry efficiently.  Base layers in synthetic fiber or merino wool are on most cyclists' fave lists. Lightweight, long sleeve shirts or jerseys protect you from wind and the sun's harmful rays. Bright visible colors help motorists spot you!
A bandana or a buff is an versatile must. You can soak it in cool water for freshener, use it as a sweat wipe, or wear it outlaw-style on dusty roads, or on a chilly morning.
Bike shorts or tights/leggings – Your cycling shorts should be reinforced with padding if you are going long distances. Some clever bike shorts have a removable pad – so you can opt in or out to suit your day in the saddle. Ladies, I have the cutest bike skort (by Terry – thank you Mary) that looks like a little black skirt, but bike shorts underneath are padded – without the adult diaper butt look.
Tops and shirts – A long and a short sleeve tech shirt, with a zip if you like to vent, sun protection and moisture-wicking fabric, which wash and dry overnight for the next bike day. A vest or mid-layer is good if you anticipate cooler weather.
Socks (2 pair) quality construction with wicking, merino wool – like Smart Wool.
Tide Travel Packets or Breezio Laundry Strips are perfect for washing your undies, socks, tops in a hotel sink overnight. These can also be used in a washing machine when available.
Sunglasses – are essential to cut the glare, and protect your eyes from bugs and road debris.
Evening clothes – Men -a lightweight buttoned dress shirt & technical lightweight dress pants.
Ladies – a dress, versatile scarf, jewelry to dress up said LBD.

PJS – minimal is best. Ladies- a tank and silk boxers or a small nightie. Men – boxers and a T.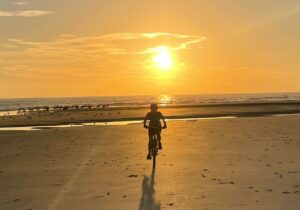 5 Accessories:
Helmet or hat for sun and riding protection.
Toiletries – toothpaste, brush, moisturizer, SPF lotion, comb, make-up, medications & vitamins, wipes.
Padded gloves, usually fingerless, help reduce the vibration and pressure on your handlebar hands over the miles. Also provides a bit of warmth on cool morning rides plus sun protection.
Sunglasses are essential to cut the glare, plus glasses protect your eyes from bugs and road debris.
Basic first aid Band-Aids, nu-skin, disinfecting wipes
Gals – a small pair of flats comfy enough for walking, and pleasant enough for dining out.
A small cross body bag for evenings & errands, to carry your travel docs. Keep safely with you always.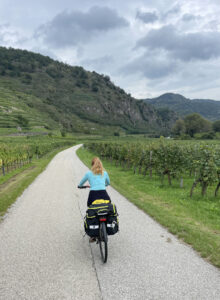 Pannier Packing Tips:
Tightly roll your clothes so they fit snuggly and you can fit the max in your pannier.
Pack one saddlebag side with athletic biking attire, the other side with casual evening clothes.
Put electronics and travel docs in the backpack top portion of the pannier which is portable to keep with you at bike stops, lunch, touring castles and wineries!
See more on Bike Trips and Itineraries
Bike Trips on the Danube River from Germany to Austria
"Life is like riding a bicycle – in order to keep your balance, you must keep moving."