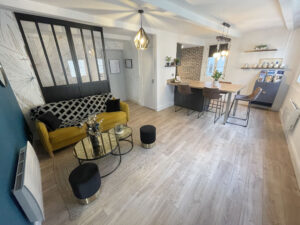 During our visit to Tours France on our Loire Valley bike trip, we had the pleasure of staying in one of PrestiPlace's accommodations. We highly recommend PrestiPlace for its ideal location, and luxurious suites in the heart of Tours. Each property is strategically poised for easily exploring the lovely city and the nearby Loire Valley castles. The spacious accommodations are thoughtfully decorated, offering top-tier amenities and high-end bedding. Whether you're traveling for business or to see Tours and the charming châteaux in this wine-rich region (all within easy reach of Tours), PrestiPlace is designed to make your stay both comfortable and unforgettable.
You can book PrestiPlace and get the best rates when you book directly with the proprietor at there web site for your luxury stay at PrestiPlace.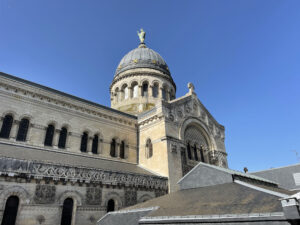 We loved the convenient setting of our apartment, in the historic heart of the city, just steps away from the majestic Basilica of Saint Martin and the Charlemagne Tower, the prominent symbols of Tours' heritage.
Our apartment was quiet, and secure, with private parking for cars and bicycles. We were on bicycles, cycling the Loire Valley, and didn't need the private parking space, but it's a true luxury to have ample gated parking included staying in the city center. The interior décor was especially clean and neat, chic and modern with a well-appointed kitchen, large living area, full bath with washer/dryer. Even our bedding was lovely and incredibly comfortable. Nice amenities were left for us to enjoy – personal unexpected touches support the name – "PrestiPlace" as it truly is prestigious.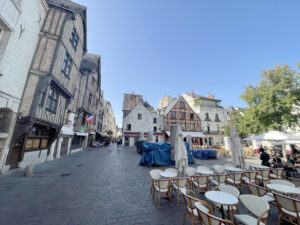 You can easily "tour" the city of Tours on foot from the apartment, as it's just a stone's throw away from historic sites, museums, and monuments, in addition to the best restaurants and shops in Tours' center. We loved dinner at Dagobert on rue grand Marche. And when you're ready to visit the Loire Valley castles, its so easily accessed by car or bicycle.
From PrestiPlace, we loved strolling the ancient city streets, discovering the charm of Vieux-Tours, renowned for its half-timbered houses and cobblestone streets. We enjoyed the lively ambiance of the famous Place Plumereau in Vieux-Tours and the picturesque Rue Colbert, a medieval street adorned with cozy cafes like Espace Hades crêperie, and unique boutiques, all while being in close proximity to the impressive Cathédrale Saint-Gatien.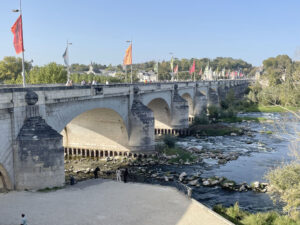 Tours' waterfront, the Loire riverside and bridge is a beautiful walk. Other treasures in Tours include the historic Tours Opera house, and the contemporary art museum (Centre de Création Contemporaine Olivier Debré).
Our communication with PrestiPlace was excellent, and we received a warm welcome upon arrival. There were numerous thoughtful touches, along with plenty of valuable travel tips and recommendations for restaurants and attractions in the city. In short, everything was perfect, and we highly recommend it! Whether you are on a Loire Valley bike tour, or visiting wineries and châteaux of this beautiful French region, PrestiPlace is an ideal place to stay in Tours.
See our Loire Valley Bike Tour Itinerary
Guide to a Loire Valley Bike Trip
Guide to the Loire Valley's Castles
More France Travel Reviews:
Burgundy Valley
Beaune
Dijon
Auxerre
Toulouse
Boating in Burgundy
Boating France's Canal Du Midi
Cote d'Azur – The French Riviera
Skiing The French Alps
Courchevel, Meribel, Vale Thorens of Les Trois Vallees
Avoriaz, Les Gets, Morzine of Portes Du Soleil