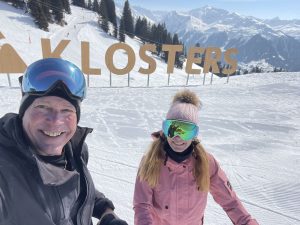 Davos Klosters Ski Stats:
54 lifts – six ski areas
280 kilometers of ski slopes
132 km of cross-country ski trails
Summit Elevation 2844 meters, 9,300' Weissfluhjock
Davos Klosters is a luxury Swiss ski resort, with extraordinarily scenic Alps skiing at not one – but 6 ski areas!
Davos Klosters vast ski region spreads across the resorts of Parsenn – Gotschna, Madrisa, Jakobshorn, Rinerhorn, and Pischa. Davos is most recognized as a winter sports metropolis for ski and snowboard fans from all over the world.
Klosters in the next valley is actually more Swiss alpine charming. Klosters was Hollywood on the ski slopes in the 1950s, and still rather glam to this day.
The beauty of Davos Klosters is its vast skiing, stunning Alps scenery and varied terrain on various peaks on all sides of the valley. High capacity cable cars and a funicular lifts connect both villages – busier Davos and more quaint Klosters – to long groomed runs at Parsenn where you will find wide prepared pistes, swift chairlifts lifts and high-alpine above-tree-line bowls to ski.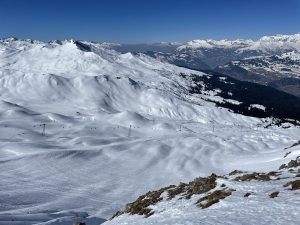 Davos Klosters' centerpiece skiing is Parsenn – reached from either Davos or Klosters villages. The highest point is Weissfluhjoch reached by three-consecutive cable cars to 2844 meters, 9,300'. Skiing from the spectacularly scenic Weissfluhjock to Kloster village is 7.5 miles and over 5,500 vertical feet, or ski the Nostalgia Run from the top a long 8-miles all the way to the charmingly small village of Kublis.
Davos Klosters On Mountain Hut scene is fantastic with dozens of charming wood chalets to modern alpine lodges with huge sun terraces. You can ski n ski out for a hearty homemade lunch of alpine fare, or a mid-morning café and pastry, or a fortifying Swiss ski drink, après ski on the mountain. See our Review of Davos Klosters On Mountain Chalets. There's even an IglooDorf on Davos Klosters main slopes, where you can enjoy a fondue lunch inside the IgluDorf, or chill out with a cool drink at the Igloo's ice bar, or spend the night "on ice."
Off Piste Skiing is endless at Davos Klosters. Venturing in to un-tracked steep side-country is best done hiring a ski guide given the size and various avalanche prone slopes. Prince Charles lost his best friend here in an avalanche.
Your Davos Klosters ski lift ticket is also valid for trains and buses within most of the ski network. Be sure to check when boarding however- we were fined a steep 200 Swiss Franc for boarding a bus after an epic off-piste Rinerhorn run, we didn't know this bus was not included in our ski pass. The bus fare, had we known, was only 4 Francs, but there was no forgiveness from the Swiss ticket checker for our naivete.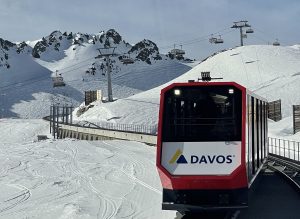 Where to Stay at Davos Klosters
Davos is the bigger "ski village," a high elevation "metropolis" in the Alps with an urban feel, unfortunate architecture, malls and sprawl. The exception are a few 4 and 5-star hotels –like  The Seehof just steps to Funicluar and Parsenn slopes. Hard Rock Davos and a Hilton Garden Inn both offer good proximity to that lift, and to Jakobshorn's ski area tram across town.  AlpenGold Hotel Davos is a giant shiny Easter egg-shaped hotel across the lake, 5-star with great balconies, but further from town and the ski slopes. Davos' claim to fame is hosting the annual World Economic Forum (code for big money discussions) so these Swiss ski hotels are large and expensive
Klosters is much more Swiss charming. This is the ski village where celebs and the Royal family ski, and stay. Klosters' narrow streets are lined with authentic wood chalets, boutique shops and cafes, and a few attractive ski hotels like at four-star Hotel Vereina or the Piz Buin. Chesa Grishuna is a storied old chalet, restaurant and hotel, where celebs have dined over the decades at Klosters. Go to Chesa for a drink in the cozy bar then dinner of Veal Zurich surrounded by history and the well-heeled of Swiss ski country. The Royals stay at Chalet Eugenia (available for 150,000 Swiss Francs a week, sleeps 20). From Klosters you have direct access to the Gotschna Cable Car up to the major slopes of Davos Klosters – Parsenn and Gotschna. You can also easily reach Madrisa – the sunny family friendly ski slopes.
Davos Klosters is located in eastern Switzerland near St Moritz, and Arosa Lenzerheide, under two hours from Zurich. A luxury ski trip to these eastern Swiss Alps could be a safari to these other top Swiss ski resorts.
See our Top Reasons to Ski The Swiss Alps
Top Ski Resorts in the Swiss Alps
More Switzerland Ski Reviews