Newport is known as the sailing capital of the world, and one of America's oldest seaside establishments. Whether you boat in or just drive to the Ocean State of Rhode Island and her most nautical town, you will love exploring Newport.
Newport is legendary from its early settlers in 1639, religious rebels who found the puritans a bit too pure and judgey. Later, late 1800s, the wealthy set built magnificent mansions on the waterfront and Newport became THE summer place for socialites. They'd winter in Florida at St Augustine or West Palm Beach and summer in Newport. Today it's a hub for true sailors and boaters.
Newport Harbor is a beautiful place for boats, protected off Narraganset Bay from the Atlantic, loaded with docks and moorings and marinas, arguably the yachting capital of the world. Host to the famous annual Newport Boat Show every September, Newport brings thousands of boats and boaters through its harbor every season. Most serious yachters pass through Newport at some point for a charter, a school, a show, or a race.
Newport was home to America's Cup for decades – the penultimate sailing race. So the sailing heritage is huge here. It's a lively town for landlubbers as well with waterfront bars galore, preppy boutique shops and great restaurants like the Black Pearl and Clarks Cook House as perhaps the most famous eateries, in the center of the action on Bowen's and Bannister's Wharf, overlooking Newport Harbor.
Top Things to do in Newport
Banisters and Bowen's Wharf – visit these bustling waterfront piers, the heart of the action in this boating town. Fun shops and restaurants line these old wooden wharfs. Get a drink (at Clark's or Black Pearl) and order some seafood, oysters or maybe a stuffy – clam shell stuffed with diced spiced local clams.
Be yachty – admiring the magnificent yachts docked here and at the Newport Yachting Center, and out in the busy harbor full of moorings. Of note, dock space in Newport costs thousands a night, while mooring balls are $50. Yes, this is lifestyles of the rich and famous for yachties.
Trolley Tour – take a narrated open air ride around this historic towns and learn from your conductor the highlights, from the grand churches and the nation's oldest synagogue, to the magnificent "Gilded Age" mansions along Ocean Drive and Bellevue, to the waterfront and its bustling wharfs.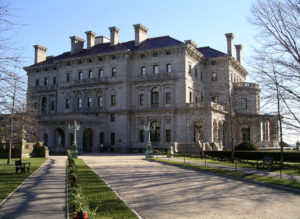 Cliff Walk – walk this 3.5 miles, each way, along the rugged Atlantic coast with glimpses of the grand mansions, summer "cottages" of the Vanderbilts, Duponts, Astors, Morgans, and the latest land baron -Oracle's Larry Ellison.  Rosecliff, The Elms, Rough Point, to the Breakers, Chateau Sur Mer, to Lands End, and the incongruous Asian Tea House, are all visible from various promontories on your path. Wear good walking shoes as parts of the walk are on sloped granite boulders and crushed gravel. It's a gift that this magnificent seaside walk is still free and open to the public in Newport.
Visit the Mansions – step back in time– to a lovely era, as many of Newport's majestic mansions are owned by The Preservation Society of Newport County. Admission to these grandiose estates include The Breakers, Marble House, Rosecliff, The Elms, Chateau-sur-Mer, Hunter House, Kingscote, and the Isaac Bell House, as well as the Green Animals Topiary Garden. Christmas tours of Newport's mansions are especially spectacular late November through December.
Picnic at Fort Adams – the second largest coastal fort in the country with gorgeous grounds, green grass sweeping down to the harbor and Narragansett Bay. Bring your lunch and a blanket, sit and watch the sailboats, yachts and fishermen come and go from Newport Harbor.
Sail Newport – this is the original America's Cup harbor. From 1958 to 1983, 12 Meter sailboats raced off the coast of Newport – a classic challenging race for the finest sailors and sail boats. Sadly, the America's Cup was lost by the New York Yacht Club in 1984 and won by Australia where it remains. The venue and technology has changed dramatically – with hydrofoil boats. Get on board a more traditional 12 meter and sail around this harbor to feel the rush of racing an America's Cup Yacht.
Get on board a charter boat, even a sunset sail to see the magnificent yachts in this legendary harbor. One hour Harbor Cruises on the Rum Runner or Smuggler, the schooner Madeline, or even a water taxi are fun to get your feet wet, not actually, but to enjoy the water view of Newport, its church steeples, and its vast, sometimes hectic, harbor from a sea view.
Newport Rooftop Cocktails cap off a great Newport day, with a commanding harbor view and a taste of the lifestyle of the rich and famous. The Viking Hotel has a commanding and fabulous rooftop bar.
Eat Newport
Lunch at Red Parrot  – is a Newport classic bar and restaurant, not fancy but fun. The Lobster Nachos are ridiculously good.
Bowens Wine Bar is chic with excellent food and wine menu, THE place to see and be seen in Newport. Bring your wallet to this classic on Bowen's Wharf. Upscale dining with a view, of the harbor, the wharf and the fine clientele.
Joe's American Café, up the hill from the waterfront, has a fantastic prix fixe midweek. Delicious food, fun upper deck for outdoor dining.
Brick Alley Pub is the real deal for an authentic watering hole, cozy confines and bustling bar scene, sports on the big screens. Great food (tuna wonton nachos), and local camaraderie at "The Brick."
Newport Blues Cafe is fun for late night live music, and a younger crowd.
Where to Stay in Newport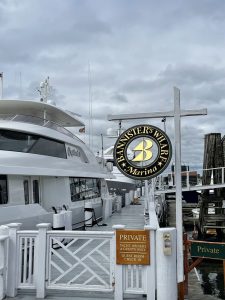 The Viking Hotel is an incredible elegant hotel, stylish and grand, with a prime location, Fjor Spa, pool, and a rooftop bar. Pet friendly, with bikes to tour town, in this historic but chic boutique property.
Bannisters Wharf has cute, rustic cottages hanging over the water, in the MOST prime location in town. These humble rooms offer amazing views of  all the harbor, with an expansive deck overlooking the luxury yachts and tour boats coming and going. There's a convenient perky Coffee Bar right downstairs, as well as the Black Pearl and Clark's Cook House, and you're are steps to all Newport's shops, bars and fun.
Castle Hill Inn Resort on a bluff outside Newport overlooking Narragansett Bay is a beautiful property.
Shop Newport
Newport is loaded with nautical gift shops and art galleries, plus preppy sailing stores galore. You can buy yachty Sperry's, Helly Hanson sailing attire, SeaBags, or RESAILS – the original sailcloth bag makers originated right here. Beautiful local jewelry and artsy boutiques line centerpiece Thames Street. Plus you will find Newport has outlet stores like Banana Republic, Gap, Athleta, Lululemon, Talbots, all within a short walk. Newport is also home to  awesome vintage clothing shops – like Closet Revival and Wish –  if that's your vibe. 
Newport is a super fun weekend away, explore town, get out on a boat, and walk by the magnificent mansions, capping off with rooftop drinks and seafood dinner on the Wharf. See our review of Block Island Rhode Island too!
More Luxury Seaside Towns to Travel to:
Provincetown Mass – Ptown on Cape Cod
Boston Top Things to See and Do
Newburyport MA
Kennebunkport Maine
Boothbay Harbor Maine
New York City's best
Chesapeake Maryland
Charleston South Carolina
Hilton Head Top Things to Do 
Savannah Georgia
Jekyll Island Georgia
Amelia Island- Fernandina Beach
St Augustine Top Things to Do
Key West Florida
"Those who don't travel read only one page of the book"