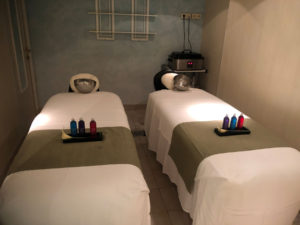 Cruising… The Ship's Spa on most cruise ships, especially on Royal Caribbean ships, and MSC Cruises, are quite luxurious. The Spas are typically located in the bow of the ship on a high deck, often near the fitness center, with beautiful decor.
Tip: Book your spa appointment before you board if you want to assure space, in advance online. There is a full massage team, beauty and hair salon, on board manicures and pedicures, even skin treatments like Botox and teeth whitening. At sea days tend to be more popular and higher priced on board, often coinciding with Formal Nights when people book their spa time for hair up dos and blow outs. Navigator on the Seas actually has a separate Blow Out Bar in the Royal Promenade.
Tip 2: For the best cruise ship spa deal, book when you are on the ship, with an appointment during an in-port day for the best price. Look out for last-minute specials and deals during your cruise. A facial on an in-port day is about $100 versus almost twice that during an at sea day. I got a great haircut aboard Royal Caribbean for $74, including shampoo, condition, cut and blow dry and styling, by booking the first day on the ship while still in port. On MSC Divina, a European ship, a hair cut was only $25 on an in-port day, late afternoon so I still toured the island, and had a fresh hair style included in time for drinks and dinner that evening!
CRUISING FOR BEAUTY…continued…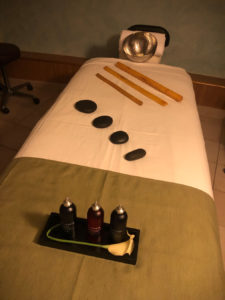 Cruise ship manicures and pedicures – the cost on most cruise ships including Royal Caribbean typically start at $50+… a premium versus at home pricing but the staff and services are top notch. They try to upsell you once you're in the Spa treatment room. As a special, they offered a $19 manicure on the Promenade of the Independence of the Sea on our last day, along with 20 minute massages for $25. Apparently they weren't busy in the Ship Spa, so first day, last day and in-port days are the best times to buy.
Couples massages are available both while cruising and in port with their portable set up on certain beaches, booked through the ship – like at Castaway Key and at Labadee since these are Royal Caribbean's private islands. They bring their own spa staff on island and you can charge the spa treatment to your sea pass card and on board ship account – so there is no tax, and no worry about being taken advantage by an island local.
Massages on board cruise ships start at $150, but the view is priceless. The spa and fitness center also offer free seminars for weight loss and detox treatments, promising you will lose inches and pounds (if you stay away from the midnight buffet). The spa seminars are free, but they are hoping you will buy into a detox body wrap or buy some dietary supplements on board – guaranteed to improve your health – if you believe it.
Remember the cruise ship is trying to make money at every turn, so buyer be wary. Enjoy your cruise – and indulge – if you are like me- you don't take time at home for self-care, so here is the time and opportunity – just don't be afraid to ask the price and negotiate the best deal.
See our Reviews of Cruising
Tips for the Best Luxury Cruise
Royal Caribbean Guide to Cruising
Azamara Cruise in the Adriatic
Cruising aboard MSC Divina
How to Be a Responsible Traveler