The Chesapeake is a haven for boaters, its huge – the largest estuary in the US -explore ports, rivers and harbors along 11,000 miles of shore!
Water from six states make up the grand Chesapeake Bay which is 200 miles long, 30 miles across at its widest. Chesapeake is "brackish" as its part salty, part fresh as the ocean meets 150 rivers and tributaries all flooding into the Chesapeake daily, feeding this Bay that resemble the ocean on windy choppy days, or can be serene and calm.
The Bay has three times the coastline of California and Maine, making it a boaters' paradise with over 500 marinas, 300 anchorages, and 35 ports. It's a foodie destination too with over 200 waterfront restaurants –serving local crab, oysters, and rock fish spiced with classic Old Bay.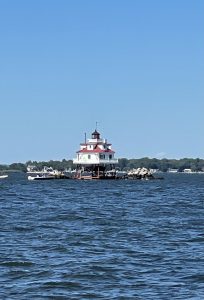 Screwpile Lighthouses are special in the Chesapeake. There were once 42 of these beautiful raised hexagonal lighthouses in the Bay, now just four remain. In fact the Chesapeake had over 70 lighthouses back in the day.
Never having sailed the Chesapeake, we thought we could easily zig zag, tacking across from Eastern shores of Rock Hall to Annapolis then back across to St Michaels. We soon realized the magnitude of the width of the Bay, 15-20 miles across. Sailing can take 4 hours shore to shore. Once you are south of Solomons Island, the Bay is even more open, exposed to chop, and at times – no sight of land.
Weather on Chesapeake Bay can be flat calm, hot and humid without a breath of wind, just clingy bugs that descend upon your vessel. The following day the wind can be howling up to 15-20 knots, blowing white caps up the bay, or whipping southerly – ironically the opposite of your desired sail reach, with 3-4 foot chop beating you back. Larger container ships, yachts and ferries also create big wake in the bay.
Fishing on the Chesapeake has been prime for centuries – crab, oysters, fish- specifically Rock Fish which is striped bass of the Chesapeake. Oysters are the Pearl of the Chesapeake. Oysters are vital to the health and cleanliness of the Chesapeake, 1 oyster filters 50 gallons of water daily, that's why oysters beds are called "white gold" by local fishermen and environmentalist alike. Depleted by fishermen in the 1800 and 1900s, today's oyster production is rebounding, and the water quality too, but oyster yield is only 1% of what it once was. Crab yield is also impeded by the labor shortage as its hard to find laborers for the tedious task of handpicking crab meat – still the best way to get the most precious crab from the shell.
Dock slips and moorings are plentiful throughout the Chesapeake, although summer weekends and holidays popular bays like Annapolis, St Michael's, Solomon Islands and more fill up, so make a float plan!
Chesapeake Harbors and destination by boat or car to explore:
Rock Hall is an old school harbor on the eastern shores, considered the Pearl of the Chesapeake. Its humble but happy, with just one dated grocery market, a CVS, but lots of marinas and waterfront dining like Waterman's, Harbor Shack and Inn at Osprey, which is also a lovely historic Inn on the water with an historic Inn serving breakfast and dinner, a pool, bikes and bay front grounds with kayaks and SUPs available to overnight guests.
Haven Charters is headquartered in Rock Hall, where you can rent a privately owned power boat or sailboat for a few days, a week or more. We chartered a 44' Hunter Sailboat, Stargazer, to explore the Chesapeake the best way possible  – sailing to Annapolis, to charming St Michaels, Herrington Harbour, Solomon Islands, to Tilghman Island and Kents Narrows.
Annapolis is the heart of Chesapeake, and the Sailing Capital of the country. Mind you Newport Rhode Island claims the same, Sailing Capital – but Annapolis natives note that Newport is not actually a capital, while Annapolis is indeed the capital of Maryland, and was for nine months the capital of the newly formed United States in 1783. See our review of Annapolis.
Herrington Harbor south of Annapolis is a party scene for boaters, a narrow protected marina with a beach, resort pool, provisions, and a few fun restaurants.
Solomons Island is a charming harbor further south on the western shoes of Chesapeake Bay Maryland. For boaters, the well protected Patuxent River and Back Creek provided numerous anchorages, moorings, and marinas with plentiful transient docks. Guide to Solomons Island.
Tilghman Island is a adorable seafaring town, and a great stop over on the eastern banks of the Bay. Locals are humble and kind. Biking around the quiet town is sublime. There's just enough dock space, waterfront dining and lodging, a general store and a few fun places to dine out. The sunsets from Tilghman across the bay are A OK! See Tilghman Kent Narrows Things to See & Do.
St Michael's Maryland is a must visit. This seafaring village has history charm, maritime pride, cosmopolitan but casual shopping and authentic dining, even wineries, breweries and a distillery. Its picture perfect and a fun port for a few nights. See our St Michael's review
There's much more of Maryland and The Chesapeake for us to explore, for "shore"!
More cruising reviews
Chartering The British Virgin Islands
Rhode Island's Narragansett Bay and Block Island
Maine by Boat
Cruising Norway's Fjords
France's Canal du Midi & Burgundy Valley Cruising