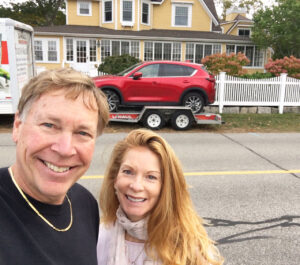 Big change...October 2020… I was terrified to move from Maine to Florida. What a gigantic leap, what a life change, what a potential "hot mess"…what if I lost my lifelong friendships, what if I couldn't make new friends, what if I had daily "humid hair" lol, JK … I knew how deeply I would miss my daughter… my best friends… Kennebunkport Maine… my home for 26 years…
Packing, moving, selling a home, buying a new one… these are preoccupations that define a big change, a new direction, or at least keep your mind and body busy to the result of complete physical and emotional exhaustion at day's end. And each morning, a magnificent Florida sunrise would bring new light, along with it – hope, new energy to pour myself into the next step… and let go of a little more of the fear…of the FOMO.
What has it been like? Eye opening, arriving in the "fun time Sunshine State" where everything is wide-open versus Maine which was so tightly controlled, even closed due to Covid, when"Vacationland" became #staycationland.
Greg and I have managed to stay safe for months now (knock on wood), to make our own healthy choices here in Florida – which are ample when you're in such a temperate climate with plentiful outdoor dining, beaches, sports, activities, sightseeing…  especially in beautiful historic St Augustine! While some describe 2020 as their worst year EVER (isolation, quarantine) ours became an adventure, a challenge…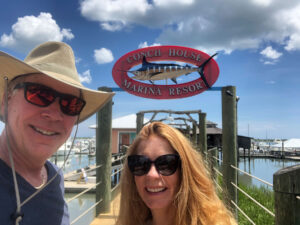 I miss Maine at times, the familiar fuzzies when you bump into a friend at the Post Office or the market, the coziness of a fireplace watching a snowstorm. I miss my friends a lot… but I have met new people, fortunately Floridians are very friendly.
Relocating is like riding a slow-moving roller-coaster, with big swings up – excitement – risk and reward – a sense of accomplishment, and some equally dramatic lows where you feel your heart may burst with longing for the familiar, the comfort of a well-loved friend's smile. I have candidly cried (privately) more in these past few months than I can recall… even my brother's traumatic passing didn't bring tears like this move (maybe I was being stoic for my family's sake back then). But I have also laughed a lot… even cried happy tears when someone is kind and friendly to me, when I am invited to a social gathering, to play tennis or pickle-ball. Like being the new kid in school, when someone remembers your name, or actually invites to their cool lunch table… what a huge difference it makes… it matters…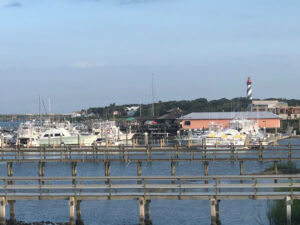 The point of life, to me, is to nurture relations, to build others up, to show care for yourself and yours', to create something special and uniquely yours, to respect and treasure our brief time here,  to make a positive impact, and ultimately – to leave this world better than you found it… that's an ongoing challenge as the world continues to change… 2020 and 2021 have presented real crazy challenges and big questions … is it better to stay home in order to stay safe? Or is it more important to go out (safely of course) and spread joy, to give good energy to others, and bring those you love up with you on your journey?
Florida is "full of flowers" – the very essence and etymology of the state's name, lush tropical plants, proud palms, and a bouquet of colorful people as well. I still call myself a Mainer … not a Floridian. I can have both, like Pooh Bear. I can return to Maine, to my beloved friends and family there… and friends and family will visit us here at St Augustine. Coincidentally, my mother is near in Venice, we have always been close emotionally, but being geographically close is important to us both now.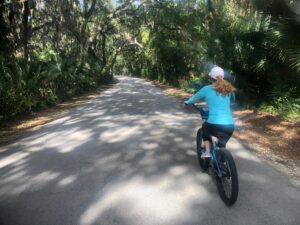 There's no need to fear change… I am happy to have made a leap of faith, it has stretched open my mind, torn at my heart, maybe made it a size bigger (ok, I'm SO not Grinchy), and caused me to truly prioritize what matters. It's not about a place, or a moment in time… it's all that you do and everyone that you love along the way.
"People of accomplishment rarely sit back and let things happen to them. They go out and happen to things."
– Leonardo Da Vinci