If you're a skier and you've not skied the Alps, it's almost like you've not really skied. There are big differences between skiing in Europe – where skiing was invented – and skiing in the States.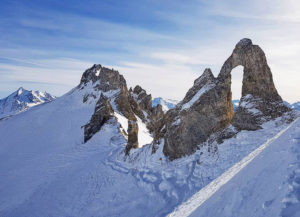 First, interlinked resorts in Europe are huge (the 3 Valleys in France encompasses over 400 miles of connected groomers), and you're free to explore the whole mountain. The cuisine served in chalets is also next level (think Michelin-starred lunches at 6,000 feet), and there's so much alpine history.
On a recent trip to Val D'Isère we tested hired a SkiBro – promising we'd be matched with the perfect ski instructor. Cool concept, since in Europe ski instructors don't have to work for a resort ski school and some of the best are independent freelancers.
Before SkiBro, it was challenging finding good local ski instructors without a personal recommendation from a friend. You'd  hire a Bergfuhrer, Mountain Guide. On SkiBro you can search ski instructors by geography, compare their photos, bios, ski style and and even see videos!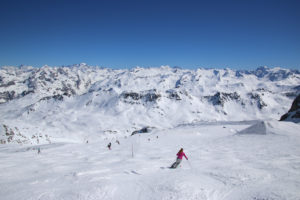 We chose Dorian at Val D'Isere, he grew up ski racing and his family is local Tarentaise for centuries. A knowledgeable native guide at a new ski resort is fantastic, at a huge resort like Val d'Isere/Tignes – it makes your ski trip!
Dorian started us with a few cruisy runs to warm up our legs and enjoy the scenery before we explored Vallée Perdue – the Hidden Valley. Europe doesn't impose out-of-bounds restrictions, but you go at your own risk. Having a ski instructor or guide to bring you safely to amazing 'secret runs' that you don't find on a piste map – is worth it!
We skied off the side of a groomed run, passing between two majestic rocks into a narrow, beautiful gulley running the length of the mountain. We had to duck down and slowly ski through a hole in the rock face before the run opened back up. Truly one of a kind. Local skier Leo Taillefer skied this run a lot faster than we did, see his top to bottom run in this video!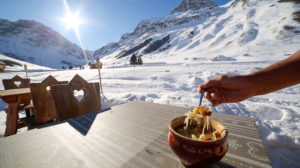 After Hidden Valley, we were ready for lunch.  The French take dining very seriously and lunch on the mountains is no exception!  Dorian took us to down valley on the far side of the mountain to a place we never would have found on our own.  Nestled into the snow was a small rustic restaurant called Au Bout du Monde (At the End of the World). Arriving with Dorian we were greeted like old friends by the owner and her son who treated us like royalty with the most amazing Soupe à l'Oignon (French onion soup) ever, followed by an outstanding fondue made with local farm cheese!
Next we skied to neighboring Tignes, all part of your lift ticket, to see Aiguille Percée, a huge rock formation that translates to 'Eye of the Needle'!
We enjoyed more amazingly long runs around Val D'Isère and Tignes before it was time for après-ski.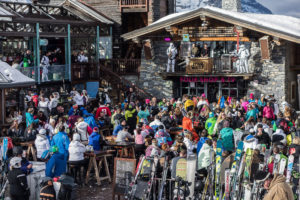 Folie Douce is a huge open-air cabaret mid-mountain at 8000 feet, this isn't exactly a secret, but thanks to Dorian reserving with the manager, we enjoyed the whole spectacle from a comfy VIP balcony.  Believe me – with live singers, dancers, acrobats, musicians, performing for a huge crowd who are dancing on the tables in their ski boots – it's quite the show!
Another Ski Bro in The Dolomites is Paolo, who delivered fresh untracked powder, gorgeous scenery, the best Italian lunch (all reserved for us), and fantastic anecdotal stories about Cortina – ski history and humor – all day long and into après ski.
SkiBro is expanding to over 125 resorts in The Alps including St Anton Arlberg, Trois Vallées, Zermatt, Verbier, Portes Du Soleil, so if you're skiing in Europe and want to discover the slopes like a local, get yourself a Ski Bro!
See More
Tips on Hiring a Mountain Guide in the Alps
Guide to Skiing the Alps
Top European Ski Resorts