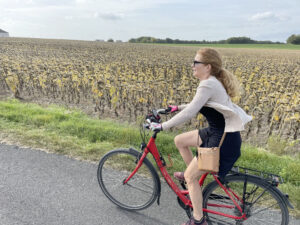 A Loire Valley bike tour is a beautiful way to tour this spectacular region of France, located just 1- 2 hours south of Paris. In two weeks, we cycled over 250 miles of riverside country roads and designated bike lanes, from Orleans to Saumur, visiting over a dozen of France's greatest castles – Chambord, Amboise, Azay-le-Rideau, Chenonceau, Villandry, and more. The Loire bike paths are mostly pleasantly flat, and the scenery of fields, farms and vineyards is gorgeous, with medieval towns and castles every 10-15 or so miles. The proximity of castles allows you to reach even two castles in a day's ride, or a castle and a wine tour. See our Loire Valley cycling itinerary.
La Loire a Velo is a fun and fit holiday, a rewarding tour where day by day you ride to new destinations, primarily on dedicated bike paths, but often very quiet country roads and occasionally on vehicular roads with a cycle lane. We loved the freedom and independence of carrying our own luggage, panniers, and staying in a different unique medieval village each night. While you can follow the La Loire à Vélo map and signage, you must have another source – we like the app Komoot, to confirm the route and provide navigation. Many times on our tour, the Loire bike signs just disappear, or there's a "deviation" (detour) and your route becomes a mystery. the Komoot App was a leg saver, if not a lifesaver.
We biked e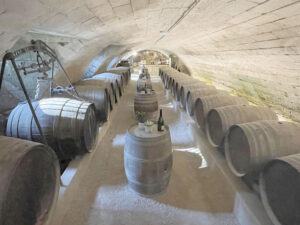 ast to west, down river, renting bikes from Velo Val De Loire one-way from Orleans to Saumur, through the heart of French castle kingdom. Over 50 of these centuries-old castles are open to the public, for tours. Some even offer overnight lodging, so you can sleep in a castle. There are major train connections from Paris to Orleans, Blois, Amboise, Tours, Chinon, Saumur, Angers, all good hubs with bike rentals, e-bikes and me-bikes (meaning you pedal – as we did).
Bonus of cycling the "valley of Kings" is being able to indulge in the local pastries, breads, cheese, delicious French cuisine, and local wine, guilt-free given all your daily exercise pedaling 20-30+ miles a day.
Loire Valley is France's 3rd largest wine-producing region …making for a perfect accompaniment – castle touring and wine tasting. 900 wineries exist along the Loire Valley, over 300 are "caves touristique" meaning they welcome visitors, often with tastings and tours. This splendid region produces mostly whites – exceptional Sancerres, Sauvignon Blancs, Chablis, Chenin, and a few sparkling wines, and Rosé. The Loire Valley reds are Cabernet Franc.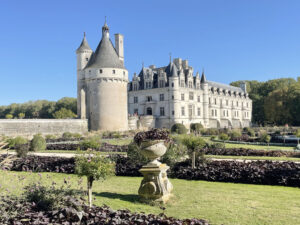 The Loire River is a World Heritage UNESCO treasure, awarded for the region's incredible architecture, history and natural beauty. This illustrious status means the Chateaux of the Loire can be busy in peak summer. Cycling allows you to escape the bus tours and big groups and experience the peaceful land, the views, the forests, flowers and farms with grazing sheep, goats, cow, and horses.
It's really magical cycling along rolling pastoral roads on your bike, flowing with the River, then arriving at a grand chateau in the countryside, often surrounded by vineyards. Just like kings and queens arrived in their horse-drawn carriages centuries ago, you experience firsthand the awesome architecture of these famed landmarks, each with their own dramatic story to tell (debauchery, rivalry, adultery, murder).
French Fact: most of these fortresses were built for defensive purposes in the Middle Ages, and later transformed by self-indulgent French kings during the Renaissance, into decadent Italianate design. The French Renaissance brought the privileged nobility to the country for hunting and social, to flaunt their wealth with lavish décor and ostentation, to drink wine and feast in their gardens and courtyards, away from Paris, and their minion taxpayers.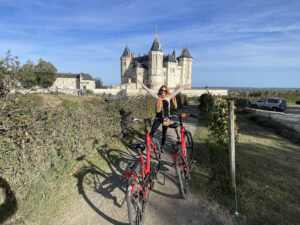 See our Loire Valley biking itinerary, from Orleans to Saumur, a 10-15 day cycle tour, with as many castles, plus wine domains, tours and tasting, exploring and staying in ancient villages of Orleans, Blois, Amboise, Tours, Villandry, Chinon.
See our tips on how to pack your bike pannier for a week or more of cycling, it's not as difficult as you think. Less is more. It's also liberating to have your lightweight bags with you – so you are the master of your itinerary, eliminating concerns of luggage logistics with companies that porter your bags for a fee from one hotel to the next.
French bike terms:
Voie Verte: 100% car-free bicycling. Very few hills.
Véloroute: is a route that combines car-free cycling with quieter backroads, not the fastest route, but scenic.
Piste cyclable: a dedicated bike path. This indicates a bike path reserved for cyclists separate from vehicular traffic. For example, it may be a dedicated cycle lane or a footpath that's been marked for cycling, shared with pedestrians.
Bande cyclable: A section of the road with a dedicated – or at least segregated – cycle lane.
Voie partagée: A road that is shared between cyclists and motorized traffic.
Partagez la route: share the road, a phrase to request space
Sur votre gauche: on your left- to say as you pass. Sur votre droit – on your right
See our Loire Valley Bike Tour Itinerary
Guide to the Loire Valley's Castles
More France Travel Reviews:
Burgundy Valley
Beaune
Dijon
Auxerre
Toulouse
Boating in Burgundy
Boating France's Canal Du Midi
Cote d'Azur – The French Riviera
Skiing The French Alps
Courchevel, Meribel, Vale Thorens of Les Trois Vallees
Avoriaz, Les Gets, Morzine of Portes Du Soleil