Chile is producing some of the world's top wines, extraordinary reds – Cabernet Sauvignon, Carmenère, Syrah, Petit Verdot, Merlot. Central Chile's Colchagua Valley is the heart of this fine wine making, an oasis of ideal climate and scenic beauty for wine lovers. With two dozen wineries in this close valley around Santa Cruz, its "ripe" for exploring, touring and tasting!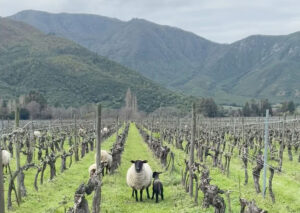 You can't discuss Chilean wines without Carmenère. There is a new grape in town… well, not really… Everyone knows Cabernet Sauvignon, Pinot Noir, Syrah. Petit Verdot, merlot, but have you heard of Carmenère? Unless you've followed Chilean wine, likely not. Carmenère became extinct over 200 years ago, or so vintners thought. When in 2002, just 20 years ago, viticulturalists discovered not only did Carmenère exist, but a mislabeled shipment of "Malbec" vines centuries ago arrived from the old world, Carmenère was surviving and thriving in Chile. So when Carmenère was thought to be extinct following phylloxera in Europe, vintners later reintroduced this delicious grape growing in Chile! Greg's new personal favorite is available at many Chile vineyards in extraordinary wines.
Here is what we love about Colchagua, our favorite wineries and tours along the Santa Cruz wine trail, where to stay and dine too!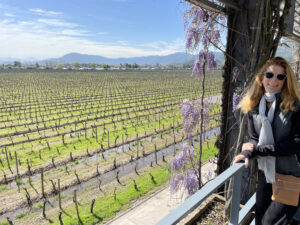 Santa Cruz and the Colchagua Valley is 2 hours south of Santiago, just an hour from Chile's Maipo Valley – another worthy, interesting Chilean wine region.
Passing Dole, Del Monte, Sun Maid fields and fruit facilities on our way, we reached "wine country." Vines were perfectly planted surrounded by pretty hillsides with snowy Andes mountains in the distance. Suddenly every other sign was for tours and tastings, vineyards and bodegas. We'd arrived in Chilean Wine Heaven! Time to start crushing some grapes… we soon found each tour and tasting proves unique, special, with prideful vintners, delicious and fun.
Vina MontGras was our 1st stop, arriving at this attractive Casa surrounded by beautiful vineyards. Fernanda, our guide, explained along our tour of their wine production facility how MontGras is "new" in the wine world, started in 1993, though the vines located on an historic San José estate are hundreds of years old.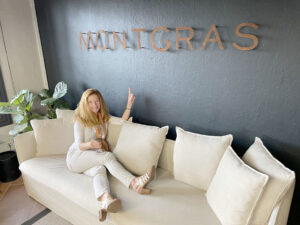 Following our tour of MontGras cellar, we were treated to an Icon tasting of 5 wonderful red wines, including their unique hand-crafted premiums, Intriga Máxima (my favorite) and Ninquén (Greg's favorite), both in the top 1% of wines in the world. Our fellow tour guests quickly revealed themselves as sommeliers, their sophisticated palates and observations were above bar – which made our MontGras experience all the more appreciated.
Vina Maquis is a beautiful wine tour and tasting, arguably our fave. The beautiful winery sits in a gorgeous plateau, between two rivers. Maquis vineyards are 300+ years old, and the 1916 original concrete wine barrels are still functioning. Our tour with Carlos began in the biologic garden, amid olive trees, herbs and plants along a peaceful stream. 
The best description yet of Chilean wine-making process came from Carlos, "Wine is crafted in the vineyards, not the lab or barrel."  We love this simple "good grapes, care and harvesting" philosophy of Maquis. We loved our tastings too, with the privilege of being the first to savor Marquis Rosé 2023 – so elegant, classic Provence style. Maquis' iconic Viola and Carmenère tastes, both from 2014, were extraordinary. All award-winners, and winners on our palate, especially The Futa and Calcu from their coastal vineyards, enjoyed from the scenic vineyard view upper deck of the modern wine production facility. Of note, Maquis is building a state-of-the-art Visitors Center and restaurant for 2024 – 25.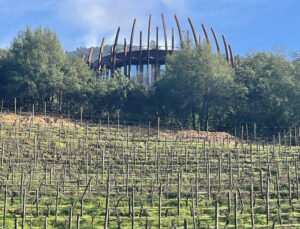 Clos Apalta Winery is another spectacular setting. Vineyards climb the vined hillside, with a dramatic Bird's Nest (giant wine barrel) wine facility perched at the top. Our tour with Erica brought us up to this architecturally amazing spot, with commanding views of the Colchagau Valley. Soon we were descending a 5-story circular stair into the earth where the wine production occurs at Clos Aplata. Modern, clean, cool with its granite lining, all the way to the awesome barrel cellar and the Lapostolle family's extraordinary private wine collection of over 6,000 bottles. This French family, previous owners of Grand Marnier, has spent lavish fortunes on their facility, their award-winning wine creations, and a luxurious, spendy, Relais & Châteaux lodging property on premises.
We did not lodge at Clos Apaltas, uber-pricey, but we did love our Trilogy wine tasting of award-winning Le Petit Clos – a rich red blend. Also love Clos Apalta's classic French-inspired (coat of arms) wine-labels while much of Colchagua is going more artsy and avant-guard.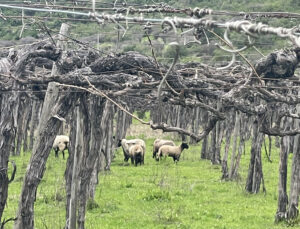 Vina Neyen offers yet another exclusive wine tour and tasting, in a picturesque valley tucked below Chile's coastal mountain range.  Sophia toured us through the pastoral vineyards where sheep grazed, and weeded between the vines, a brilliant organic process till the grape buds appear (time for the sheep to go, or they'd eat the grapes too). Next we tasted herbs from their pretty garden to heighten our tasting palette, before heading into the 200-year estate for our tasting.
Neyen means spirited, and their wines are among the oldest Carmenère & Cabernet in Apalta, and the Colchagua Valley. We learned this Apaltas region is not good soil for farming but great for wine cultivation – a micro-climate similar to Napa with the Pacific and mountainous borders, with cool influence from the sea, shallow granite soil, complemented with a warm summer season (December to March) and abundant sunshine.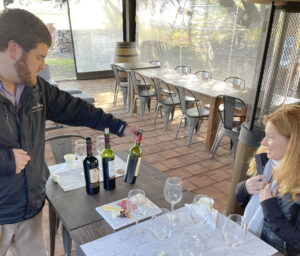 Laura Hartwig Winery, which we'd seen when dining at Vino Bello, was a 5th fascinating tour. Nelson shared the family history during Chile's 1966 political upheaval, how the owners fled to Canada, visited Napa and France, before planting vineyards here in the 1970's.  The first Hartwig wine was produced here in 1995, yet another "young winery" with a boutique production, only selling to hotels and restaurants. The Hartwig family has their success, selling Merlot to Rothschilds, Cabs to El Gato. After our vineyard and cellar tour, we enjoyed a splendid tasting, with perfectly paired charcuterie and local cheese, to enhance our delicious flight.
That's just the wineries we visited, there are so many in Santa Cruz and the Colchagua Valley,  all so proximate yet with their own styles and processes of winemaking, inimitable passion and personalities in each wine. We tasted some of the best wines in the world, emerging from this Chilean valley of creative viticulture,  some new winemaking concepts, traditions, and the re-emergence of the legendary Carmenère grape. We loved learning and buying directly from the vintners, their family and team. The wines are affordable and amazing, so is the scenery and setting in Santa Cruz, Colchagua, and nearby Maipo Valley.
We loved dining at: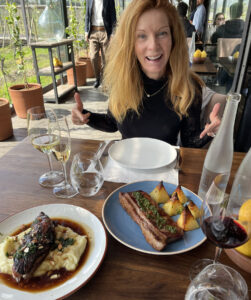 Fuegos de Apalta  at Vina Montes Winery – Colchagua Valley's #1 restaurant, deservedly so. In this spectacular spot overlooking Montes Winery. "Feugos" (fire) is an extraordinary indoor-outdoor Asada culinary retreat. Best grilled meats and veggies EVER Heather proclaims! From the open-concept wood-fired grill kitchen, we received smoky delicious sirloin, lamb, artfully roasted potatoes, artichoke, eggplant, onions, peppers. This place is on fire – lol! The view of Montes vineyards, and their heralded Purple Angel wines, associated with Napa Angel wines, may tempt you to a tasting here too.
Casa Colchagua was a winner for dinner, in a gracious plain, just outside Santa Cruz. This wonderfully cozy establishment is classic Chile hospitality with delicious traditional cuisine. We shared the Trio of Empanadas – flaky filled perfection, then savored wonderful Asada roasted Pollo – chicken, and Carnitas – pork, paired with fabulous nearby Laura Hartwig wines from the adjacent field for $4 (4,000 pesos) each.
Vino Bello satisfied our pasta craving perfectly, overlooking Laura Hartwig's vineyard. Homey delicious hand-made dishes were served in this romantic vineyard view Italian restaurant, accompanied by lovely MontGras wine pours reminiscent of our tour earlier.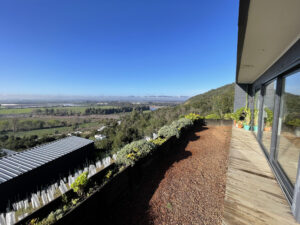 Where we stayed in Colchagua Wine Region of Chile
Palcos De Apalta was such a unique experience. Palcos means box, and our private small modern cabin was perched high on a super STEEP hillside, providing astonishing views of the valley below. Our box, truly, was square, 377 sq ft, raised above the ground, with all windows facing southeast. A private bath, king bed, small sitting area, bartop with Nespresso, and mini-fridge, describes our space. Our own outdoor patio and deck was a little hot tub (unfortunately broken for our visit). Morning, we enjoyed sunrise and breakfast (delivered the night prior) of bread, jam, cheese, and fruit juice. Palcos de Apalta is unusual, private and mod, the dirt road up is rustic and tricky, and the wooden steps to access the house would never pass ADA compliance, challenging enough after wine tasting.
Vibo Wine Lodge At Viu Manent is a boutique wine lodge, with cubical private "lofts" for each couple, no kids. Vibo's chic box units have lovely bath tubs, and the resort has a cool pool area. You can bike the 180-hectar property, in Santa Cruz near most wineries.
Hotel Santa Cruz in downtown looks historic and traditional, you can easily walk to the City's shops and restaurants. The classically grand old hotel, in its cheery yellow, with old-world valet and décor, was booked during our visit.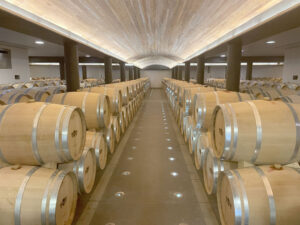 Noi Blend Colchagua we stayed just one night. Despite its bougie marketing and chic website, the resort and lodging are a bit worn. The pool had algae, the gardens were unkept, and our end room backed up to a rustic farm so the odors and early morning tractors were disruptive. Buffet breakfast, included, was pleasant and the lobby was a nice place to relax and enjoy our complimentary welcome drink and Wifi. Summary – Noi Blend needs a "new" blend of refresh.
Cava Conchagua you sleep in a wine barrel all your own. Wine aficionados friends of ours stayed here for the novelty. Not many windows in a wine barrel – but they said it was fun, clean, and cozy in a pretty vineyard of Santa Cruz.
So much wine, not enough time to tour and taste at Viña Viu Manent, Viña las Niñas, Vina Apaltagua, La Postelle, Estampa, to name a few… next trip to Chile.
We loved our time and Chilean wines. Prepare to see more about Colchagua Chilean wines on your wine shops. Tip – 2022 and 2023 vintages look very promising for Chile. Go visit The Napa of Chile, this beautiful emergent wine-making valley – with far more reasonable prices for wines, dining, and lodging. Combine your time with a few days in nearby Maipo Valley just north, on your way to or from Santiago.
We included skiing at Ski Portillo which made for an epic adventure of skiing and après ski in Chile during the winter, which is off-season in this wine region, but still splendid, cool and uncrowded.
Contact Colchagua Wine Tours for trips, tours, tastings
See More Wine Tour Adventures:
Austria's Wachau Wine Region
Portugal's Douro River
France Burgundy Valley
Italy's Wine Region
Spain's Wine Country
California's Napa Valley
Vail's Taste of Vail Wine Event
Washington's Woodinville Tasting Rooms near Seattle