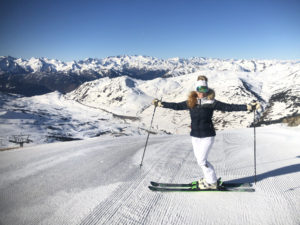 Baqueira Beret at a Glance
5,600 acres of skiing (for comparison Vail has 5,289 Acres)
36 lifts – including a gondola, 10 high speed chairs,
112 pistes (trails) 80% groomed nightly
170 kilometers of prepared pistes
Vast freeride and offpiste opportunities
Summit Elevation 2,610m (8,562 feet)
Vertical 1,100m (3,608 feet)

For an introduction to skiing the Alps, consider Spain. Baqueira Beret – the largest ski resort in Spain's Pyrenees – is easy to reach – just two hours from Toulouse France, three from Barcelona. Baqueira Beret is huge, over 5,300 acres, comparable to Vail, with a big 3,608' vertical, served by 36 ski lifts, with 112 groomed marked trails, plus tons of off-piste opportunities, even heli-skiing. The Spanish culture, tapas and vino are highlights of your Spanish ski holiday.
Baquiera is vast, with fantastic Pyrenees views – some of Spain's highest peaks, it's been dubbed the Aspen of Spain. Baquiera Beret comprises four interconnected areas – mostly above tree-line skiing at elevations between 1,500- 2,610 meters, summit skiing at 8,562-feet, with a dramatic 1,100 meters or 3,608' vertical drop. Baqueira began in 1964, with a single chair up the main mountain. Now this is Baqueira's central ski area, reached by gondola from 1,500 to the hub of Baqueira at 1,800. Many lifts – old to new 6 packs, and lodges emanate from here, with big wide ski slopes groomed in all directions up to the panoramic 2,500' Cap de Baqueira summit and a scenic viewing platform where you can see Spain's largest glacier atop of Mount Aneto.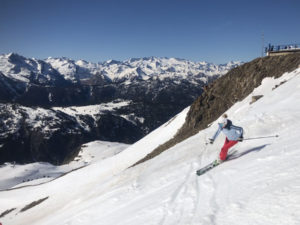 Beret is the south easternmost of the ski resort, easily reached with a couple of high speed lift rides from Baqueira and a great place to start your ski day with its sunniest morning exposure. Long groomed undulating cruisers are reached by the Blanhiblar quad and an upper mountain T-Bar on the high snowy plateau to 2338 meters. After a few fun laps, stop for rich Spanish café or Cava (Spanish champagne) at The Codorniu umbrella bar –a fantastic photo spot amid a panorama of the entire ski resort. Expert adventurers can hire a mountain guide to drop off the back side and ski to the tiny gothic village of Bagergue in optimal snow conditions.
The base of Beret is bustling, home to 7-kilometers of groomed Nordic trails on a grand snowy meadow, plus snowmobiling and dog sledding into the nearby forest with Montgarri Outdoors. Skeirs will find more moderate ski slopes, well-prepared ski runs, plus a fun terrain park and Slalom racing arena. Baquiera Beret has a proud alpine ski racing tradition thanks to the managing family, the founder's son Xavi Ubeira is a two time Olympic ski racer and now Baqueira's marketing manager. Perhaps Baqueira will be considered in Barcelona's Winter Olympic bid for 2030, up against worthy competitors Salt Lake City Utah and Sapporo Japan.
Dossau is skiers' left of Beret, the furthest east skiing. A long slow triple serves a few equally long steep slopes and some interesting pine glades in a big snow winter. From Dossau with a guide, you can ski off-piste to a nearby refuge monastery in Montgarri where a snowmobile will pull you back to Beret. You can also enjoy this fantastic excursion to The Refugi at night with Montgarri Outdoors via snowmobile or dog sled to dinner, a magical mountain experience.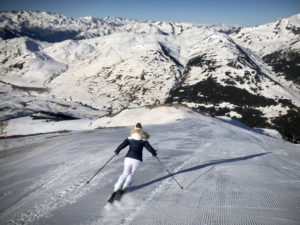 Baciver is the highest elevation skiing, reached by consecutive long pomas to 2610 meters. Ski my favorite – Eth Coret if you like the excitement of winding through trees and boulders on groomed slopes. For Baqueira Beret's longest run, ski 5-kilometers all the way to the Gondola base for a thigh-burning 1100 meters, 3,608' vertical.
Bonaigue is westernmost, with great steep trails at Peulla, and tons of off-piste opportunities at La Llanca. Let's just say Baqueira would be epic on a powder day!
Baqueira can get big powder dumps, meters at a time bring lots of white, and white out conditions above tree-line, and conversely it can be excessively warm and sunny without a flake in sight. Baqueira Beret has the assurance of snowmaking, 710 snow cannons on most main trails.
Spanish food at Baqueira Beret is a highlight- leisurely lunches at on-mountain restaurants and umbrella bars are part of the Spanish lifestyle,  enjoying plates of delicious jamon (ham) and cheese, tapas style bites and local Aranese stews with local wine in lodges with views or outside on the deck in the frequent sunshine.
Best lunch spots include Cinco Jotas's at Baqueira 1,800. This stunning alpine lodge is beautifully decorated, serving among its wonderful plates their famous Iberico jamon (thinly sliced ham of acorn-fed pigs).
Refugi San Miguel at Bonaigua is a great mountain restaurant with table service, choose the chic inside or the grand deck with slope views. Rabbit escargot (yes, bunny and snails in one dish) is a specialty, plus homemade pizza, and pastas. Next door is a fantastic Tapas bar with fireplace and cozy couches, bar tops and tables.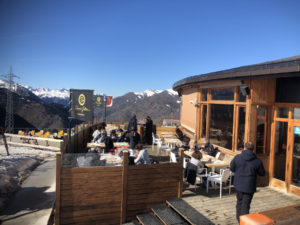 Après Ski on Baqueira' s slopes start up early afternoon at MOET Winter Lounge. This Moёt Chandon sponsored hut amid the ski trails pumps out disco music from a Moet emblazoned gondola car on the expansive wood deck. Champagne or cocktails are pricy, commensurate with the swell ski crowd swirling drinks in the Spanish sunshine behind their sunglasses and goggles. Sushi is served from an open kitchen or snack on beautifully prepared meat and cheese plates. Big spenders can splurge even further on the exclusive VIP lounge couches – it's like a swank club – only on snow during the ski day.
Baqueira is in the Val D'Aran, once a sleepy alpine valley of medieval farm villages. Now those three dozen 12th century villages are home to Aranese restaurants, shops and lodges catering to skiers, bikers and hikers in summer.
The Catalan people are hearty happy folks, fiercely independent and proud of their land. The Catalans' passion is evident in their local cuisine and culture, in their lifestyle and traditions, they tend to be very kind gracias people. They speak their own language – a French Span-glish dialect of native Catalan, plus a similar ancient language – Aranese, but they are pleased to speak Spanish or English or a mix of both – Spanglish.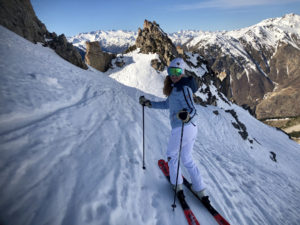 Baqueira ski slopes are busy on holidays, especially Christmas when the 14,000 beds, hotels, lodges and luxury homes are full. Baqueira is approaching one million skier visits annually, but most days the vast efficient lift network doesn't have lift lines. Baqueira is popular with Spanish. In fact, Spain's royal family has a ski house here, and many from the capital of Madrid drive the six-hours to ski weekends. There's French skiers too – since Val D'Aran borders France. The Brits love Baqueira too, staying at the English Eira Ski Lodge in Tanau. North Americans have yet to discover skiing in Spain – but that will change – since you can have an Alps like experience, accompanied by fabulous Spanish food and affordable wine and often sunshine, enhanced with the friendly fun vibe of Spaniards on snow.
See More…
Lodging in Baqueira Beret
Val D'Aran
Entry Cities:  Toulouse and Barcelona