You've gotta love Maine! "The way life should be"… Vacationland… home of lobsters and lighthouses and long coastline (longer than California's). Maine has a certain magic, with authentic and genuine people – Mainahs – and pretty places – seaside villages and secluded harbors. Here are our favorite luxury places to stay in Maine…and by luxury we don't mean "fancy" or "pricey" but unique, relaxed, hospitable, happy…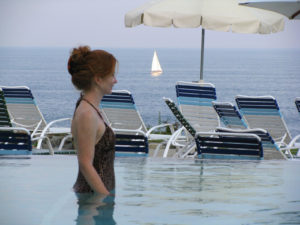 York-Ogunquit
The Cliff House is a most dramatic setting, and posh resort – clinging to Bald Head Cliff on the border between York and Ogunquit. This striking resort property has been home to a cliff-side hotel for over a century – and recent upgrades to Cliff House Resort and Spa make it special, especially by Maine standards. Check in, then check out the infinity edge pool and hot tub overlooking the bold Atlantic. From Cliff House, you can explore the beaches of York and Ogunquit, the art colony and boutiques of Perkins Cove and Ogunquit village. Take a boat ride for an ocean view perspective of this grand hotel perched on the Cliff. Savor cocktails and lobster back at the serene resort after exploring the southern Maine coast including 1897 Nubble Light – the most photographed lighthouse in Maine!
Luxury tip – don't miss a Rum Punch at Barnacle Billy's (just one- pretty potent!) in Perkins Cove, and live piano bar music upstairs at The Front Porch – it's a gay old time!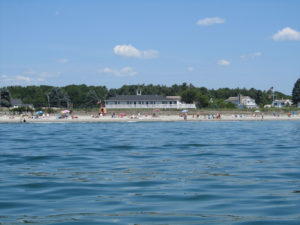 Kennebunkport
We love Kennebunkport so much, we once called it home! Summer retreat for presidents and celebs, with beautiful sandy beaches, but a real salty vibe in the working fishermen's harbors of Kennebunkport and Cape Porpoise. Our favorite hotel is on Kennebunk Beach at Seaside Inn– a 9th generation family-owned property with private beach access. Not fancy, but the focal point beach, outdoor ocean view hot tub and homemade breakfast in the 1850 Boathouse, make it delightful. Ride a complimentary bike to town for shopping and dining, Dock Square shopping, then sleep to the sound of the ocean and smell of salty air.
Portland Casco Bay
Portland Maine is great big little city! A beautiful working waterfront, an Old Port with cobblestone streets and some of the trendiest chefs anywhere – Portland is cool! Downtown Portland has several chain hotels – Marriot, Hyatt, Westin, Hilton.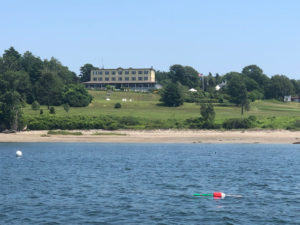 In Casco Bay, we love the islands for a truly special getaway. Hop on a Casco Bay ferry, or go by boat to  Chebeague Island Inn or Inn at Diamond Cove on Diamond Island. Sleeping on an island is special – surrounded by the sea, life slows to a leisure pace, no cars, no cares… just ocean view paths, and bikes, and bites of the freshest seafood and lobster.
Boothbay Harbor and Midcoast Maine is arguably where the real coast begins…
Seaside towns like Boothbay, Wiscasset, Rockland, Camden and Belfast are stunning, with everything you need- and none of life's stuff that you don't. A few mid Maine favorites are sister-properties Linekin Bay Resort and the quieter Newagen Seaside Inn on Southport Island.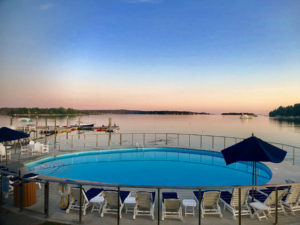 Linekin Bay Resort has a fantastic location, with sweeping ocean views out to Linekin and Boothbay Harbor. This century-old resort harkens back to "camp days" with its all-inclusive lodging in cabins (modern and luxe however) and all the toys you can enjoy – sail, paddleboard, kayak, swim in the heated saltwater pool, breakfast and dinner is part of the package too – always with a water view!
Newagen Seaside Resort is the more demure sister, a relaxed Inn with protected water views from the sweeping lawn, hotel style lodging, a pool, bikes to ride around Southport Island, and a wonderful old-school Pine Room building filled with billiards, candlepin bowling, Ping-Pong and other classic "indoor games" (read: no electronics). Newagen's summer lobster bakes outside with local music and s'mores by the campfire are a highlight at this quiet 20-acre traditional Maine resort.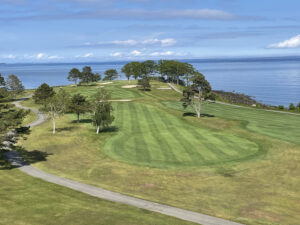 Luxury tip: For the freshest lobster, right off the boats in this picturesque harbor, go to Robinson's Wharf by the Cape Newagen Swing Bridge that connects Boothbay to Southport Island. Picnic tables and daily picked lobster for lunch or dinner – it doesn't get more Maine than this, watching the lobstermen unload their haul at the dock and the outdoor cook steaming your lobster dinner – winner!
In Rockland, the heart of the midcoast, Samoset Resort is a beautiful oceanfront property. With a grand entry, gorgeous green Championship golf course, and lovely resort grounds sweeping to the sea, this modern hotel property has everything – views from every room, Spa, pool, games, and a walk to Rockland Harbor Lighthouse and Breakwater. Plus you are so close to so many great Maine day trips, Rockland's museums and lively downtown are just 2-miles away, Camden and Rockport, Port Clyde and Belfast are all within a half hour drive.
Luxury Tip: Drive out to Port Clyde to see this majestic peninsula, Marshall Point Lighthouse, and have a lobster roll at McLoons after a seaside walk at Clark Island Preserve or Birch Point State Park.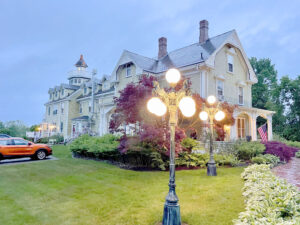 Belfast Searsport is an up and coming midcoast place, ripe for exploring, and off most vacationers path. Staying at the romantic, beautifully restored Captain Nickels Inn in Searsport is a treat. You are transported back in time at this regal Captain's mansion with crystal chandeliers in the antique parlor and dining room, a cozy bar, fireplace living room, and historically romantic rooms with canopy beds. A 3-acre oceanfront property, the Inn has a gracious lawn down to the sea for Inn guest to enjoy, whether its a game of cornhole, or just Adirondack chairs a view. Breakfasts at Captain Nickels are elegant and delicious, a perfect start as you venture out on day trips exploring Maine, and as a restful regal stopover heading north to Acadia National Park of Maine, or back south to Boothbay, Portland, Kennebunkport.
Luxury Tip: Go to Cellardoor Winery in Lincolnville for a lovely tasting and food pairing at this elegant vineyard and tasting room in a renovated 250-old barn.
Continuing up coast, referred to as Down East Maine, are seaside gems of Castine- out on a spectacular peninsula, Blue Hill – tucked in a protective cove surrounded by beautiful bluish hills, and of course – Mount Desert Island – home to Bar Harbor and Acadia National Park.
"Maine is a beautiful place that I paradoxically want to hoard to myself, and share with everyone I meet."
― John Hodgman, Vacationland
More on Maine:
Kennebunkport Maine
Boothbay Harbor
Belfast Searsport
Port Clyde
Rockland