Top 10 Reasons to Ski Les Portes du Soleil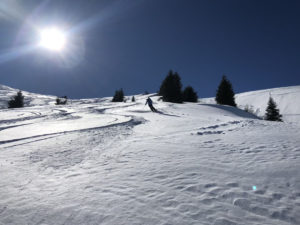 1. The Views – Portes Du Soleil is spectacular, this French Swiss Alps ski resort is surrounded by towering peaks, especially dramatic are the Dents du Midi "teeth of noon" – seven distinct summits all soaringto 3,257 meters, over 10,000', on the Swiss side. Views of Mont Blanc, The Dom, and Matterhorn plus countless Alps in all directions are your entertainment as you ski 30-miles around the vast region, from Switzerland to France and back. The scenery here rivals The Jungfrau.
2. The Sun – Portes Du Soleil means "Gateway to the Sun", and while this region does receive lake effect snow from Lake Geneva, it also gets plentiful sunshine. Yes, given its lower elevation, 900- 2700 meters, you can get mixed precipitation, locals call it Portes de La Pluie on occasion, but when the weather turns, you can head to another valley and potentially ski into snow or sunshine.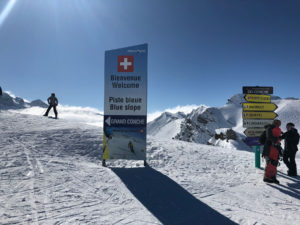 3. Cross Country Skiing – literally. From the 2277 meter summit of Mossette, you can ski into France or tip your skis to Switzerland. You needn't carry a passport to cross the ski border, but bring Suisse Francs and Euro for France, or a credit card will do at most chalets. Of Portes Du Soleil's 12 ski areas, half are French and half Swiss. The Swiss side includes Champéry, Les Crosets, Champoussin, Morgins, and Torgon. The French ski areas are Avoriaz, Châtel, La Chapelle, Morzine, and Les Gets. The primary language is French, but most speak English as well, and signage is in four languages, including German and Italian too.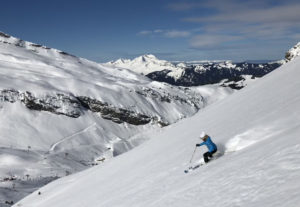 4. Vast Terrain – Portes Du Soleil combines 12 ski resorts, for 650 kilometers of skiing served by over 200 lifts. This region is larger than Les Trois Vallées in France, however they claim the record as their ski region is entirely connected by lifts, while PDS requires buses, free, in a few locations.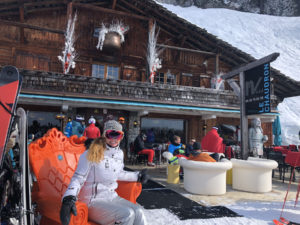 5. Mountain Chalets aka On Mountain Ski Restaurants – You can make a trip out of skiing from Portes Du Soleil chalet to chalet, eating and drinking, comparing the Swiss and French cuisine in cozy alpine huts. We found the finest cheese fondue and sipped the best vin chaud – hot mulled red wine, aka: Glühwein. These beautiful hillsides serve as farms in summer, where local cheese is made and served from the same family farm chalets in winter. The Valais products are delicious, made with tradition, and served with pride. See our review of the best on mountain chalet restaurants and tips on reserving the best table.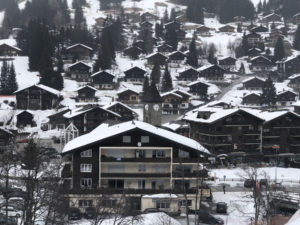 6. Charming Mountain Villages – Staying in the Swiss or French Alps, your après ski and lodging can be a cozy traditional chalet, a modern mountain lodge with a spa and all the best amenities, or a ski in ski out condo in a lively village. The Swiss ski villages of Les Crosets and Champéry offer chalet mountain lodging within a walkable village offering just enough shops, bars and restaurants for an ideal holiday. Neighboring Champoussin is a small Swiss ski resort town for a quiet vacation. Morgins is another historic mid-sized ski village. On the French side, Avoriaz and Châtel are busy ski villages, with lots of lodging, high capacity lifts, kids activities, and more après ski options. We recommend Au Coin Du Feu for family ski chalet lodging in Morzine, see our review.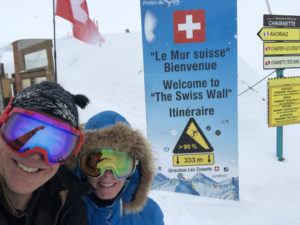 7. Ski the famous Swiss Wall! – This legendary trail drops precipitously from France to Switzerland, at 90% (42-degrees), its steep, its long and its loaded with big moguls. This is the longest mogul field you'll encounter. Don't fall, and don't embarrass yourself for the onlookers riding the chair above. You'll earn bragging rights and a big lunch at Le Toupin upon completion, or ride back up the Chauvanette lift and repeat, or go celebrate at the summit O'Padcha chalet to the DJ's music.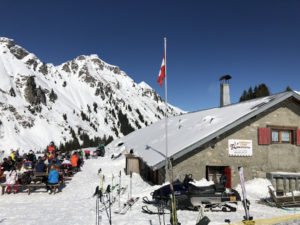 8. La Tovassiére is a classic European Alps skiing experience. This long ski run, #31, from 2277-meter Pointe des Mossette summit, affords spectacular views, gorgeous snow, to a beautiful chalet, by the same name nestled in a grand snow field, with extraordinary views of the wild off-piste Pierre Plan run. And you're not done, from la Tovassière chalet, it's still a long runout all the way down to Morgins, one of the longest and most rewarding descents in the PDS.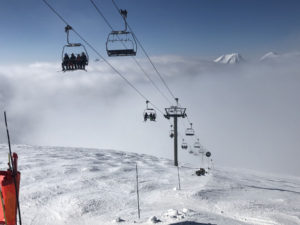 9. Ski the Tour des PDS – the Portes Du Soleil circuit is among the greatest ski tours, akin to the Sella Ronda in The Italian Dolomites. There are several tours, self-guided, outlined on the trail maps. Most ski the circuit clockwise, Abondance to Les Gets or vice versa, and there are several variations. From La Chapelle to Torgon, to Morgins and Champoussin, Les Crosets, Champéry, or Châtel to Avoriaz and Morzine Les Gets. The tour can take all day, with skiing up to 30-miles, so budget for lift closure times to end where you started, your hotel (otherwise the cab ride is rich)! Yet we skied from Champoussin to Avoriaz, and another day Torgon to Morgins, in just an hour early morning. Skiing the circuit, you do encounter great ski numbers and lift lines, so also consider exploring off the tour. See our Top Ski Trails in the PDS, many of which are not on the tour, part of why we love them!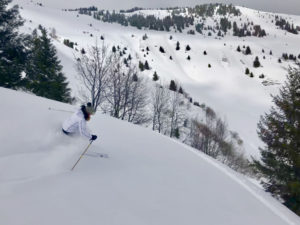 10. Powder Days in Portes Du Soleil – There is so much terrain, huge above-tree-line bowls and snow fields. On a fresh snow day, even a few inches, there are countless opportunities to ski untracked lines. Hire a guide and get the goods, from low angle meadows just off the prepared pistes, to steeper chutes and epic runs off the backside of certain lifts. We can't stress enough however, there is serious risk skiing off-piste, unmarked cliffs, crevasses and very real avalanche danger on prone snow-loaded aspects. You must have a guide to ski safely beyond the prepared runs. The only helicopter skiing in these French and Swiss Alps is when they medivac you out at your own big expense, even for a sprained thumb. Patrol service is not included in your lift ticket, insurance is available, affordable, and should beaded to your lift ticket purchase. Ski safely and enjoy the Portes Du Soleil another day.
See More:
Guide to Portes Du Soleil's Best Mountain Chalets Restaurants
Guide to the Best Ski Trails in Portes Du Soleil
Where to Stay – The Best Mountain Lodge in Portes Du Soleil
Best Family Lodging in Avoriaz France