Vail Resort at a Glance:
Vertical  3,450′
Summit Elevation 11,570′
Acres 5,289
Lifts 39
Trails 195
Birth 1962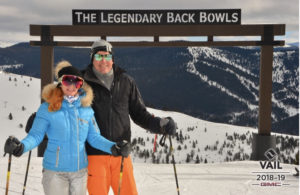 In a word, Vail is "Epic". With 195 interesting fall line trails, vast Back Bowls comprising over 3,000 acres of wide open natural terrain. You ski from Africa to Italy, to China and Russia- fun trail dedications! Vail may be the most ideal skiers' mountain in the world. Perfectly pitched slopes,  modern lifts to the beautiful base village of Vail Village and Lionshead. Caveat: skiing at Vail is a better choice, versus snowboarding Vail – quite a bit of traversing around this vast terrain easily done on two boards.
Vail Resorts now owns 42 ski resorts across the country and globe, to include nearby Beaver Creek, Breckenridge, Keystone, plus Heavenly, Northstar and Kirkwood in California, Park City Mountain Resort which encompasses The Canyons in Utah, Whistler Blackcomb in BC Canada, Okemo, Mount Snow and Stowe Mountain in Vermont, NY's Hunter, NH's Attitash, Wildcat and Mount Sunapee, Andermatt Switzerland, Perisher Australia. The Epic Pass is also valid for skiing at Telluride and other Vail Resorts Epic Pass partner resorts (all for under $1000). The Epic Mix ski app tracks your vertical, your day and your lifetime on their slopes, along with updating you about lift line wait times! That's the one epic concern – with over 2 million passes sold – crowds can be epic too!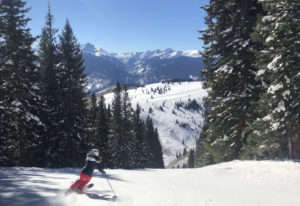 Vail is awesome – from the vast ski terrain, to the iconic original slope side Vail village, modeled after a Bavarian alpine town. Vail's base is at 8,200' elevation and the scenic summit is 11,570' 2 miles high. Vail gets plenty of snow typically, but also boasts about 300 days of sunshine and classic western blue skies – "its either snowing or sunny at Vail" say the locals.
Starting with Vail's Front Side, Vail has dozens of signature trails – long and cascading Simba and Born Free, Gandy Dancer which rolls and turns down the mountainside surrounded by towering pines and aspens. Cappuccino and Christmas are gorgeously groomed morning trails. And then there is iconic 3-mile Riva Ridge, named for the 10th Mountain Division, tumbling down into Vail Village.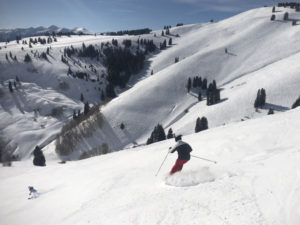 Vail's back side offers seven extensive bowls encompassing 3,000 of Vail's 5,289 total acreage, with natural snow terrain, untouched and often untracked. Vail's huge grooming fleet rolls out much of the front side terrain daily and also a swath down each of Vail's Back Bowls, but otherwise this hearty bowl terrain is powdery amid perfectly spaced aspen trees, all served by swift high speed lifts (hardly time to catch your breath) from Sun Up and Sun Down Bowl to Siberia and Outer Mongolia – as remote and adventurous as it sounds.
Blue Sky Basin and Pete's Bowl offers even more – steep and beautiful glades served by three high speed lifts. Finally Game Creek Bowl is another hidden gem as you wrap back around to Vail's Front Range. You could ski Vail for a week, a month or a season, and still find stashes. Kids will love Fort Whippersnapper, Golden Peak Park, and Adventure Ridge at Eagle's Nest with snow fun and games – ziplining, snowmobiling, and a mountain coaster.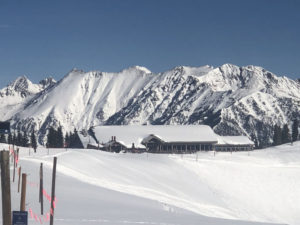 On mountain lodges at Vail are beautiful for highly scenic ski to lunches too, see our best Vail ski to lunch spots, especially the mega summit Two Elk – cafeteria style food but in a very regal lodge setting. Buffalo's and Wildwood serve more café style food in a cozy setting. The 10th Mountain Lodge is the place to go mid-mountain for table service lunch, slip off your ski boots into comfy slippers, the locker room here is deluxe, sink into a leather chair, watch the skiers fly by as you savor a great lunch in this grand lodge. The 10th bar is chic and usually surrounded by chichi skiers enjoying cocktails. There is even a phone charging station if your mobile is thirsty too. See our favorite places to dine & après ski at Vail!
What else makes a perfect ski mountain? A classic Alps-style village, of course, modeled after St Anton makes the quintessential Bavarian ski town stateside. Vail's pedestrian Bridge Street is an alpine postcard with chalet roofs, chic ski boutiques and après ski bars that rock with live music as skiers pour off the mountain ready to party in their ski boots. Vail has grown, especially Lionshead – the village to the west, which replicates the Austrian style architecture of the original Vail village – but its more Disney like – particularly the Arrabelle Rock Resort. We love Vail Village for its authentic charm and personality, beautiful Bridge Street with twinkling white lights and the covered bridge – its mountain magic especially in the evening. See our Top Après Ski Spots in Vail. We also love Vail's fun events like Taste of Vail, Pink Vail, 80's weekend, Beach Party Vail and Apres Vail.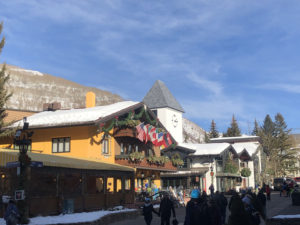 Vail is sophisticated, but still a real skier's town, with classic spots like the Red Lion and Pepi's. The Place to stay at Vail village, the original that opened with Vail Resort in 1962, is The Lodge at Vail – an Austrian style hotel just steps to Gondola One and Vail's ski slopes, with ski valet, beautiful suites with private balconies, a lovely fireplace lobby, and very elegant RockResort spa with outdoor hot tub and a pool. Lodge at Vail is located at the top of Vail Village, so its an easy stroll to Vail's best eateries and shops, like Pepi's, Gorsuch and Golden Bear. Manor Vail is another swank location with gorgeous condo style lodging, beautiful views of the mountain, walking distance to Golden Peak ski lifts, and the on site Ski Butlers will have your skis waiting by the slopes in the morning, and bring them in at night.
Vail is a must visit for every skier, so much terrain surrounded by the impressive Gore Range in the Rockies. While Vail is no longer the biggest ski resort, it will always be among the best ski mountains anywhere.  Vail is ideal for a family ski holiday given its extensive terrain, and fun things to do apres for kids as well. Staying in Vail, day trips are easy to Beaver Creek, Breckenridge, and Keystone – all on the Vail Epic Pass. We recommend a day at Beaver Creek most of all, this ski resort feels like a private club – its posh, with perfectly groomed corduroy, steeps on the Birds of Prey Downhill, great on mountain lunches at Ritz Carton Bachelor Gulch, and a lack of crowds.
To reach Vail, you can fly into Denver airport, and take the 2.5 hour shuttle or drive up I-70, the skiers' highway, which can be very snowy on the mountain passes. Or you can fly into Eagle Airport and you're just 30 minutes to Vail, at this small beautiful airport, and if you're lucky – you will have sensational views as you land and take off of Colorado's ski areas.
More on Vail: Guide to Après Ski in Vail
Best On Mountain Dining at Vail 
Taste of Vail Annual Food & Wine Fest