Vienna Austria is a grand city with stunning architecture and buildings everywhere you turn. Once the capital of the Roman empire, then the imperial seat of Austria's Habsburg family, its loaded with culture, its inviting, clean and fascinating!
Vienna is the birthplace of stunning architecture from Gothic to baroque, the inspiration of amazing music by Johann Strauss, Wolfgang Amadeus Mozart, Beethoven, and so many other artists and architects! We visited Vienna (Wien in German) at the end of our cycling tour along the Danube River, which passes right through this magical city.
Vienna is rich with history, all so approachable with beautiful public pedestrian parks, open churches and palaces that welcome your visit. It's a friendly place to visit with its charming Viennese coffee houses, historic streets and plazas lined with chic shops and cafés housed in staggeringly grand buildings.
Top things to see and do in Vienna:
Saint Stephen's Church in the heart of the city near Graben plaza is a must. Within Vienna's inner city ring – this magnificent cathedral can't be missed with its towering 449′ south spire. You can climb the tower after visiting the Church's massive vestibule.
Saint Michaels Gate leads majestically to the Hoffberger Imperial Court Palace. This Vienna city palace is home to the world famous Lippizaner horses – considered the world's oldest breed of horses – and the Spanish Riding School that commenced here in 1736, the finest dressage on the planet.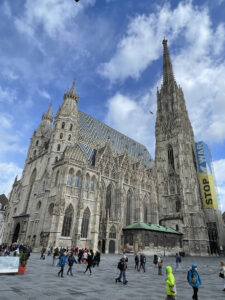 Shönbrunn Palace is magnificent, the summer home of the Habsburg Austrian power family. Located 30 minutes on the U train from downtown. Shönbrunn has 1,441 palatial rooms – many of which you can view inside the sprawling yellow rococo castle. Its a fascinating tour of the lavish interior. Then stroll the 400-acres of grounds, gardens and fountains to the Gloriette and the Palm House where the Habsburg family collected rare tropical plants! You may enjoy watching "The Empress" on Netflix before visiting Shönbrunn to appreciate the tumultuous lives of Emperor Franz Joseph and his wife Elizabeth "Sissy" when they resided here.
Vienna's Ring Strass is a 5-kilometer walk, scenically circling the entire old city, designed by Franz Joseph in 1860 when he realized modern warfare had made the old city walls obsolete. Franz was Austria's longest reigning emperor, considered a tireless worker and architect of much of this amazing city.
The Viennese Opera, constructed in 1857, is the most resplendent neo renaissance building. Here is where Mozart's Don Giovanni was first performed in 1869, and we had the privilege of seeing it performed from high in an upper balcony (cheap seats at $50Euro). Get tickets, dress up and go before the performance for drinks in one of the upstairs salons which are laden with gold and marble, mirrors, fresco and statues.
For family fun, Weiner Prater's amusement park includes the original giant Ferris Wheel Reisenrad which was built in 1897 to mark the Jubilee of Emperor Franz Joseph succession to the throne, it was the largest giant wheel in the world, still standing and amusing kids, and kids at heart, to this day!
For fashion lovers, Kärntner Strasse is Vienna's strand of elegant stores and jewelers, as well as Graben, and Kohlmarkt in Vienna's Old City. Vienna's trendiest shopping district is Mariahilfer Strasse. Window shopping on Sunday when all shops and boutiques are closed is very affordable – lol! Vienna's September fashion week is the other extreme, chic and pricey!     Continued below…
Dining in Vienna
Ilona Stuberl is a classic, cozy Viennese restaurant serving traditional food of hearty goulash, schnitzel and Hungarian-influenced pasta and meat dishes. Ilona is just off the main Graben pedestrian zone, with a small vibrant interior, and an outdoor sidewalk patio as well on warm evenings.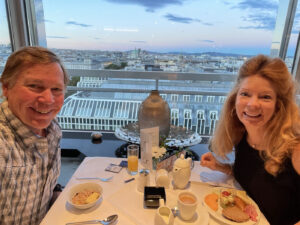 Aida Café is famous for its pink café décor, with several popular locations throughout Vienna. The traditional 1950s Austrian coffee house is fun and family-friendly with waitresses dressed in 50's diner attire, serving wonderful Viennese coffee and pastries!
Ef16 is a delightfully sophisticated restaurant with a very talented chef. The Chef's Choice 3 or 4 course menu is extraordinary, or you can order from the menu à la carte and the seasonal daily specials. My homemade fettuccine with king prawns was fabulous, paired with a delicious Austrian Riesling.
Al Borgo near the Statdpark is genuine if you're in the mood for yummy Italian, and a change from schnitzel. Pretty pasta dishes and Italian wines are served swiftly with Italian charm and humor.
Sparky's near the Plaza of Graben serves delicious American style burgers, if you tire of schnitzel and sausage. This fun bar and grill is an amiable spot for drinks and pub fare, and people watching if you sit outside on the sidewalk patio.
Vienna is considered a top city in the world for its congeniality, cleanliness and safety, and a top tourist city for its dozens of parks and piazzas, cathedrals and palaces. The music, the cuisine, and culture of Vienna, the Viennese coffee houses and wine cafés amid amazing architecture are all not-to-be-missed.  We recommend 3 days in Vienna before or after a Danube biking venture, or river boat tour through Austria's Wachau Wine Region.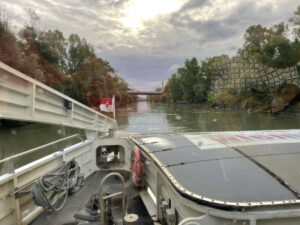 If you wish to visit Bratislava, the capital of Slovakia, you can hop on the daily Twin City High Speed Ferry from Vienna's docks on the Danube canal to arrive in just over an hour in Bratislava. Strolling the streets of the historic town is a remarkable shift from Vienna's vibrancy, as communist rule continued here until 1989. Bratislava's Palace on the hill is impressive, but the village has a war-torn vibe, with less-than-engaging locals, a pleasant main street and plaza with cafés, but also a smattering of sad-looking nightclubs and Thai massage parlors. Skip the Old Town Hall tour, not very impressive, and don't miss your ferry back to Vienna. Or you can omit Bratislava from your "must visit" list.
Prague in the Czech Republic should be on your "must visit" list and can be reached in just three hours by car, or four by train. Prague is an amazingly ancient and beautifully European city.
"The streets of Vienna are paved with culture, the streets of other cities with asphalt."
More on touring Austria
Guide to a Danube River bike tour
Austria's Wachau Wine Region – Spitz, Durnstein, Krems
Prague Czechia top things to do
Top Czechia Villages to visit