Why we love Jekyll Island
Don't you love when a destination exceeds expectation? That is Jekyll for me… just idyllic! This Georgia barrier island is special, from the moment you cross the Causeway waved in by swaying marsh grass of blue, purple and green. You pay the $8 per car Park Preservation Fee to enter the rather exclusive island – a magical mix of anticipation and relaxation are real.
Jekyll Island is the southernmost of Georgia's famed Sea Islands, part of the so-called Golden Isles including sisters St Simons, Sea Island and Little St Simons just north. South of Jekyll is Cumberland Island, then continuing to Florida, you reach Amelia Island. All of these island are worth exploring, but Jekyll just has wild vibrancy with so much undisturbed natural land, mystical moss-draped oaks, inviting bike paths that circle the entire island, rich history, long beaches, an elegant old world resort for lodging, 4 golf courses, tennis and mini-golf, and a small sophisticated population of just 800 people.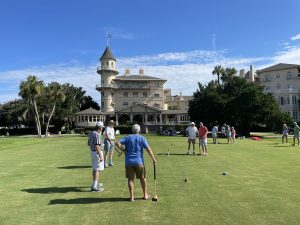 Top Things to do on Jekyll Island
Stay at Jekyll Island Club – first and foremost. This posh 1887 resort is a national treasure, and an historic landmark from the gilded age. Gracious lawns sprawl down to the Intracoastal from the grand Clubhouse and classic croquet lawn. Coquina shell paths wind around grand cottages, whether on bike, foot, golf cart or carriage. A trolley will take you to the Beach and private Jekyll Ocean Club. The 1896 San Souci is where we stayed on the Club's enchanting campus. Our immense suite offered a fireplace, expansive marble bath, and a grand balcony graced with rocking chairs and sweeping ceiling fans with a magnificent view of the manicured resort.
Bike Jekyll – Jump on a bike, courtesy of Jekyll Wheels, and ride around Jekyll Island on smooth designated bike paths. There are five unique loops including the oceanview, historic and intracoastal tours. We biked the low country island in its entirety -14 miles -easily (read: no hills). We cruised along through grand shady oak tree canopies, along 10 miles of Atlantic beaches, and breathtaking marsh, by historic homes and cottages built lavishly at the turn of the century.  An off-the-grid find was the northern Crab Creek Loop out to The Pier.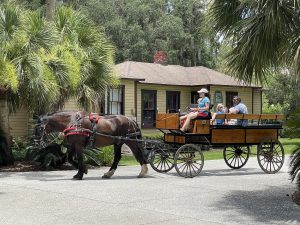 Take the history tour at Jekyll Island Club by trolley or horse carriage. Jekyll Island Club was originally created as an 1880's hunting and fishing club for the wealthy. In 1886 the island was purchased by the club, and by the turn of the century, it was a posh seasonal paradise for the richest, most powerful families in the country – The Pullitzers, Rockefellers, Vanderbilts, Goodyears and Morgans spent Christmas to Easter here. The Federal Reserve was established by top financiers at the Club in 1910, with JP Morgan at the table. If these walls could talk…
Visit The Horton House – This 17143 tabby home tells the story of early island life. Witness the remains and ruins of a true southern plantation where big crops of Sea Island cotton were harvested – considered the finest cotton anywhere.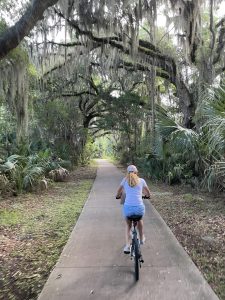 Walk the Wanderer Memorial Trail– This living history exhibit on the shores of Jekyll Creek tells the frightening tale from Umwalla's perspective, this young boy was captive on the last ship of 409 slaves smuggled from Africa in 1858, long after the 1807 Slave Importation Act made slave trafficking illegal.
Come by Boat to Jekyll Creek and dock at Jekyll Harbor Marina, ideally situated on the ICW and the bike paths. This pleasant, not fancy, full service marina has a swimming pool and on site dining plus bike rentals.
Eat a Low Country lunch at Zachary's overlooking Jekyll Marina. This casual dockside dining serves up sweet salty buttery delicious shrimp, crab, fish, a superb Low Country Boil, all fresh from these waters, without fanfare.
See Dolphin aboard a dolphin tour departing from The Wharf at Jekyll Island Club. The boat ride takes you around the shores of Jekyll, spotting sea birds and Flipper in their habitat. Visit Georgia's Sea Turtle Center as well, the only turtle rehab center for Gerogia's iconic protected loggerheads, with a hands-on marine life exhibit.
Go to the Beach at Jekyll – Most of the Atlantic side of Jekyll Island is host to sandy beaches. At low tide a broad stretch of packed sand is conducive to bike riding on the beach. Of note: the sand and surf are a bit murky and brown in this region. Several big hotels line Jekyll's beach – Westin, Holiday Inn, Hampton, Days Inn. We prefer staying at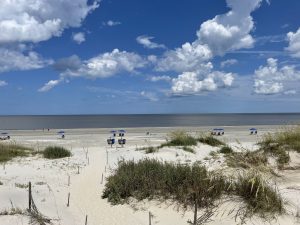 the Jekyll Island Club on the ICW side, which gained us guest privileges at their swank Jekyll Ocean Club with beach access and another swimming pool by the Ocean.
Kids? Take them to Summer Waves Water Park – which is incongruous with the rest of the pristine natural island but fun for splashing around on a hot humid Georgia day.
Dine at The Wharf at Jekyll Island Club watching shrimp boats ply the Creek. Sip a cocktail on the 1888 dock restaurant. Savor oysters, crab, and the bounty of fresh fish from local waters as the sun sets, with live music on the deck many nights.
Travel to Jekyll, it's a treasure of natural preserves, history, beautiful mashes, beaches and bike paths. The island has a relaxed, picture perfect park atmosphere, with plenty to do, or do nothing at all but watch the tides and the teeming birds and swaying spartina grass. As part of your Low Country Tour, we suggest you visit Savannah, Beaufort SC, Hilton Head Island, Charleston and nearby Amelia Island in Florida as well.
"As you move through life you leave marks on the world, however small. And in return, life — and travel — leaves marks on you."
―Anthony Bourdain