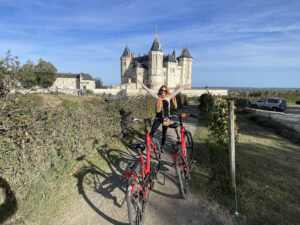 We loved our Loire Valley bike tour. In two weeks, we cycled the heart of France's castle and wine country. Just over an hour south on the train from Paris to Orleans where we started our Loire Valley biking adventure. We rented bikes – one way – and biked over 275 miles, 450 kilometers. Our Loire a velo bike route was about 70% designated bike paths – of which probably 80% were paved and 20% gravel. Another 30% of the ride was rarely-traveled country roads, with occasional bike lanes as we traveled through towns.
During our well-planned France Loire Valley bike itinerary (thanks to our travel planner and photographer Greg) we visited over a dozen of France's great castles – the best chateaux – Chambord, Amboise, Azay-le-Rideau, Chenonceau, Villandry, to name a few.
Our Loire a Velo bike paths were mostly pleasantly flat, the scenery was fields, farms and vineyards, medieval towns and castles every 10-15 or so miles. The proximity of Loire Valley castles allows you to reach even two castles in a day's ride, or a castle and a wine tour. Book your own Loire Valley castles and wine tour.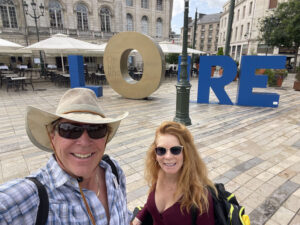 Orleans was our gateway to riding the Loire. Highlights of this pretty city include visiting Joan of Arc's home and her grand statue in the square, and Orlean's own Galeries Lafayette. Orleans felt quiet and local after the busy touristy sites of Paris. We enjoyed a terrific lunch in the historic district at Blend – the burger was one of the best in Europe!
Velo Val de Loire bike company was kind enough to let us check out our bikes that afternoon for our next morning ride. Tip: Dine at Chez Dionysos – this humble bistro run by two friendly portly guys was (so far) the best meal in France we'd had, try the duck heart artichoke soup, wow!
Day 1: Cycling from Orleans to Chambord 54 km/34 miles
Pedaling over Orlean's bridge, we were soon on a beautiful, designated bike path following the Loire River. Our peaceful and pastoral ride on an elevated path, overlooking fields and farms, was so pleasant, we chose to ride directly to Chambord, 3 hours. We could've stopped at several towns at a café – Meung-sur-Loir, Beaugency, Muides-sur-Loire, Saint-Dye-sur-Lorie.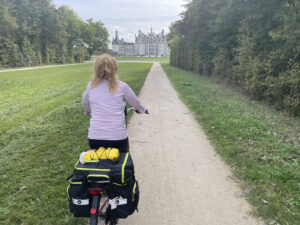 Our first castle – Chateau de Chambord was magnificent at first sight, as we rode up to the massive, elegant palace! Knowing we'd be staying the night here at the adjacent Hotel Relais De Chambord was heavenly! This most ostentatious castle features a grand circular double staircase designed by Leonardo da Vinci. Originally commissioned by Francois I, it is the most Italianate in structure in the Loire Valley, with gleaming white tufo stones, and gorgeous gardens. Chambord served as a hunting lodge and castle to Louse XIV. After our incredible castle tour, we enjoyed wine tasting in the cute castle-grounds village, then relaxed at our beautiful 4-star Chambord hotel. Spa, hot tub, dinner with views of the castle and river, bed, done!
Day 2: Chambord to Blois 49km/29mi
Our morning bike ride took a circuitous route to Blois. Through fields and forests, we discovered Domaine des Huard, a small but proud wine producer, with a Loon (huard) label, where we enjoyed a terrific tour and tasting. A few miles further we came to Chateau de Cheverny, where we enjoyed a lovely tour of this smaller but elegantly-decorated castle. You can have lunch at the Castle cafe, and walk the lovers' sculpture garden, or have lunch in the charming town of Cheverny as we did.  More pastoral Loire bike paths led us to Blois, crossing a grand bridge to this historic city with its imposing castle and two grand cathedrals.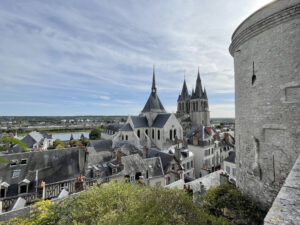 First stop in Blois, we visited Royal Chateau Blois learning its extensive centuries of history. Strolling Blois' medieval pedestrian streets, we found the painted Denis-Papin staircase, the Artist Quarters, charming cafés and alleyways. Tip: have a coffee at Place Louis XII for great people-watching. Dinner at Le Castelet that eve was delish (exciting too when Heather was trapped in Les Toilettes – the sommelier had to kick the door in).
Day 3: Blois to Chateau Chaumont to Chenonceaux 50km/30mi
From Blois, we crossed back across the bridge to the south side of the river to pedal La Loire a Velo bike path. In just over an hour, we reached Chateau Chaumont sur Loire. This beautiful castle on the hillside offers a commanding view of the Loire. The castle tour is fascinating with its history, accented by a modern art and flower installation. Don't miss the magnificent horse stables, and the International Festival of Gardens. Tip: ride past the lower east entrance up the hill and enter the Castle's south entrance at the top of the hill. You may consider staying at the new modern Le Bois des Chambres a few hundred yards past the Château, where there is a cool restaurant as well.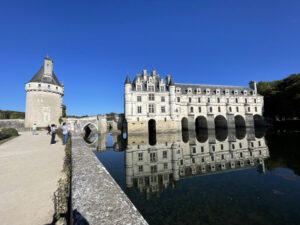 A somewhat hilly 2 hour ride to Chenonceau brought us to our next night's lodging, the lovely Auberge du Bon Laboureur, a 1782 hotel with 28 uniquely renovated rooms. This five-generation inn has a wonderful outdoor heated pool, and a gourmet restaurant overlooking a pretty courtyard serving a sumptuous breakfast and dinner (oh, those escargot)! The Auberge is in the heart of this beautiful village just a few hundred yards to the stunning Chateau Chenonceau.
Chateau Chenonceau is yet another magnificent castle, this one surrounded by water with a moat. In fact, the castle creates a bridge across the river Cher, with splendid gardens. Fantastic that seven women who lived here, including Catherine de Medici and Diane the Huntress. Tip: stroll the gardens, the maze and visit the cave in Dome of Chenonceau for some fabulous local wine.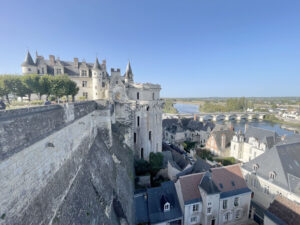 Day 4: Chenonceau to Amboise 21km/13mi
Our perfect bike day began following the river Cher before heading back north across fields and forests to the Loire River, where we turned east to the charming city of Amboise. Chateau Amboise is impressive with its royal apartments and formal gardens overlooking the Loire. Back in the historic pedestrian plaza, lunch at Chez Bruno was a perfect repast before heading to the day's castle #2 – Chateau du Clos Luce where Leonardo da Vinci spent his final 3 years. Here the amazing Tuscan painter, inventor, engineer, architect, and philosopher, created more beautiful artwork and choreographed lavish parties for the king before his passing. Tip: spend at least an hour and a half here exploring the beautiful gardens and admiring Da Vinci's brilliance.
Down along the Loire River, Cave Ambacia was a wonderful wine tour and tasting. Dinner that evening at L'Ecluse was a very French menu, just two choices, unapologetic – with the French attitude which we'd not experienced too much otherwise. Our lodging at Hotel Particulier Le Pavillon Des Lys was perfectly situated in this historic lively village.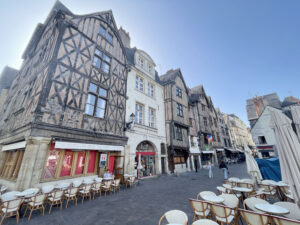 Day 5: Amboise to Tours 28km/17mi
A pretty ride along the Loire brought views of the towers of Tours.  We encountered hundreds of costumed bikers on Tours' promenade celebrating an annual festival. Tours is a very historic, youthful and bike-friendly city. After leaving our bags at our modern spacious PrestiPlace apartment rental, we found the vieux cite, Rue Colbert and Espace Hades where we devoured the most fabulous lunch of homemade crêpes – made by the owner himself – a savory ham and cheese crepe followed by apple with Chantilly – wow – don't miss this! Strolling Place Plumereau admiring ancient half-timbered houses, we noted French locals all out on a sunny Sunday after the grand market in Halles. Our tour of Tours revealed both the Cathedral and Basilica, the pedestrian Loire bridge, and the main Rue Nationale strip. Tip: Dine at Dagobert for a wonderful nightly menu, unpretentiously, and delicious, created in a busy tiny kitchen. Click Here to see our full review of PrestiPlace Apartment Rentals
Day 6: Tours to Villandry 25km/15mi
After a few miles of bike lanes, we left the bustling morning traffic of Tours, turning east to Villandry. Most of our easy 15-mile ride was along the scenic Cher River. We stopped to see the curious petrified caves in Savonnieres – Les Grottes Pétrifiantes.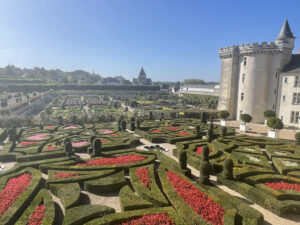 Fascinating that the "Resistance" during WW2 established underground tunnels in these caves, and castles were constructed from the underground limestone tufo quarried here. Tip: backtrack just a mile to Savonnieres for a delicious affordable genuine lunch, $16 euro (in 2023) 3-course menu at Auberge Du Pont sitting outside by the bridge on the River Cher.
To say the legendary Chateau de Villandry castle and gardens exceeded our expectations is an understatement. This may be our favorite, for its perfectly manicured French gardens surrounding the grand castle. At our Hotel Le Haut des Lys, up the hill, we hot tubed, freshened up and enjoyed local Rosé in the lounge which is an old chapel with stained glass windows, followed by a resplendent dinner (thankfully a prepared menu so we didn't have to make any more choices).
Day 7:  Villandry to Azay-le-Rideau 12km/8mi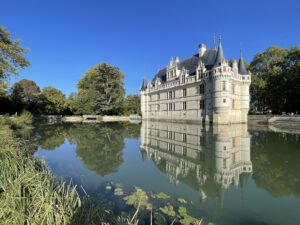 An easy ride through pastures and shaded paths, passing sheep, we arrived in Azay Le Rideau. Checking in to A l'Ombre d'Azay in the heart of the city, we enjoyed seeing the renovations by the lovely young proprietors, Isabela and Jerome. Old caves are now chic game rooms, where we'd enjoy wine tasting and a romantic dinner by the fire later. Our lovely spacious attic suite had a sunroom overlooked gardens, by the wishing tree. Jerome has a Paris Michelin background, while Isabela is a hotelier. Tip: Definitely ask Jerome if you can do a wine tasting and dinner with him in the cave!
The hotel is just a few hundred yards from the stunning Chateau d'Azay-le-Rideau – a fantastic 1550 Renaissance chateau with the best moat, which serves as a beautiful reflecting water mirror of the castle. After touring the resplendent castle in the heart of the village, we strolled the old streets and found a fabulous lunch at Le Q de Bouteille sidewalk cafe. Then we biked a few kilometers to castel #2 – Chateau de L'Islette where Rodin and his apprentice-turned-lover Camille had their tryst.
Day 8: Azay to Chinon 32km/20mi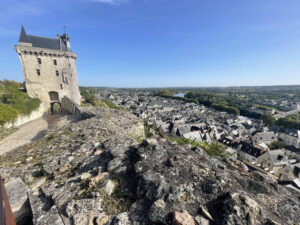 A lovely ride on the Indres River across the Cher and back to the Loire River brought us to Chateau d'Usse, Sleeping Beauty's castle with its marvelous fashion exhibit in addition to the fairytale portrayal. From here, we turned south up a looong steeeep hill, then across the French countryside before we descended into the medieval village of Chinon on the Vienne, viewing the grand castle towers. Lunch at L'Ardoise along a charming pedestrian alley we savored delicious aged beef, my burger was outstanding. Tip: don't miss the wine tour and tasting at Cave M Plouzeau in the cave underneath Chinon's castle to fortify you before you storm the fort above.
Forteresse Royale de Chinon has centuries of history weaved by Jean of Arc and King Charles VII. Tip: climb the 1399 clock tower for a commanding view of the valley. We loved our stay in the heart of old Chinon, at Au Relais Saint-Maurice. Maurice is the most genial host and the rooms are classic, but with modern baths, and his breakfast is the best we had in France. Dinner that night we strolled along the river to L'Entrepotes which was sublime.
Day 9: Chinon to Riviere  just 5km/3 mi – we added 14 miles more with tours.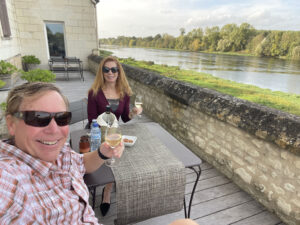 Crossing La Vienne River to Riviere, we left our bags at the charming Domaine du Heron, a 7th generation inn on the river, by the 12th century Notre Dame church. A garden-foraged lunch at Les Jardiniers nearby fueled us for our 7-km ride to Sazilly's Domaine Charles Joguet for wine tasting with Ian. Biking to our 12th castle, Chateau du Rivau was off-the-beaten path, with funky gardens but a beautiful castle nonetheless. Back at Domaine du Heron, we relaxed with a lovely sunset picnic on the river patio, sipping local wine purchased from our genial hostess Jeanne.
Day 10: Riviere to Montsoreau – Parnay 31km/19mi
Biking to Parnay, we stopped at Olga Raffault's Winery for a tasting of their high-end wines. Not too much wine, as we had more cycling to do. Reaching the confluence of La Vienne and La Loire rivers, we rode through pretty riverside towns of Candes-Saint-Martin and Montsoreau where we visited our 13th Chateau Montsoreau. Tip: don't bother climbing all the way up to the panorama pietons, we did, long hike, the views were just as worthy from the riverfront castle and lovely village. Lunch in Montsoreau in VerVert's pretty courtyard was perfection.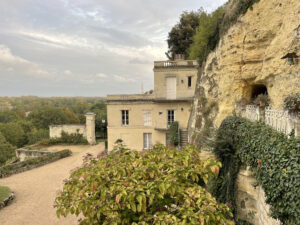 We biked by the "troglodyte" stone cave homes clinging to the limestone hills, which host weird art galleries and a few eateries, and arrived at our castle lodging for the night, the 1655 Chateau de Targe. This family castle offers just one guest suite above their wine cave, with our own expansive terrasse. The setting and terrace is magical, amazing… but the room is in a cave and so you should expect some mold. If this is a problem, this is not the stop for you.

This Saumur Champigny region is heart of wine country – with over 100 domains. We enjoyed tastings at our host Chateau de Targe, and up the hill at the modern (2004) and highly scenic Domaine de Roche Ville winery (try the Fou De Roi – jester's red), followed by a hearty homemade dinner in the village at Mangeoire.
Day 11:  Fontevraud Abbey 24km/15 miles
After coffee and pastry at Lion D'Or in Montsoreau by the river, we cycled 15 miles to the impressive Abbey of Fontevraud which dates to 1100. This monastery, convent, turned-prison by Napoleon during the Revolution, spans over nine centuries of fascinating history! The village of Fontevraud is lovely for a cafe in the square before your cycle back to Parnay. That evening, a 5-minute bike ride brought us to a delicious dinner at l'Helianthe in a tufo cave. Tip: try the pomme tapee – a delicious local apple specialty.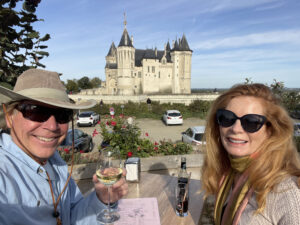 Day 12: Parnay to Saumur 12km/8mi Chateau de Targee to Chateau la Marquise
Our final day cycling La Loire was beyond fulfilling passing private castles, stone caves and wineries on a quiet morning ride along the Loire River into Saumur. As reward in Saumur at "France's best bakery" LMGouzy, we nibbled on pain au chocolat and "Le Fer de Cheval" – a horseshoe-shaped pastry tributing the famed Equestrian riding school here, Cadre Noir.
We stormed our final (15th) Chateau Saumur which towers over this special city, then enjoyed a castle-view patio lunch at Le Terrier du Chateau. Our lodging was befittingly another castle, Hotel spa Chateau la Marquise – an elegantly restored belle epoque 1896 estate in the city, with beautiful gardens, a heated outdoor pool, and sumptuous parlors. A lovely young couple bought the chateau in 2022. Saumur, with its grand historic pedestrian squares, was perfect for strolling and people-watching at a cafe, before our last French feast at Le Pot de Lapin of bunny and pig. Biking back to our chateau in the dark that night was "invigorating."
Leaving Saumur, on a 3-hour TGV train back to Paris, with one change, we arrived at Paris Charles de Gaulle airport ready for our flight home, feeling incredibly accomplished, grateful and fit after cycling 450-kilometers in France.
More on Luxury Bike Vacations
How to pack for a luxury bike trip
Cycling the Danube River Passau to Vienna
More France Travel Reviews:
Burgundy Valley
Beaune
Dijon
Auxerre
Toulouse
Boating in Burgundy
Boating France's Canal Du Midi
Cote d'Azur – The French Riviera
Skiing The French Alps
Courchevel, Meribel, Vale Thorens of Les Trois Vallees
Avoriaz, Les Gets, Morzine of Portes Du Soleil