Boating is a luxury, but it comes with a price tag (hence the acronym-BOAT: Break Out Another Thousand) and it comes with real consequences. As fabulous as a day at sea or a week on a yacht can be… the water can be unpredictable, and being an informed prudent boater is key to a safe, fun, successful voyage.
So when you are invited on a boat trip or charter, there are some rules of the road – or navigational do's and don'ts. Here's an onboard etiquette guide on how to be a good crew member, to be safe, helpful …and to be invited back on board!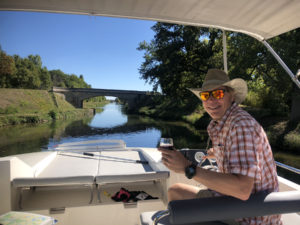 Be respectful – boats are expensive floating crafts.  Also marine habitats are sensitive – respect that too …
Be attentive – awareness makes for a good boater. Have spacial awareness in your confined frequently tippy or slippery surfaces, avoid bumping into finicky pricey equipment, and keep an eye out for changing weather, are these all due your attention.
Be tidy – boat clutter causes accidents. Be mindful of where you put all your stuff… remove your shoes when/if asked. Stow your gear so as not to interfere. Keep heads and beds neat and clean. Once underway, and encounter likely waves, you'll be glad you secured your belongings.
Follow the leader – there's only one Captain – and if it's not you, then do as Captain does, do as he or she tells you to. Observe the Captain's behavior and follow that protocol so that you are in sync.
Be positive – plans on water inevitably change, weather, tides, itineraries are all ever dynamic… Go with the flow and be flexible and cooperative.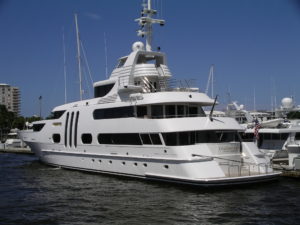 Give praise – be grateful to be at sea, use your manners – please and thank you – and be helpful if you can, if not – be cheerful and appreciative – fetch drinks from the galley, offer SPF sunscreen.
Admit mistakes – ship goes wrong sometimes. If you forget a fender, flood the head, whatever, take responsibility, share with a pertinent crew member and be part of the solution immediately. Boats are small spaces, if you don't own up to something, it's only a matter of time for the mystery to be revealed. Its boating – not brain surgery – so a docking error is not the end of the world. Your crew will trust you more if you let your honest fallible human side show.
Humor – boating should be fun, so keep it that way. Everyone loves Gilligan, Maryann and Ginger too!
Don't over booze or over eat on board. If you've watched Survivor (one of my favorite social experiments), you've seen the hoarders exposed, not cool. It's important to share and share alike with the limited quantity of supplies at sea. Excess drinking makes you a tipsy bumbling stumbling liability to yourself and others. "What do you do with a drunken sailor?" Well, options include MOB: man over board, or walking the plank… Besides, boat hangovers are brutal (damn you Willey T's in the BVI).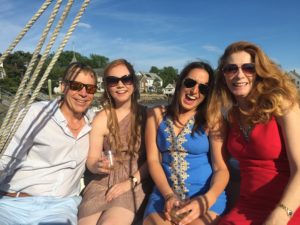 Be generous – bring provisions to share. Offer to pack a picnic and drinks for the crew. It's the least you can do. Or offer to pick up the tab when dining in Port, or out for drinks at some beach bar. Trust me, its usually way cheaper than filling the fuel tank …unless your sailing on wind-power.
Sequester if you are sick… this one is tough if it's a small crew, but it's the right thing to do – not to exposure fellow mateys to whatever ails you. Express to the captain or your next in line that you are NOT feeling so fine, you need rest to return to your best.
Sea sickness – so, that's a tough one, you just have to power through that queasy uneasy state and look to the horizon. And know that this too shall pass…
Ahoy hygiene – don't be a stinky sailor. Not sure how else to put that … keep clean and smelling fresh as best you can, learn the camper sponge bath if your onboard head facility is lacking.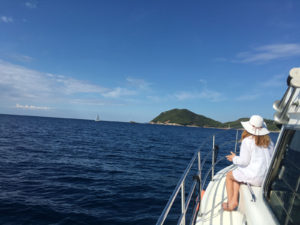 Help when asked with docking, swabbing the deck, be a galley wench or a good matey, hopefully you'll find your skill set with a few of the tasks associated with operating a vessel. Watch a few episodes of Below Deck on Bravo to grasp what separates a bosun from a bonehead. The more essential you are boating, and cheery mate, the more likely you are to be lucky enough to be on board again!
Enjoy the journey – you're on a boat!
See our Guide to Cruising and Charters:
How to pack for a boat charter 
Cruising Rhode Island's Newport & Block Island
Sailing the Chesapeake Bay of Maryland
New York to Maine boat voyage
How to Charter a Yacht in the British Virgin Islands
Cruising the Adriatic – Venice to Croatia
Touring Norway's fjords by boat
Boating the Burgundy Valley in France
France's Canal Du Midi by Boat
Tips for the Best Luxury Cruise Ship Vacation