Auxerre, France 47°47′55″N 3°34′02″E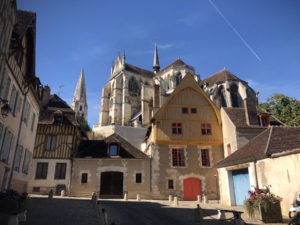 Under two hours south east of Paris, in the legendary Burgundy Valley, is the wonderfully historic village of Auxerre, near Chablis. Auxerre is the capital of Yonne, on the banks of the Yonne River. As the fourth-largest city in "Bourgogne", with 40,000 citizens, Auxerre is a fascinating French city with six towering cathedrals, and hundreds of medieval timber frame homes. Auxerre is incredibly well-preserved and easily walkable to explore the monuments from the Yonne River waterfront up the crooked, cobbled old streets.
Top Things to See and Do in Auxerre
From the waterfront boardwalk, the Quai on the right bank (west side) of Yonne River pay homage to Saint Nicholas in his pedestrian plaza. A statue of this patron Saint is believed to provide safety to boaters on their journey to Paris and beyond, this was an important hub between Rome and Paris, midway between Dijon and Paris, as well as a link from Lyon to Champagne.
Saint-Etienne Cathedral has the most brilliant stained glass windows inside. Outside, discover the stone-carved depiction of religious history on the outside, along with imposing gargoyles. This ancient Roman Catholic church roots back to 1215.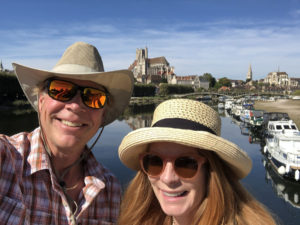 Abbey of Saint-Germain towers high above the Yonne, and tells the story of 16 centuries, from an abbey and 9th century crypt, to the airy 17th century cloisters carved elaborately in stone. This abbey and cathedral was also the center of the Resistance, and centers around the tomb of heralded Saint-Germain.
Hotel De Ville plaza is the heart of Auxerre , stately and punctuated by the 1461 gold clock tower. Note the two unique faces of this magnificent clock – the sun and moon calendar and the time clock. Visit the famous chocolate shop in the pedestrian shopping zone in its shadows.
L'Accroche is a perfectly petite restaurant just above Saint Nicholas Square for local fare, homemade and humbly priced. Reserve in advance, and enjoy rabbit, duck, pork, or fish, and a pitcher of Burgundy wine. Reserve ahead.
Le P'tite Beursaude is a traditional French bistro with cozy interior and delicious cuisine. We loved the classic Beef Burgundy and Canard – yes, duck. Make reservations.
Patisserie Eric Roy is the best pastry shop and bakery in Auxerre, their flaky fabulous creations are as beautiful as they are delicious. The line of patrons each morning on Rue du Pont moves quickly, confirming their quality.
The best cheese shop is nearby at Les Fromages De Sylvain also on Rue Du Pont, an exceptional boutique of the region's best cheeses with a highly passionate and helpful crew of cheese mongers.
Near Auxerre, must visits: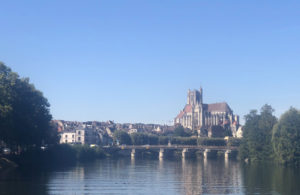 Saint-Bris-le-Vineaux is a quaint hilltop village with beautiful vistas, just 10 minutes' drive south of Auxerre, 10 kilometers up on a bike. This charming town has a half dozen wine producers, like Domaine du Mâitre de Poste, and Domaine Felix, where you can stop in for tastings of Chablis and Burgundy wines.
Les Caves Bailly Lapierre is a must, for a tour and wine tasting in a 4-hectare cave that stores 4 million bottles. These caves were a quarry for the limestone that built Paris' landmarks in medieval times through the Renaissance, then a mushroom growing cellar from the 1920s until it became a wine cave in 1972. Now world-famous Crème de Bourgogne, a bubbly Burgundy version of Champagne, is made and stored in these deep dark caves.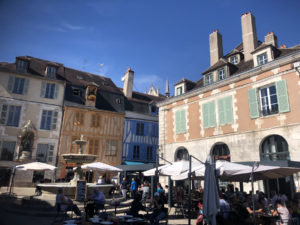 Irancy, 15-minutes from Auxerre just 5 minute from Saint Bris, is another pretty rustic French town of Burgundy perched on a hill, with a handful of wine producers and tasting rooms – Domain Christophe Ferrari and Domaine Saint Germain, Domaine Colinot, and Caves Bienvenue.
Clamecy, 40 minutes south, has roots back to the Roman era. This was a key location for the timber industry. From here logs began their voyage to Paris along the Yonne River centuries ago. Now it's a charming village of medieval cobblestone streets lined with pubs, cafés and pastry shops, and a grand Collegiale Saint-Martin cathedral.
Vézelay, 50 kilometers south of Auxerre, is a dramatic hilltop town. Designated one of France's most beautiful villages, it's a medieval postcard come to life, with superb views of the French countryside and surrounding wine terroirs. Vézelay is home to a 9th century Benedictine Abbey and Church of Mary Magdalene. Tour the church, then browse the old streets, art boutiques, local shops, and taste some wine at Maria Cuny's Domaine, before dining at Le Terrasse in the church courtyard.
See our France Travel Reviews:
France luxury vacations
Burgundy Valley
Beaune
Dijon
Auxerre
Boating the Burgundy Valley
Cote D'Azur- French Riviera
Skiing The French Alps
Courchevel, Meribel, Vale Thorens of Les Trois Vallees
Avoriaz, Les Gets, Morzine of Portes Du Soleil