So many people visit Maine and only go to the popular towns like Portland, Ogunquit and Bar Harbor. But there are so many less-traveled Maine gems, coastal towns that are transforming from industrious mill towns and shipbuilding centers to vibrant getaway destinations ready for your exploration and enjoyment. Belfast is a prime example of a fun, affordable, less-busy coastal Maine place with just enough fun things to do, along with the peaceful pristine Maine vibe you are looking for.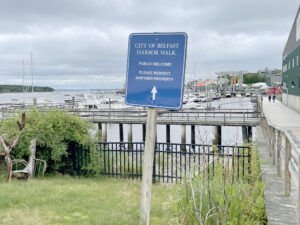 Top Things to Do in Belfast and Searsport
Walk the nearly 1-mile Belfast Harbor Walk through the town and along the waterfront. Called Belfast's "Museum in the Streets," this self-guided heritage-discovery tour features 30 panels along the harbor front pedestrian path leading up into the quaint brick-lined downtown. Signage along the way tells the story of the evolution of Belfast, from a Native American settlement where early settlers enjoyed plentiful fishing, harvesting crops and carving canoes from the vast Birch and Pine Trees that Maine is so famed for. Belfast celebrated its 25oth in 2020, its on the National Registry of Historic Places. Along your museum walk, you will also see pre-Civil War era architecture and beautifully preserved brick buildings, making note of shops and cafes to visit later. Be sure to visit the oldest shoe store in America on Main Street – Belfast had a well-heeled shoemaking heritage as well.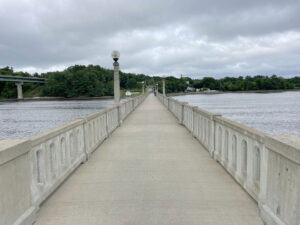 Stroll across the beautiful Armistice Bridge, a pedestrian span across the harbor over the Passagassawakeag River (which in Native American means "place for spearing sturgeon by torchlight"). From the Armistice Bridge you have great views of the working waterfront and boat yards, and the pretty summer cottages that dot the quiet shoreline.
Explore Belfast's Main Street. This large concentration of pre-Civil War buildings features beautifully preserved Italianate and Federal brick homes in the 250-year-old harbor town. Belfast has a dozen cute shops, art galleries and crafty unique Maine-made product boutiques amongst this revived architecture.  Joanne Parent's PFA Gallery is a must visit – her beautiful seascapes and artwork are special, she features other artists as well, and she's a great gal with the local scoop.
The Belfast Rail Trail, also nicknamed the Passy Rail Trail, is 2.9 miles long offering a beautiful walk or bike ride along the Passagassawakeag River. This scenic, often shaded, rail trail was finally completed in 2017 on the old Central Railroad tracks. Belfast is also known for their 157,000 daffodils on display in spring, we wonder who counted them all.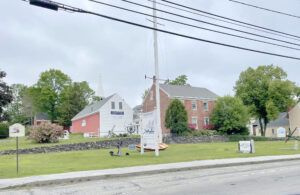 Penobscot Maritime Museum in neighboring Searsport is apparently a "not-to-be-missed" destination! This is Maine's oldest museum dedicated to preservation and education about Maine's shipbuilding and fishing heritage. Too bad, we "missed" it as it was closed on Sunday. Next Searsport trip for sure.
Shop and sip and dine downtown Belfast. There are some surprisingly chic boutiques and galleries, but Belfast still has a hometown Maine feel, with happy locals kickin' around. They call it "Maine's biggest little city!" Belfast also hosts a wonderful Farmer's Market certain days with over 70 vendors of Maine food, products, art, and furnishings. Delvino's offers a contemporary Italian bistro scene, while Darby's and Chase's are more classically casual.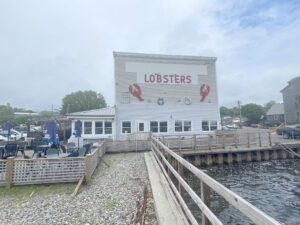 We loved our lunch on the waterfront at Nautilus with fantastic river views. We sat at the bar served by bartender Mary who was funny, talented and engaging. Our lobster stew was rich and delicious followed by a decadent Haddock Reuben – cheesy and filled with fresh fish. Our bar neighbors were wild about their flaky Seafood Pie also stuffed with too much great Maine-sourced shellfish. Mary gave us a tip, we tipped her as well of course, to dine that night at her friend Chef Cooper's Rios.
Rios Spiked Café right on Route One between Belfast and Searsport is a wonderful little nook for foodies, despite its basic exterior. Inside, delicious food is prepared by Chef Cooper in a fun cosmopolitan atmosphere. Chef's small plates are amazing, ranging from octopus to warm ricotta cheese to wings and a delicious bib salad of locally forged greens. You know it's worthy when your lunch bartender says she often dines here and your host at Captain Nickels Inn recommends it too.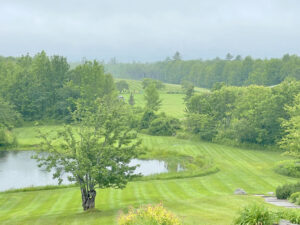 A great day trip from Belfast is Cellardoor Winery in Lincolnville. This Maine winery food and tasting experience is a must! We enjoyed a mid-day "wine pairing" with 4 fabulous courses in Cellardoor's elegant tasting room. It was honestly more of a gourmet meal, paired with some delicious boutique wines curated by the proprietor Bettina. Marta, Fernando and their son Sebastian were our three chefs working pridefully in the beautiful open concept kitchen, where we sat, sipped and savored under glamourous chandeliers in the rustic revitalized 250-year-old barn with pastoral views of the Cellardoor Wineries vineyard.
Cellardoor's food and wine tasting lunch is excellent value, we were served sockeye salmon with the most cheesy delicious wild mushroom risotto, then a course of roasted lamb chops and mint chimichurri sauce, and the perfect-ending vanilla bean homemade cheesecake enjoyed with a bubbly wine that truly complemented its Maine blueberry sauce.
Put Belfast and Searsport on your must-visit hidden gems along the Maine coast. Stay at the historic Captain Nickel's Inn in Searsport, a gracious and grand bed and breakfast where innkeeper Dawn and her team of gals take exquisite care of their ten rooms of guests. From this historic town, you are so close to so much mid coast Maine exploration – including Rockland and Camden, Boothbay Harbor too!
We say go to Belfast and Searsport before everyone else discovers how entertaining and welcoming this pretty section of the Maine coast is. It's a perfect stop over as you travel down east, up Maine's beautiful coastline towards Bar Harbor, or wherever your Maine travels tempt you.
More Luxury Vacation Travel to:
Kennebunkport Maine
Boothbay Harbor
Camden
Belfast Searsport
Port Clyde
Rockland
Best of Boston
Newburyport Things to Do 
Provincetown Things to Sea and Do
Rhode Island's Newport and Block Island
New York to Maine boat voyage
New York City's best things to see and do
Sailing the Chesapeake Bay
"Sometimes getting lost is where you find yourself."