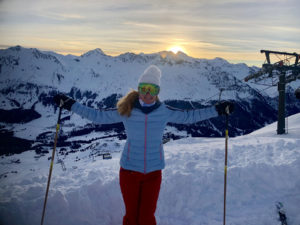 Arosa Lenzerheide Skiing at Glance:
Vertical 4,000'
Summit Elevation 2,865 meters, 9,400'
225 kilometers of prepared slopes
43 lifts
40 on mountain chalets and restaurants
Arosa and Lenzerheide Web Site
Arosa Lenzerheide are connected by a summit peak to peak tram creating one mega ski resort, between Laax and Davos Klosters, in eastern Switzerland, near St Moritz as well. Combing two ski resorts, Arosa and Lenzerheide, the skiing is vast, with four unique areas connected by 43 modern lifts. You can ski sunny well-groomed trails on Arosa and Lenzerheide's east aspect, and more expert terrain on the steeper north facing Rothorn peak – the highest at 2,865 meters, 9,400'. Transferring between Arosa and Lenzerheide is swift via the 3 minute state-of-the-art Urdenbahn tram. Or ski away from the pack down to The Prada (Churwalden) area to the far west of Lenzerheide and return via the modern Panorama gondola.
Lenzerheide's West Side (east facing) Scalottas, Lavoz and Statzerhorn slopes get morning sun on dozens of great groomed trails with amazing view across the valley to the Rothorn – all part of your ticket.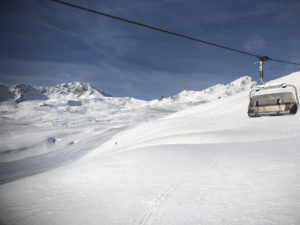 Arosa's slopes are sunny too in the morning, with dozens of intermediate trails on the Hornli , Plattnhorn, Weisshor, and Bruggerhorn. Arosa is popular with families, with more lodging, and there's plenty of off-piste bowls and faces, hire a guide, between the marked controlled routes.
You may want to save the West side of Lenzerheide or the Rothorn face for the afternoon. You will want to ski the Heimberg, #24 -25, also called the Silvano Beltrametti for the famed Swiss racer who resides in Lenzerheide. Start in the World Cup official gate, scan your ticket and the timer beeps, blaze out the gates as if cowbells and thousands of Swiss ski racing fans are cheering. Lenzerheide hosts frequent World Cup ski races here in including 2022!
Early Bird Sunday at Lenzerheide is a special treat, first tracks starting at 6:30 on Statzerhorn, see the sunrise over the Rothorn, take some laps on fresh groomed runs, then ski to a sumptuous buffet at the Alp Statz Lodge before the public hits the slopes.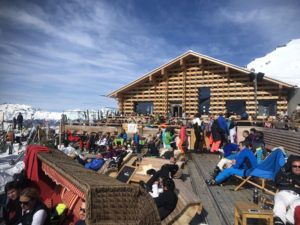 Lenzerheide has many on mountain chalets and huts, over 40, with views of a thousand peaks (we lost count). Mottahütte is a most spectacular mountain lodge atop Lenzerheide's Motta six-pack chair, at a cost of  $9 million – this mountain lodge is a marvel, reserve a table inside by the fire by the  swank wine & cigar room, or on the expansive sun terrace with tables, bar stools an couches with wait service. This is the scene to see and be seen.  For more casual cozy food, and a 360 view, Panorama Restaurant atop the Rothorn serves classic Rösti, schnitzel, local meats and cheeses, gnocchi, soups and salads.
On Lenzerheide's Scalottas, Berghotel Tgantieni is a beautiful chalet with a grand sundeck and posh dining room. Owned by Swiss ski racer Silvano Beltrametti, a top Swiss racer til his World Cup downhill crash at Val D'Isère in 2001, you'll enjoy local cuisine, and maybe a cappuccino made by Silvano from the confines of his wheelchair, a paraplegic since his ski injury.
June Hutte is a charmingly cozy alpine lodge, perfect for a coffee and a homemade pastry inside or a drink on the sunny slopeside area just outside.
Apres ski at Lenzerheide, Crest'ota is the place to be. This traditional chalet right on the slopes, by the Dieschen T Bar and slope #21c, rocks with Day Parties on weekends with a DJ or live music, Glühwein and dancing. Crest'ota is also ideal for lunch on the sun deck, fondue dinner in the alpine restaurant, and a comfortable chalet to stay upstairs with beautiful views.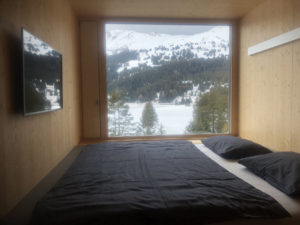 Revier offers "cool" lodging for millennials and tech savvy, situated conveniently right next to Rothorn 1 gondola, and overlooking the beautiful Heidsee, this mod hotel has no front desk or room keys, just a code for the door and ski room, your small efficient "cabin" which is a bed against a picture window and private bath – very clean, bright and minimalist. The lobby bar and restaurant is the social hub, and "gang members" – the wait staff are your point of contact at this fun futuristic ski lodge.
For non-skiers, Lenzerheide's Nordic trails are impressive, and the sledding is fast and fun on traditional wooden sleds gliding down groomed trails next to the skiers. The downtown of Lenzerheide offers a few chic ski shops, Pesko and Jet Set, nice restaurants, and hotels like Kurhaus and Schwiezerhof Hotel.
Arosa Lenzerheide is near the ski resorts of Laax, Obersaxen, Brigels, Savognin, plus Davos  Klosters and St Moritz to the east, if you wish to make a Swiss ski safari. Lenzerheide is 140 km to Zurich.