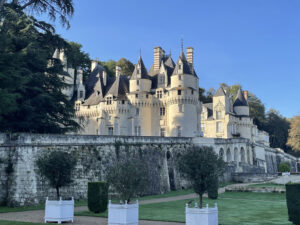 France's Loire Valley is a wonderful valley to explore, with tremendous heritage, fairytale châteaux, scenic beauty along the Loire River. As a bonus, this region is the 3rd largest producer of French wines. There are over 300 castles in the Loire, as many as 50 are open to the public for tours, some are even hotels where you can stay. And unlike the Mona Lisa at Paris' Louvre, where you have to wait in long lines and she's behind thick plates of plexiglass, the Chateaux of the Loire are quite accessible. The furnishings and living quarters, which date back to the 11th century, are on full display. Lavish castle gardens invite you to stroll, and there are frequently restaurants and wineries on the manicured grounds to make your chateau visit extra pleasant and fulfilling.
We bicycled the Loire Valley, in two wonderful weeks, on primarily designated bike paths, lovely scenic routes, typically quite flat, along the Loire, Indres or Vienne rivers. We visited one or sometimes two chateau a day. Chambord and Villandry deserve several hours to truly experience the architecture, the expansive grounds and the history from Fortresses to showy Renaissance retreats for nobility.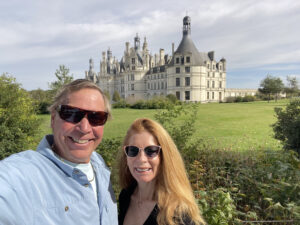 We toured "Les Chateaux de La Loire" from east to west, following the flow of the Loire, from Orleans to Saumur. We biked about one third of the Loire. See our Loire Valley bike tour itinerary.
Chateau Chambord was our first and perhaps most impressive castle. Arriving at this massive, magnificent Chateau is mind-blowing. It is perfection with its gleaming white tufo stone, elaborate towers and slate spires. This beautiful castle designed with input from Leonardo da Vinci, for Francois 1, is the most Italianate of The Loire. Chambord later became the hunting lodge and one of many castles to Louse XIV. No one every "lived" in Chambord. Check out Da Vinci's engineering of the double staircase. After lunch at the Brasserie, go wine tasting at the Cave des Vins. We loved staying the night on Chambord's castle grounds at Hotel Relais De Chambord, a Relais & Chateau property with suites and a spa, gourmet dining, in the modern carriage house. Chambord is 35 miles from the Loire's gateway city Orleans, which is easily reached with a direct train from Paris.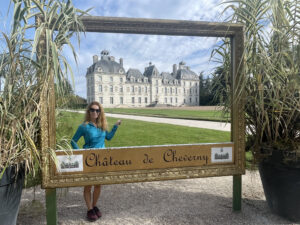 Chateau de Cheverny is the perfect family-size castle, a "smaller" but elegantly decorated lived-in castle, just a short ride from Chambord. While not as imposing and extravagant as many castles, Cheverney has its own style, symmetry and plenty of room for a "modest" country castle – without the massive sprawling halls and vacuous galleries. Cheverney has lovely gardens including a lovers' sculpture garden. Have lunch at the Castle café or in the cute little town of Cheverny which has a few bistros and a quaint boulangerie.
Chateau Royal Blois in the medieval city of Blois has the most fascinating history including murder! Perched in the heart of this festive French village, so much happened here as you will learn during your self-guided tour. Be sure to wander the pedestrian zones of Blois, see the Denis Pepin painted staircase, have a coffee or aperitif at Place Louis XII, and dine at Le Castelet.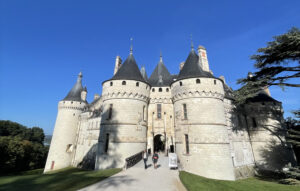 Chateau Chaumont sur Loire has the best Loire Valley River views not in a city, and the most magnificent flower exhibit. Just across the Loire and a few kilometers west of Blois, this gorgeous castle invites the world's top florists to decorate chambers of the chateau. The beautiful floral displays accentuate each Renaissance chamber. Chaumont's extensive International Festival of Gardens and stables are well worth exploring too. We should have allotted more time to view Chaumont, it deserves several hours. Even better, you can stay just a few hundred yards from here in the new chic hotel Le Bois des Chambres, where there's a lovely restaurant.
Chateau Chenonceau has by far the best water feature! This Castle's great hall is a bridge across the River Cher. Chenonceau has a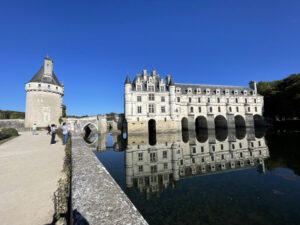 fantastic history of seven women who lived and dominated here, including Catherine de Medici and Diane the Huntress. Be sure to save time to stroll the splendid gardens, visit the maze and the wine tasting in the cave Dome of Chenonceau. Stay in Chenonceau in a beautiful suite in the Auberge du Bon Laboureur – a 1782 hotel with 5th generation Innkeepers. Every generation has added a new building to the Inn. We loved our attic suite which was impeccable in all respects! The cuisine at the Auberge is exceptional too, as is the outdoor pool and spa, located in the heart of this quaint village just steps from the castle and several nearby wine domains.
Royal Chateau Amboise has an amazing setting overlooking the Loire River. Just steps from the charming pedestrian village of Amboise, you can tour the royal apartments and the formal gardens. Enjoy a delicious lunch at Chez Bruno in the village while people watching along the plaza, before your 2nd Amboise castle – Clos Luce.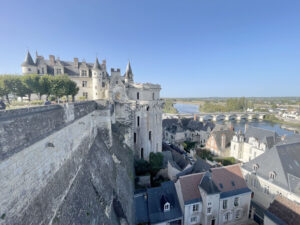 Chateau du Clos Luce is the most fascinating residence where Leonardo da Vinci spent the final 3 years of his remarkable life. In this modest beautiful estate, Da Vinci finished paintings, created more inventions and gardens. You will want to spend over an hour here exploring the beautiful gardens and admiring the brilliance of this Tuscan orphan, self-trained artist, philosopher, inventor, architect, and engineer. Truly Da Vinci was one of the greatest minds of all time.
Wine tasting in Amboise, head down to the Loire River banks to Cave Ambacia, for a tour and tasting in the tofu cave. Amboise is easily reached from Chenonceau.
Chateau de Tours in the city of Tours is now an art gallery. We loved this very historic, but youthful and bike-friendly city not far from Amboise. In addition to the Chateau, Tours has an impressive Cathedral and Basilica. Just walking the vieux cite, Place Plumereau and Rue Colbert, is pastime enough. Have a wonderful crêpe lunch at Espace Hades, lodge in one of PrestiPlace's unique suites in the heart of Tours and dine at authentic Dagobert.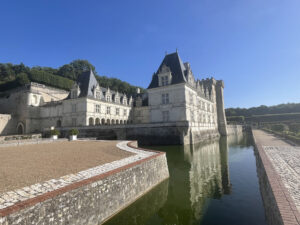 Chateau de Villandry has THE best castle gardens. This castle in the small town of Villandry has a wonderful castle tour, with exemplary furnishings, don't miss the rooftop tower view. Take time to walk around the perfectly manicured French gardens – from the "love garden", to the castle pond to the "kitchen gardens", it's phenomenal and breathtaking. For garden lovers, this is a not to be missed. From Villandry you are just a few miles to famed Azay Le Rideau.
Chateau d'Azay-le-Rideau is a fantastic 1550 chateau with the best moat, which serves as a beautiful reflecting pool for the castle. Called water mirrors, the surrounding moat creates a dramatic reflection of the stunning Renaissance chateau. This Italianate castle in the heart of this pretty village provides a great tour, followed by strolling Azay's old streets. We found a fabulous lunch at Le Q de Bouteille sidewalk cafe. Azay is a two-castle town, with Chateau de L'Islette just 2 kilometers away.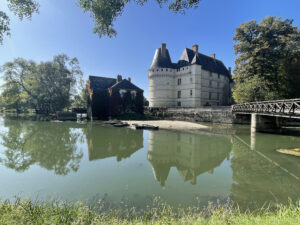 Chateau de L'Islette is where famed French sculptor and artist Rodin had a tawdry 10-year affair with his 19-year-old apprentice Camille. Don't miss this large, beautiful castle, and the sad love triangle story. We suggest you stay in the charming Azay Village, at A l'Ombre d'Azay, a well-renovated estate where caves have been converted to cool wine-tasting and game room spaces, owned by a smart young hotelier couple Jerome and Isabela. Be sure to allow Jerome to serve you a wine tasting and dinner by the fire in the cave!
Chateau d'Usse is the best fairytale castle – the inspiration of Sleeping Beauty in 1692. This castle along the Indres River between Brehemont and Chinon is magnificent. Not only does Chateau D'Usse portray Sleeping Beauty in its tour, there is also a fabulous period costume "fashions over-the-centuries" exhibit that adds a striking reality to the old stone walls of the grand Usse.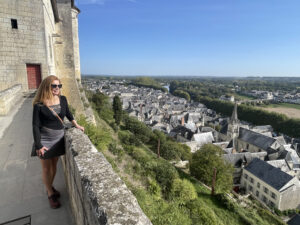 Fortress Royale de Chinon is the oldest castle we visited.  This castle dates prior to 1200, with centuries of history including Jean of Arc and King Charles VII. Be sure to climb the 1399 clock tower for a commanding view of the Vienne River valley. Stroll the beautiful medieval village with its half-timbered homes. Consider staying in Chinon to make time for lunch at L'Ardoise (best burger in France), lodging at the charming Au Relais Saint-Maurice, wine tasting in the caves under the castle at Cave M Plouzeau, and dining on the river at L'Entrepotes.
Chateau du Rivau is a hidden gem castle, across the river a few miles from Chinon. This estate has funky gardens and art installations, but a beautiful castle nonetheless, less busy than others since it's not on the main Loire Valley Castle route.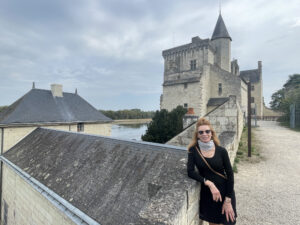 Chateau Montsoreau has the best river confluence view. At this high castle, the Loire and Vienne Rivers meet, and the panorama is impressive. The pretty riverside villages of Candes-Saint-Martin, Montsoreau, and Parnay are the heart of wine country as well – home to over 100 winemakers in the Saumur Champigny region. Stay in a castle at Chateau de Targe, enjoy local wine tasting here and at Domaine de Roche Ville, and dine at VerVert, l'Helianthe and Mangeoire.
Abbey Fontevraud, nearby, while not a castle, is a must visit. This massive 1100 stone church, monastery and convent, later-turned prison during the Revolution, has a fascinating history spanning over 900 years, and mind-boggling architecture and space.
Chateau Saumur has the best city views from a castle, it towers over this special name-sake place famed for its legendary Equestrian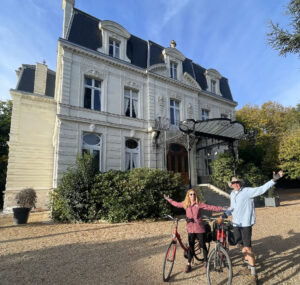 school. Saumur is a delightful city, especially if you stay in a castle, Hotel spa Chateau la Marquise is an elegantly restored 1896 estate with grand suites, beautiful gardens, heated outdoor pool, indoor spa and sumptuous Belle Epoque parlors.
That's just 15 of 50 castles you can visit in the Loire Valley, and that took us two weeks, as we rode bikes from chateau to chateau – a perfect way to see the French countryside, and exercise between lavish food and wine, bread, pastries, cheese, chocolate, savored along the way.
Castle Touring Tips:
Admission – Most chateaux are 12-15 Euro for a day's tour. Reservations are typically not required.
Beware the big bus tours, hard to avoid. If a big group is in the chateau, visit the gardens first.
Histo-pad iPads and audio guides are available for an extra fee, about 6 Euro. These devices are loaded with data and detail about the construction and history of each chateaux. Though I'm not a fan of being plugged-in while strolling a castle. Up to you if you want to tap into the technology. Some castles have QR codes you can scan with your phone for detail about a room or feature.
See our Loire Valley Bike Tour Itinerary
Guide to cycling the Loire Valley
More France Travel Reviews:
Burgundy Valley
Beaune
Dijon
Auxerre
Toulouse
Boating in Burgundy
Boating France's Canal Du Midi
Cote d'Azur – The French Riviera
Skiing The French Alps
Courchevel, Meribel, Vale Thorens of Les Trois Vallees
Avoriaz, Les Gets, Morzine of Portes Du Soleil