Delray Beach is a fun Florida town, on the East Coast, with a vibrant art scene, beautiful beach, boutique shopping and lively nightlife, art and culinary emphasis, and just a cool Floridian vibe. Its nicknamed "Village by the Sea" for its compact and welcoming atmosphere from its brightly colored squares, bustling Atlantic Ave for shopping and dining, Pineapple Grove Art District and of course – a wide-open sand beach.
Delray Beach began as Orange Grove House of Refuge in 1876, and its history is fascinating. Today with a population of 65,000, Delray is popular with locals and visitors alike. Delray reminds me of Fort Lauderdale in the 1980's before it grew so rapidly into a city and huge port for cruise ship departures. Delray has a strong Northeast influx, particularly New Yorkers, folks are friendly enough. In fact, USA Today Travel named Delray "America's Most Fun Small Town."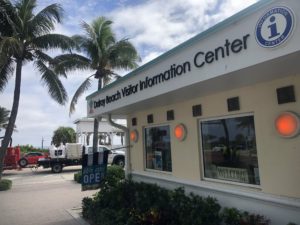 Top Things to Do In Delray
Stop in at Delray Downtown Visitors Bureau on the corner of Ocean Boulevard and Atlantic, for a list of events, live music, and things to do! There's always something happening here in Delray, and the folks in this prime location center are super helpful!
Stroll Atlantic Ave – Delray's boutiques, great restaurants and cafes line this main street that leads to the beach.
Art lovers, brush up on Delray's rich art scene. Delray Beach is home to so many unique galleries and talented artists. Visit Cornell Art Museum, Pineapple Grove's cool galleries, and the Art Garage. Delray hosts Art Walk First Friday of the Month at the many art galleries in Delray on Atlantic Ave and Pineapple Grove from 5-7pm. Delray has a public art project effort, plus numerous art festivals and many galleries.
Stroll Delray Beach's soft sand, watch the surfers, the sun bathers and the seashell collectors. Or just sit in the sand and soak up the sun, followed by a swim in the warm Atlantic waves.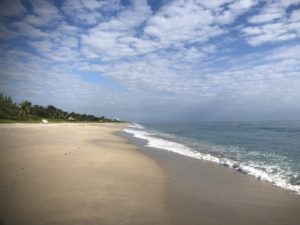 Go Yachting – take an excursion aboard Delray Yacht Charters, a scenic narrated boat tour passing by the beautiful waterfront estate of Delray along the intracoastal. On board is a full cash bar and sit down lunch service as well. You'll be cruising aboard either the Lady Atlantic – 150 passenger yacht  or Lady Delray – 120 passengers. You can also enjoy a Sunday Brunch charter, dinner cruises or private parties.
Play some Delray Tennis or Pickleball, Delray is named one of the top 10 tennis towns in the U.S. along with Hilton Head Island South Carolina. The Delray Beach Open is every February with top tennis champs like Chris Everett and Martina Navratilovo.
Walk to Old School Square to see this beautiful historical park in the heart of Delray Beach. At Christmas, Delray features a 100' Christmas Tree in the Square.
If you want to stay right in town Colony Hotel is perfectly poised right on Atlantic Ave, steps to all the great shopping & dining, with its own Beach Cabana Club just two miles away. This 1926 historic property of Mediterranean Flagler architecture style is actually a sister hotel to the Colony Hotel in Kennebunkport Maine. The Delray Marriott on Ocean Boulevard nearest the beach is getting a makeover, an Ocean Property, and will be another grand place to stay with ocean views.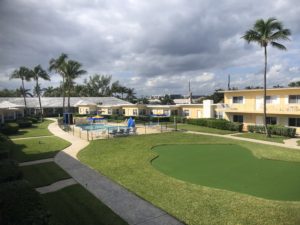 Directly on the beach, Delray Breakers on the Ocean is cool. This 1950s two story motor lodge is not fancy but it has a fabulous beachfront location, with affordable suites and an oceanview pool. Ask for 2nd floor end units 22 or 23. Walk the soft sandy beach after your continental breakfast, and enjoy chaise lounges with cabanas in the sand. It's a few miles to Delray for dinner and entertainment, or walk south on the beach to Sands Delray for waterfront dining.
Delray is Happy Hour capital of Florida! Delray's drink deal 4-7 are great fun, great value too. Along Atlantic Ave numerous nice restaurants offer deals during happy hour 4-7 ish.

A few of our Favorites:
Cut 432 was a fave of ours for $3 wines, and delicious $5 apps in a lively swank bar scene.
The Wine Bar across the Avenue has so many great wine pours on tap, and fun bartenders John & PJ. Be sure to visit the Prohibition era bar in the back.
El Camino has cheap margaritas, drinks and mexican apps daily during happy hour and $2 Tacos – wildly popular. The Bartenders are awesome, if you are lucky enough to score a seat at the bar.
Rocco Taco's on Atlantic has $2 tacos and $5 margaritas at the bar as well!
The Sand Bar is the place to go after the beach for a drink. Just as its sounds – this sandy outdoor tiki bar hosts a lively beach bum crowd with music and tvs in a casual surfer atmosphere.
Boston's on the Beach is the place for sports fans – next door to Sand Bar. The bar happens to be popular with New England fans, hence the name and Fenway décor and the many TV screens likely tuned in to Pats, Sox, Celts or Bruins!
If Fort Lauderdale is nicknamed Fort Liquordale, then Delray is "DelDrinkAllDay"!
Delray rolls out the events all year long – from the Delray Beach Open Tennis Tourney in February, to the Delray Affair every April, spring's Savor the Avenue – with the nation's longest dining table assemble on First Ave for a foodie event, Lantern Fest in October, the 100 ft Christmas Tree in Old School Square and Santa arriving by helicopter in December.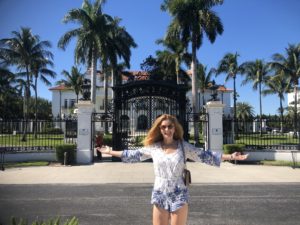 Fun day trips from Delray:
Flagler Museum in Palm Beach is a must, 20 minutes north. This lavish home of Henry Flagler is one of the grandest palaces in the US. Dubbed Whitehall, the mansion is open for self-guided tours or with a docent. Imagine life here in 1902, with the high society that would summer  in Newport Rhode Island and winter in Palm Beach. The estate is perfectly preserved, and pays homage to the ingenious Flagler who brought wealth and vision to Florida before he tumbled down the grand marble staircase at Whitehall.
Go to Breakers Hotel – the magnificent turn-of-the-century beachfront resort built in 1896 in Pam Beach – also by Flagler. Your $35 valet charge can be credited toward drinks and dining. We suggest sitting at the Seafood Bar with its awesome aquarium or enjoy a lavish lunch at this regal oceanfront hotel.
Fort Lauderdale 20 minutes south from Delray is the yacht capital of the world. Have dockside lunch at Shooters on the intracoastal and admire the impressive boats passing by. Hope on the water taxi to see the swell homes and yachts.