Newburyport is a coastal city in northeastern Massachusetts, with a vibrant seaside village of welcoming brick streets, shops and cafes near the waterfront. Newburyport, NWBPT, is just 35 miles northeast of Boston, and few miles from the NH border, with a population of 20,000 people.  This historic seaport is ideal for a day visit, or an overnight in a charming inn. Just don't confuse it with Newport Rhode Island…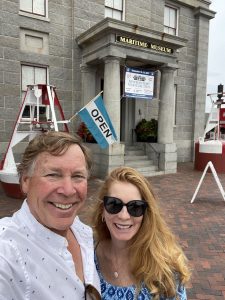 Newburyport dates back to the 1600's, well known for its legacy of shipping and shipbuilding, along the mighty Merrimack River. Now the charming New England village is loaded with nautical shops, great seafood restaurants and cozy cafes, churches, maritime museums, and boating excursions from Newburyport Harbor.
Top Things to Do in Newburyport
Stroll the historic streets, including State Street – the hub with its historic homes, shops and restaurants lining the pretty avenue that leads to the waterfront park. Newburyport reminds us of a bigger Kennebunkport!
Visit the Newburyport  Custom House Maritime Museum  – look for the massive buoy bells outside this grand granite building, Newburyport is the birthplace of the U.S. Coast Guard among other sea traditions.
Shop the nautical and crafty gift shops, including Nauti Pearl, Smitten, Sea Bags, and Lyons Bridge.
Visit Plum Island, home to Plum Island Light (Newburyport Harbor Light) along the Parker River – Plum Island's Wildlife Refuge is a beautiful walk-able barrier beach island, best at low tide.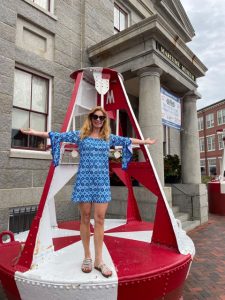 Take a Newburyport historic walking tour for fascinating facts, fun stories and some food and travel tips along the way.
Whale Watch from Newburyport on a charter boat out to Jeffrie's Ledge – a 4-hour trip out to sea to see humpback, minke and finback whales, marine life sightings almost guaranteed.
Bring Fido – Newburyport is very dog friendly.
Stay at Essex Street Inn – this historic property is the place to stay in the heart of the historic town. There's a Main Inn where you check in, and breakfast is served. Our room in an adjacent building had a fireplace, jacuzzi tub, king bed, very spacious, and steps to everything. Nice breakfast each morning, and innkeeper Kathy was very cordial.
Get Polished at Polished salon on Pleasant Street in the heart of Nwbpt. This chic salon offers nail, hair and skin treatments.
Newburyport Events are notable!
-Newburyport Art Association Art Auction and Party has been ongoing for 20 years!
-PlumFest is Plum Island's free annual music festival
-The Annual Newburyport Lantern Festival on the waterfront is spectacular, glowing lanterns adrift over the water, plus music and crafts.
-Newburyport Chocolate Tour is delight
-Yankee Homecoming includes a Newburyport Brewfest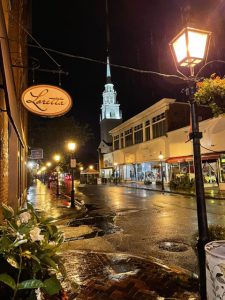 Newburyport Eats
Agave is a fun Mexican bistro with a great bar, cozy brick interior and perfect patio space on the State Street sidewalk.
Loretta's is delicious in a chic environment, great bar. The Lobster burrata stuffed ravioli, ow. The grilled romaine Caesar is impressive too.
Mission Oak offers excellent seafood and beef in a fabulous refurbished church. Dine inside the mahogany paneled interior, the bar, or out on the courtyard.
Michael's Harborside is on the waterfront overlooking the yachts, and the bridge, great seafood- broiled and fried, lobster rolls, a diverse and delightful menu, with an fabuluous upper deck outside with umbrellas.
The Black Cow has a chic interior, despite its bucolic name. Sushi and craft cocktails are on the menu, as well as assorted fare. The Cow's upper deck and bar outside has a fantastic view of the waterfront park and town, and friendly barkeeps.
Port Tavern is a divey fun old bar, right on State Street for beers, a beverage, and a bite. Outside café  style seating on nice Newburyport evenings.
The Grog is "where everyone goes" for a drink…a very casual pub serving, what else, grog. Beer, drinks, wine, pub fare.
See more of our favorite US Towns & Cities:
Provincetown Mass – Ptown Cape Cod
Boston Top Things to See and Do
Kennebunkport Maine
Newport Rhode Island
Block Island Rhode Island
Boothbay Harbor Maine
New York City's best
Chesapeake Maryland
Charleston South Carolina
Hilton Head Top Things to Do 
Savannah Georgia
Jekyll Island Georgia
Amelia Island- Fernandina Beach
St Augustine Top Things to Do
Key West Florida
Seattle Washington
San Francisco and Napa Valley California
"Every adventure starts with a yes…"